Online lender Harmoney raises almost $47 mln from Aussie private equity fund and 2 unnamed other investors to help fund lending growth in Australia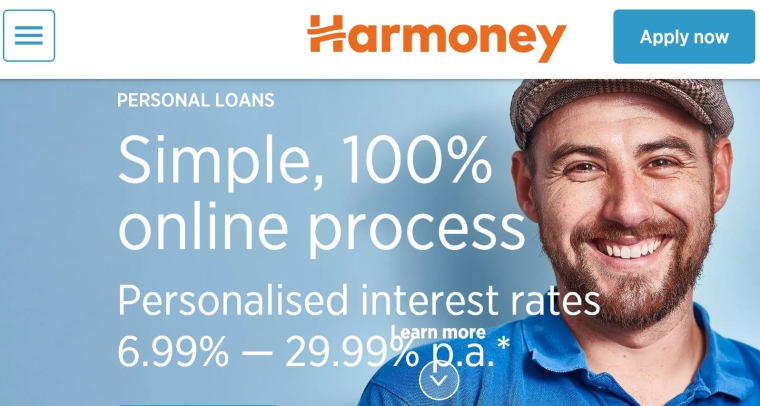 Licensed peer-to-peer (P2P) lender Harmoney says it has raised $46.9 million to help fund growth in the Australian personal lending market, boost customer numbers, expand its debt warehousing programme and continue digital innovation.
Harmoney says it has raised A$22.9 million (NZ$25 million) in capital from Melbourne-based private equity firm Kirwood Capital and a private institutional investor based in New Zealand. Harmoney says it's also implementing an A$20 million (NZ$21.9 million) corporate debt facility with an Australian investment fund.
Harmoney has declined to name the NZ-based private institutional investor and the Australian investment fund. Kirwood Capital gets a newly established seat on Harmoney's board having taken a stake of about 13.4%. The unnamed NZ-based private institutional investor has taken a Harmoney stake of about 8.95%. A Harmoney spokeswoman says issues of new shares were made to the two new investors, with the institutional investor requesting its identity not be divulged.
 The spokeswoman says Harmoney's valuation "has changed" following the fund raising "but cannot be disclosed for competitive reasons." However, the size of the shareholdings taken by the two new investors suggests a valuation of more than NZ$100 million.
Harmoney's incoming CEO David Stevens says the new investors have taken a thorough look at the business and where it's headed and liked what they found.
"That gives us a mandate to keep expanding on our market position as an innovator and a leading disruptor of traditional banking services," says Stevens.
"This investment will allow us to scale up our operations in Australia while maintaining the healthy growth we've sustained in New Zealand and further diversifying our funding options."
"Harmoney has just marked its fifth year of operations this year, originating more than $1.4 billion in new [unsecured personal] loans, predominantly out of New Zealand, a huge achievement for any business. To reach that landmark with this funding behind us is a validation of Australasian-based fintech and positions the company perfectly for exponential growth," says Stevens.
Stevens, the former FlexiGroup boss, is due to take the reins at Harmoney in January. He succeeds co-CEOs Neil Roberts - Harmoney's founder and biggest shareholder - and Brad Hagstrom. In August Stevens told interest.co.nz details of a capital raise worth more than $30 million weren't far away.
Harmoney describes itself as a digital platform lender. Although it was licensed by the Financial Markets Authority as a P2P lender in 2014, Roberts says he now can't see a viable P2P lending model in New Zealand which is why Harmoney has started lending its own money.