Grant Robertson announces extra $6.8 billion to be allocated towards transport infrastructure; New capital spending won't get out the door until 2021; Treasury forecasts lower tax revenue and weaker economic growth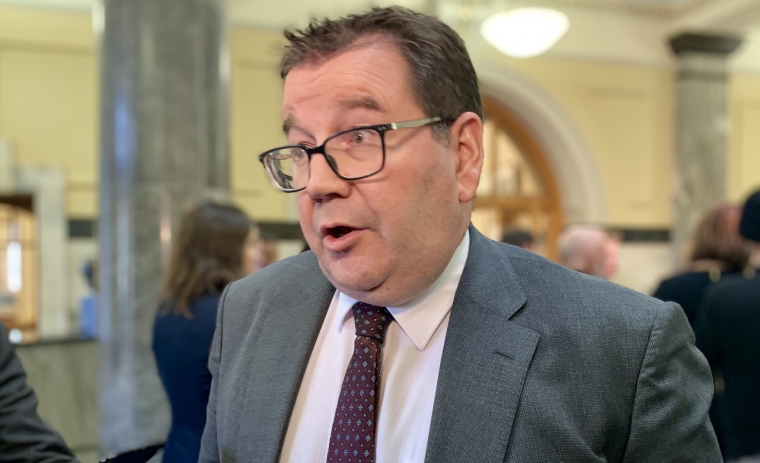 The Government has announced it will allocate an additional $12 billion towards infrastructure over at least five years.
The investment will be broken up as follows:
$6.8b for new transport infrastructure, with a significant portion going towards roads and rail
$400m for schools' capital funding
$300m for regional investment opportunities
$300m for District Health Board Asset renewal
$200m for public estate decarbonisation
$4b for the multi-year capital allowance - with the allocation of these funds yet to be determined.
Finance Minister Grant Robertson hasn't detailed specific projects the funding will go towards.
He said "a number" of transport projects were "shovel ready" and wouldn't rule out investing in Roads of National Significance - something the National Party has been calling for.
He stressed the roading projects National wants are a "wish list", as these projects haven't been funded, even though some are consented.
Robertson recognised new funding wasn't allocated towards housing, as a substantial amount had already been put towards this area.
The Government's new capital expenditure, totalling $15.4b over five years, won't meaningfully start getting out of the door until the year to June 2021 (IE $800m is expected to be spent in the year to June 2020).
It is only planning to issue an additional $2b of bonds compared to what was planned at May's Budget. This will bump issuance in 2023 up to $8b. Treasury has also announced it expects to issue $6b of bonds in 2024. 
Budget Responsibility Rules technically broken  
Robertson's announcement coincided with the release of Treasury's Half Year Economic and Fiscal Update (HYEFU).
Treasury expects net Crown debt will be $12b or 3.6% higher between 2019 and 2023, than forecast at the Budget released in May. It expects net Crown debt to total $344.6b over this time.
Net Crown debt as a percentage of gross domestic product (GDP) remained low in the year to June 2019 at 19.0%. It is expected to pick up to 21.0%, 21.5% and 20.9% in 2021, 2022 and 2023 respectively.
Robertson confirmed in his Budget Policy Statement that having reached the target of dropping net Crown debt to 20% of GDP within five years of the Coalition Government taking office, "The Government will maintain net debt within a range between 15 and 25 percent of GDP".
Robertson said it would be "ludicrously stubborn" if he didn't make the most of the low interest rate environment to invest in much needed infrastructure, for the sake of keeping debt below 20% in 2021 and 2022, as inferred by his Budget Responsibility Rules.
Economy weaker
Treasury's HYEFU shows GDP growth is expected to be lower in the near term than forecast at May's Budget.
It forecasts the annual average change for the year to June 2020 will be 2.2% (as opposed to 3% previously forecast), 2.8% in 2021 (same as previously forecast), 2.7% in 2022, 2.5% in 2023 (both higher than forecast) and 2.4% in 2024.
Looking at tax revenue as a percentage of GDP, this is expected to be lower across the forecast period.
It sat at 28.4% in the year to June 2019 and is expected to fall to 27.7%, 28.0%, 28.0%, 28.2% and 28.4% in the years following. 
Forecasts at May's Budget sat between 28.2% and 28.8% over this time.
A lower tax take coupled with higher expenses means the Government's operating balance before gains and losses (OBEGAL) is expected to deteriorate, dipping $900m into deficit in 2020, before delivering smaller surpluses in the following few years than forecast at the Budget.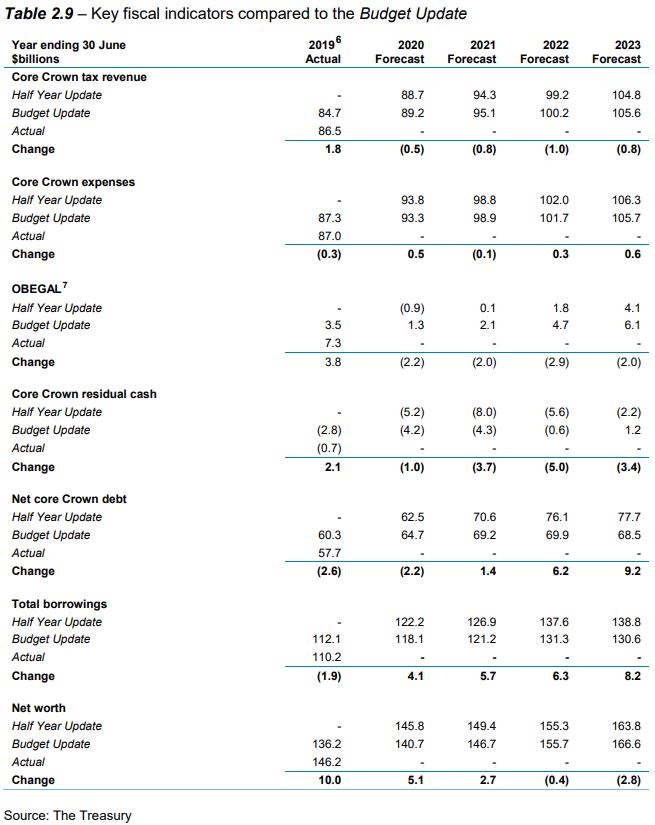 2020 Budget priorities 
Robertson's Budget Policy Statement said investment in Budget 2020 will focus on the following priorities:
1. Just Transition - Supporting New Zealanders in the transition to a climate-resilient, sustainable and low-emissions economy  
2. Future of Work - Enabling all New Zealanders to benefit from new technologies and lift productivity through innovation
3. Māori and Pacific - Lifting Māori and Pacific incomes, skills and opportunities
4. Child Wellbeing - Reducing child poverty and improving child wellbeing
5. Physical and Mental Wellbeing - Supporting improved health outcomes for all New Zealanders.