China delivers message to its diaspora in NZ: The Xinjiang 'deradicalization' programme has been a 'great success', Taiwanese independence attempts are 'doomed to fail', the US/Chinese trade agreement won't harm NZ/China trade relations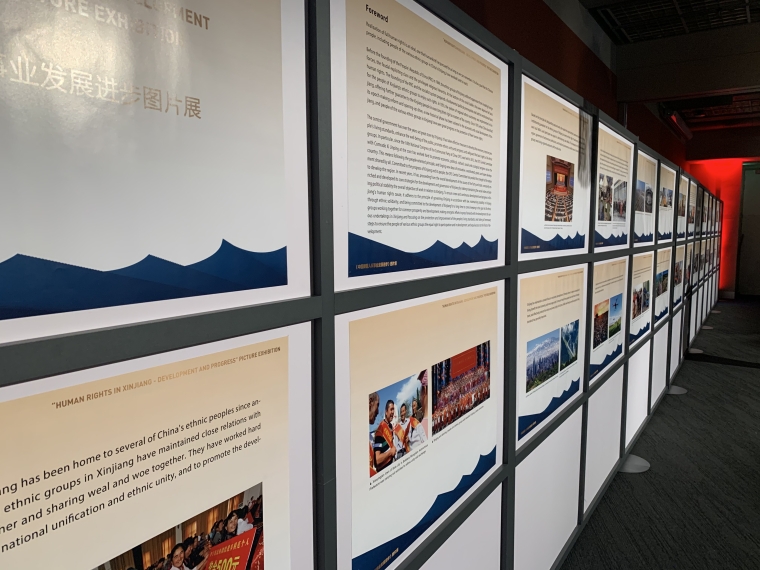 The Chinese government has used lunar new year celebrations to remind the Chinese community in New Zealand of the "great success" of its "counter-terrorism and deradicalization" programme in Xinjiang.
The Chinese Ambassador to New Zealand, Wu Xi, told the mostly Chinese audience gathered at a reception at Te Papa on Tuesday, "The rights and interests of minority ethnic groups, women, children, seniors and the disabled have all become better protected…
"Not a single terrorist attack has occurred over the past three years."
The Chinese government has been accused of detaining and essentially attempting to brainwash millions of Uyghur Muslims in the Xinjiang region.
The Chinese embassy, which hosted the event, lined a large section of the Te Papa function room walls with a "picture exhibition" entitled, "Human rights in Xinjiang - development and progress".
The exhibition included photos and accompanying blurbs of people "carrying out sports activities in modern residential communities in Xinjiang" and "students of the Xinjiang Islamic Institute" studying the Koran.
It also included photos of "model individuals" being commended for "ethnic unity and progress".
Different story at Auckland event attended by more NZ politicians 
The exhibition wasn't displayed at Chinese lunar new year celebrations in Auckland last weekend, where Prime Minister Jacinda Ardern, Leader of the Opposition Simon Bridges and Auckland Mayor Phil Goff were among the politicians in attendance and engaged in photo opportunities.
Wu Xi didn't mention China's "deradicalization" programme in her speech delivered at the Auckland event, according to a copy of the speech published on the embassy's website. Nor did she touch on thorny issues like Taiwan, Hong Kong and Huawei in Auckland as she did in Wellington.
The Minister for Pacific Peoples Aupito William Sio was the only politician at the Wellington event. Bridges and Foreign Affairs Minister Winston Peters were among those invited, but were out of town, so couldn't attend.
Interest.co.nz asked both Peters and the Ministry of Foreign Affairs and Trade whether they were aware the Wellington event would include the controversial human rights exhibition. Both said no.
In her speech in Wellington, Wu Xi, went on to say: "The Chinese government is committed to peaceful reunification and "one country, two systems".
"No matter how the situation in Taiwan may evolve, the Chinese government will stay committed to the one-China principle and stand firmly opposed to "Taiwan Independence", "two Chinas" or "one China, one Taiwan".
"We will absolutely not tolerate any form of "Taiwan Independence". Any attempts of "Taiwan Independence" are doomed to fail.
"Our model in Hong Kong and Macao has proven that "one country, two systems" is the best institutional arrangement for maintaining long-term prosperity and stability in Hong Kong and Macao, the best solution for dealing with the legacy and questions of history, and the best system for achieving the reunification of China."
Taiwan's President Tsai Ing-wen, who opposes closer ties with China, recently won a second term in an election dominated by the island's relationship with China. Tsai received more than 57% of the vote, a record 8.2 million votes, well ahead of rival Han Kuo-yu.
US/China trade agreement won't negatively affect NZ exporters
Wu Xi also talked up trade opportunities between China and its "New Zealand friends".
"As China becomes more closely integrated with the rest of the world, we remain a golden opportunity for investors around the world," she said.
"Recently, China and the United States signed a 'phase one' economic and trade agreement. It is in everyone's interest to stop the trade war.
"Curbing the escalation of the trade war will stabilize the expectations of the international market, which is in the interests of China, the United States and the whole world.
"I reassure my New Zealand friends that the agreement will not bring about negative impacts on other trading partners of China. Our enormous domestic market welcomes foreign enterprises.
"The bilateral relationship between China and New Zealand was successful in the past year. Prime Minister Jacinda Ardern made her first official visit to China. Our leaders reaffirmed their commitment to the Comprehensive Strategic Partnership.
"We have concluded negotiations to upgrade our bilateral FTA. We are now exploring exciting opportunities for cooperation in the Belt and Road Initiative.
"Our two-way trade has exceeded NZ$30 billion. New Zealand companies secured big contracts at the 2nd China International Import Expo and as a result, they will export more to China.
"The 2019 "China-New Zealand Year of Tourism" successfully expanded bilateral tourism cooperation, as well as people to people exchanges…
"Also notable was our cooperation in international and regional organisations. Both China and New Zealand uphold the world trading system. We remain firmly committed to working together on climate change…
"China and New Zealand have jointly created so many historic firsts in our bilateral relationship. Looking back, none of these firsts involved easy decisions…   
"We shall carry on this legacy to tap the great potential of our relationship, to enhance mutual understanding and trust, and to handle issues where we have different views with respect and equality.
"I am confident by working together we will maintain our ties as a "front-runner" in relations between China and developed countries."