National pledges to connect the upper North Island with four-lane expressways paid for by enabling NZTA to borrow more and reallocating money from the NLTF and the Govt's Covid fund; Robertson finds $6b hole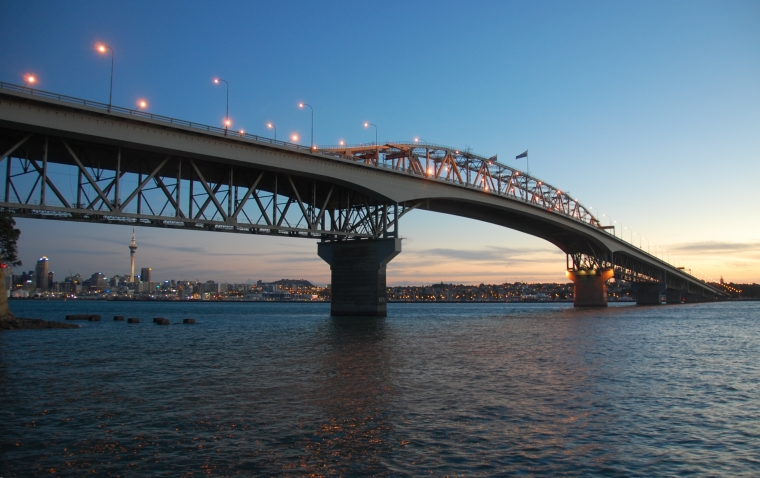 National is committing to building a second Waitemata Harbour crossing, connecting Onehunga and Auckland Airport with rail, building an expressway between Warkworth and Wellsford, upgrading State Highway 2 between Tauranga and Katikati, and building a tunnel through the Kaimai Ranges.
The harbour crossing would take the form of a tunnel for road and rail, likely between Esmonde Road and Wynyard Quarter. Work on this would begin in 2028. The project would cost $5 billion.
The vision is to connect Whangarei, Auckland, Hamilton and Tauranga with four-lane expressways to create what National Leader Judith Collins described as an "integrated region of 2.5 million New Zealanders".
This would include the building of a tunnel under the Brynderwyn Hills to connect Ruakaka to Wellsford.
The Party is pledging to spend an average of $3.1 billion a year over the next 10 years on transport infrastructure, on top of what the Coalition Government has committed to – bar Auckland light rail and possibly the Northern Pathway across the harbour bridge.
It on Friday detailed how $17 billion of that $31 billion would be spent across the upper North Island. Details for the south are yet to come.  
Funding
National said it would pay for transport infrastructure by enabling the New Zealand Transport Agency (NZTA) to put more debt on its balance sheet, like Kainga Ora does.
NZTA is funded via the National Land Transport Fund, which derives revenue from petrol tax, road user charges, and motor vehicle registration and licencing fees. In this sense, it is a 'pay-as-you-go' model.
National would like to give NZTA the ability to top up this fund by borrowing up to $1 billion a year - about a quarter of its annual revenue - over 10 years. Its transport spokesperson Chris Bishop said this "intergenerational model" would "allow us to properly develop a pipeline of projects around the country and invest ahead of time rather than after an investment is needed".
However, putting the debt on NZTA's books, rather than on the Government's books, would be more costly. Investors would consider buying "Transport Bonds" for example, more risky than buying New Zealand Government Bonds.
National would also direct $7 billion of unallocated funds from the $20 billion Covid Response and Recovery Fund towards infrastructure, and would reallocate $6.3 billion of National Land Transport Fund funding over 10 years. 
Finance Minister Grant Robertson questioned what would be cut to free up this $6.3 billion. Interest.co.nz has put the question to National. 
"The axe is hanging over projects like Skypath that Aucklanders want and that will create jobs in the next year, in order to fund projects that are over a decade away," Robertson said.
National said it wouldn't increase fuel tax or road user charges in its first term and would repeal the Auckland Regional Fuel Tax.
However it would use tolls and is open to "revenue-neutral" congestion pricing.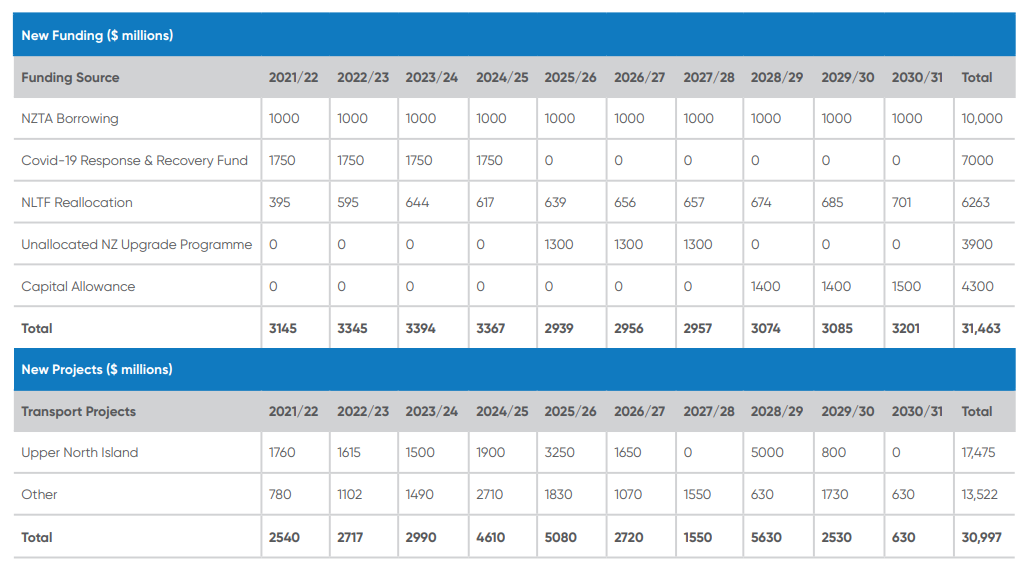 The projects
The Crown would pay for expanding the existing rail network in Auckland. This would include:
Building a third and fourth main line;
Building a rail link to Auckland Airport from Puhinui and from Onehunga;
Investigating a new rail line from Southdown to Avondale with construction to start from 2030 onwards;
Electrifying the rail line to Pōkeno in the Waikato;
Extending commuter rail to Huapai via a diesel shuttle to Swanson or Henderson; then investigating electrifying the line.
The other Auckland projects National is committing to include:
Constructing the East West Link;
Delivering Bus Rapid Transit from Onehunga to the CBD;
Building Northwest Bus Rapid Transit;
Adding a diesel rail shuttle to Huapai;
Starting work on the Second Waitematā Harbour Crossing;
Adding funding to upgrade Auckland's Ferry Network;
Introducing additional funding for Auckland Local Board priorities.
National's upper North Island projects include:
Building an expressway between Warkworth and Wellsford;
Building the Hamilton Southern Links project;
Building the Cambridge to Piarere extension of the Waikato expressway;
Upgrading State Highway 29 to an expressway between Piarere and the Kaimai Range;
Upgrading State Highway 2 between Tauranga to Katikati, including the Tauranga Northern Link;
Upgrading State Highway 1 between Ruakaka to Wellsford (including a tunnel under the Brynderwyn Hills);
Upgrading the State Highway 29 route from Tauranga to the Kaimai Range including a tunnel through the range.
National has previously announced the following projects:
The Cambridge to Piarere expressway;
The Belfast to Pegasus expressway including the Woodend Bypass;
The Christchurch to Ashburton expressway.
RMA reform
National is pledging to replace the Resource Management Act with an Environment Act and a Planning & Development Act, most likely with legislation closely aligned to the models adopted by South Australia and Scotland.
See these National Party documents for more on funding, the Auckland plan, and the upper North Island plan.
Policy evokes a reaction from Robertson
Robertson said: "On the one hand, Paul Goldsmith is saying he will cut net debt to 30% of GDP within 10 years while at the same time saying he will spend more and take on more debt to pay for Judith Collins' wish list.
"It's also back-to-the-future with National again making empty promises about the RMA. New Zealanders heard them promise this for nine years when they were actually in Government while failing to deliver on one word of it.
"This Government has actually got on with the job. We already have an RMA amendment bill in front of Parliament, and passed the legislation for a streamlined consenting process for a number of projects to get them off the ground faster.
"The Government's New Zealand Upgrade Programme and the roll out of our $3 billion of shovel-ready projects are underway now. They will create jobs in the coming months and years that New Zealanders desperately need now as part of our COVID-19 rebuild."