US household sentiment sags; China expands using old paybook; Japan, Korea, Taiwan deliver mixed results; Hong Kong constitutional rule trashed; UST 10yr yield at 0.54%; oil holds and gold jumps back up; NZ$1 = 66.4 USc; TWI-5 = 69.6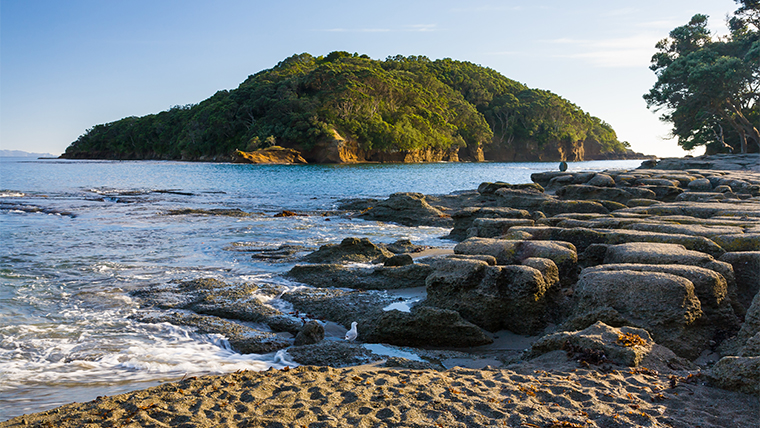 Here's our summary of key economic events overnight that affect New Zealand, with news we are walking closer to crumbling cliffs.
The US release of personal income and expenditure data for June and the results seem unsustainable. Personal income fell -1.1% on top of the -4.4% fall in May. But personal spending rose +5.6% in June on top of the +8.5% rise in May. Dipping into household reserves and savings to maintain spending can only last so long, and this data suggests we are much closer to a widespread earthquake in the way American household budgets are managed.
American consumer sentiment is slipping too. It sank further in late July the coronavirus weighed increasing on the population. In the last four months, this sentiment Index has recorded a decline of -25% from the same period in 2019. The ending of some income support in the next month or so isn't going to help sentiment.
There is some good news on the industrial front however. The bellwether Chicago PMI rose more than expected and is now expanding after twelve months of continuous contraction. Particularly encouraging was the snap-back in new orders.
In China, their official factory PMI expanded marginally faster in July than in June. Their service sector PMI is expanding much faster, but slowed marginally in July than June. Both were boosted by construction activity, an official stimulus priority so it may not be sustained. And new order growth was modest in both sectors even if they were expanding. But we should note that the rival private sector survey, which will be released on Monday, has been recently posting more expansive results that these official surveys.
China has reverted to its old playbook of local construction projects and encouraging exports to weather this economic crisis. In fact, new data shows it granted NZ$175 bln in export tax relief in the first half of 2020. These rebates "effectively reduce the funding pressure on export companies in China and reduce their cost of funds."
In Australia, the pandemic crisis in Victoria is dashing expectations of a V recovery, or in fact any recovery. Aussie complacency, right down to individual household levels, is undoing them fast now. (And New Zealand has even more entrenched complacency over the virus risks.) In Victoria, their state government is at a fiscal cliff, appealing to Canberra for emergency financial support. But the fiscal cliff is closer for all Australia now.
June industrial production in Japan has come in better than expected and positive from June. And retail sales in South Korea came in much better than expected and a large +6% rise compared with the same month in 2019. Both are positive early signals, just like the Chinese PMI data.
However, Taiwan GDP growth for Q2-2020 didn't eventuate and there was a surprise small contraction for them.
In Hong Kong, Beijing is pulling some crude strings, banning liberal candidates, postponing their election for a year, and allowing the existing Assembly to expire so they can appoint interim legislators. It is a pretty disgraceful sham, using the pandemic as cover. But it is what autocrats do.
In the EU, GDP dropped -14% in the June quarter from the same period in 2019 in the steepest one quarter drop in history. That follows a -2.5% fall in Q1-2020 on the same basis. Japan is yet to report, but they are expected to show a Q2-2020 fall of -26% annualised rate (about -9% in the second quarter alone).
In late trade, Wall Street is heading for a small -0.2% dip on the day. But it will cap a week where the S&P500 rose +0.8% and added +US$200 bln to its capitalisation. But for all of 2020, it is now virtually unchanged from where it started the year. The main action was on the tech stocks of the NASDAQ where big tech is posting stellar results. Overnight European markets were sharply lower, down about -1.5%. For the week the Frankfurt DAX30 ended down -4.0%, The Paris CAC40 was down -3.5%, and the London FTSE100 was down -3.7%.
Yesterday, Shanghai closed up +0.7% on the day to end the week up +3.5%. This was largely a tech rally too, although keep an eye on the new STAR market where more Chinese tech stocks are listed. Hong Kong was down-0.4% for the week and Tokyo fell a rather sharpish -4.6% to end the week on a downer.
Locally the ASX200 has been buoyed by their miners, but still ended the week down -1.6% as the Victorian pandemic dragged down most other sectors. The NZX50 was up +0.8% for the week on the back of FPH and a range of small caps.
The latest compilation of COVID-19 data is here. The global tally is 17,335,000 and that is up +226,000 since this time yesterday. Global deaths reported now exceed 674,000 (+5,000).
A quarter of all reported cases globally are in the US, which is up +65,400 from this time yesterday to 4,669,000. US deaths are now just over 156,000 and a death rate of 471/mln (+4/mln). And the net number of people actively infected in the US rose +23,700 yesterday to 2,217,000.
In Australia, there have now been 16,905 cases reported, another +602 since this time yesterday, and still very much concentrated in Victoria but also small pockets in both Sydney's suburbs, and now Queensland. Their death count is up to 196 (+7). Their recovery rate has slipped to 59%. There are now 6729 active cases in Australia (+373) and almost all are community transfer.
The UST 10yr yield is little-changed changed at just over 0.54% and now above the record low it reached in the past 24 hours. Their 2-10 curve is unchanged at +43 bps. But their 1-5 curve is flatter at +10 bps, and their 3m-10yr curve is also flatter at +44 bps. The Aussie Govt 10yr yield is down -1 bp at 0.84%. The China Govt 10yr is up another +3 bps at 2.99%. But the NZ Govt 10 yr yield is sharply lower and now at 0.75% after another -6 bps drop overnight.
The gold price is up +US$20 today to US$1,973/oz. It did get as high as US$1,980/ox earlier today.
Oil prices are firmer but by not very much today. They are now just over US$40/bbl in the US and the international price is now over US$43/bbl. The US rig count is little-changed.
And the Kiwi dollar is ending the week softer than yesterday, but back at a similar level to this time last week at 66.4 USc. Against the Australian dollar we are softer than a week ago at 92.9 AUc. Against the euro we are -¾c lower in a week at 56.3 euro cents. That means our TWI-5 has slipped to 69.6 and about -50 bps lower for the week.
The bitcoin price is firmer today, up +2.3% since this time yesterday to US$11,298. The bitcoin rate is charted in the exchange rate set below.
The easiest place to stay up with event risk today is by following our Economic Calendar here ».