Auckland to move to Level 2.5 on August 31; Rest of NZ to remain at Level 2; Mask wearing to be mandatory on public transport at Level 2 from August 31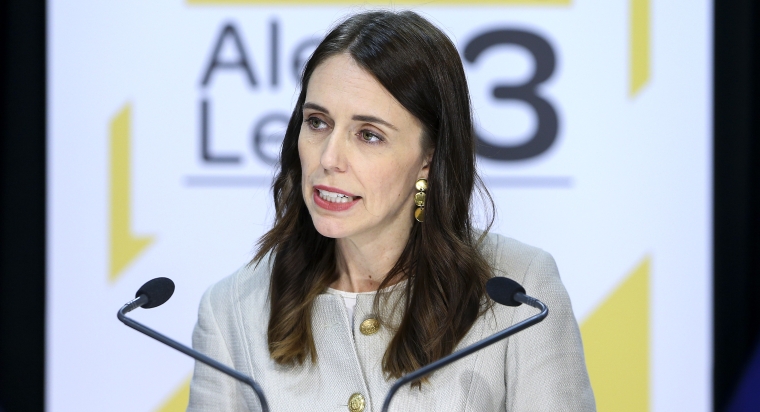 Level 3 lockdown is being extended in Auckland by four days to 11:59pm Sunday, August 30.
The rest of the country will remain at Level 2.
When Auckland moves to Level 2, gatherings will be restricted to 10 people, except for at funerals where the cap will be 50. This means multiple groups of no more than 10 can go to restaurants, like the last time the country was effectively at "Level 2.5". 
Gatherings will remain restricted to 100 people throughout the rest of the country. 
The Government will review settings again before Sunday, September 6.
It will be mandatory for everyone in New Zealand to wear masks or face coverings on public transport, including in taxis and Ubers, at Levels 2 and above from next Monday, August 31. 
The Government won't provide targeted support for hospitality businesses. Nor will it extend the latest two-week wage subsidy to cover the extra four days Auckland will be at Level 3. Finance Minister Grant Robertson previously said the subsidy would be extended, if Level 3 was extended. 
People will be able to travel in and out of Auckland at Level 2, however the Government is asking people to avoid travel if they can and to take precautions.
Prime Minister Jacinda Ardern said, "Our ongoing goal has to be to maintain our elimination strategy while trying to reduce the impact on as many people and businesses as possible. But there is no denying that the price Aucklanders are currently paying is the greatest."
Cabinet made the decision regarding lockdown based on the Director-General of Health's advice.
There are 104 active cases of Covid-19 in the community. Two cases found over the weekend are yet to be linked to a cluster.  
Ardern said that because the Auckland cluster is the country's biggest yet, it will have a long tail and cases will keep coming for a while. She noted it took 12 weeks to close the largest cluster in the first wave. 
The Employers and Manufacturers' Association (EMA) released this statement in response:
The EMA welcomes the Government's announcement of Auckland returning to Alert Level 2 at midnight this Sunday, August 30, but says border control issues will still be a major hurdle for businesses in the next six days.

Chief Executive Brett O'Riley says the rate of processing exemptions is unacceptable and with many being told it may take up to seven days, Alert Level 3 will be over by the time they get them.

"The shambles at the border began when documentation that was acceptable during the previous Alert Level 3 and Alert Level 4 was no longer acceptable, meaning people couldn't get to work and goods couldn't get through. That was followed by communication breakdowns that saw some getting through and some not."

He says that while many businesses will welcome the news of the move to Alert Level 2 at midnight on Sunday unfortunately for those in hospitality or retail social distancing rules inhibit trading.

The EMA and the BusinessNZ network have been working with the Government to solve the ongoing regional border issue, and Mr O'Riley says that if anything the return to Alert Level 3 has highlighted how crucial it is to be better prepared.

"The problems with the regional border will continue to have a major impact on businesses in the upper North Island, not just Auckland, until midnight Sunday and we must do better not only in the next six days, but in future," he says.

The EMA is keen to work with the Government on adapting the guidelines at each alert level, based on updated knowledge of COVID-19 and public health concerns, to make it clear for businesses what they are expected to do at each level if they wish to operate.

"We want to see businesses allowed to open as long as they meet those restrictions rather than a system of exemptions, and we want to see clear guidelines and timelines so that businesses can respond quickly to each change in alert level."

"But we also need Government agencies to respond in the same way to allow businesses to operate while keeping staff and customers safe."
Here is Ardern's statement, delivered at 3pm, in full: 
The Cabinet met today to determine the next steps in managing the re-emergence of COVID-19 in New Zealand.

Tomorrow marks 14 days since the re-emergence of COVID-19 beyond our quarantine facilities.

In those almost two weeks, enormous effort has gone into rolling out our resurgence plan. You can see that in the sheer scale of the response. I want to briefly recap, because in sharing those details, it gives a sense of why we are well equipped to deal with the cases that will continue from this current cluster for some time to come.

Since Wednesday 12 August we have tested more than 100,000 Aucklanders and 194,000 in total across the country.  

That is more than a quarter of all the testing New Zealand has done for COVID since the beginning of the year, in just the past 13 days.

On contact tracing, where we find all the people someone with COVID 19 might have come into contact with, we have reached the gold standard of reaching 80% of contacts within 48 hours since the 12th of August. That's a sign we are getting ahead of the virus, and are finding people and making sure they are in isolation before they are even symptomatic. In fact that is exactly what has happened in the majority of our positive cases.

And on contact tracing generally, I do want to make mention of the remarkable efforts of our Auckland Public Health Unit.

At the end of last week I spoke with Sir Brian Roche about what he had seen first-hand while visiting our Auckland Public Health Unit. He was there to see if they had all they needed to do their incredibly important job. 

He said that he found watching them a humbling experience. I have seen that from afar. I have seen them go back to patients with COVID once, twice, three times if that is what it takes to help find close contacts. They have used CCTV footage, HOP cards, swipe cards, dockets and whatever else it takes to help them establish people's movements, and help keep other people safe.

They are the ones that have to tell people they have COVID-19, and then work through all of the anxiety that creates in people, to build a picture of every move they have made over a 14-day period.

Not only do they do incredible work, they do a job that has been supported by our Level Three restrictions.

We have seen in recent days, cases emerge that happened before Level Three came into force. They have shown us how tricky this virus is. They have happened on a bus journey between absolute strangers, we have seen a case we believe occurred through a retail shopping experience, many, many cases through churches. If it weren't for Level Three, this cluster would be exponential, of that I have no doubt.

This is a contained cluster. But it is our biggest one. And that means the tail will be long, and the cases will keep coming for a while to come. You might remember that it took us over 12 weeks to close our largest cluster in our first wave. 

But we can manage that. What we need to do though, is put ourselves in the best long-term position to manage it successfully, and in the most contained way we can.

Ultimately, our goal needs to be managing this cluster from Level Two as soon as we feel confident we can do that. That means feeling confident we have the perimeter of the cluster well understood and defined, and are not seeing too many cases cropping up that we haven't found through contact tracing. Based on the advice of the Director General, we believe that confidence can be built over the course of this week.

That is why, the Director General has recommended to Cabinet, and Cabinet has agreed to apply a short extension of Level Three restrictions in Auckland until 11.59pm this Sunday 30 August.

You may recall we were due to lift restrictions on Wednesday. These extra 4 days are believed necessary to allow us to move down a level in Auckland, and stay down. We want both confidence, and certainty for everyone.

We also agree with the Director General's view that, as we did before, that Auckland should step its way into Level Two. That means from midnight on Sunday: schools, hospitality, retail and those entities that are able to operate at Level Two all reopen, but we will keep a limit on mass gatherings – and that means groups of no more than 10, with the exception of tangihanga and funerals, which you will recall occurred with up to 50 people the last time we stepped into Level Two gradually.

The rest of the country will maintain the current Level Two settings.

We will put these settings in place for 1 week from Sunday and review them before Sunday the 6th of September. 

I do want to share the rational for keeping the rest of New Zealand at Level Two.

Many will argue, that given we haven't seen cases elsewhere, the rest of New Zealand should see a lift in current restrictions. I absolutely understand that sentiment. It makes sense.

Except for one issue, and that is regional travel. There are many people and businesses who will want to enter and leave Auckland once it is at Level Two, from Sunday night. And many others who will want to see the benefit that comes from our biggest city moving around the country again. That includes for instance hospitality, or retailers. But with that movement, does come risk.

So there is a choice to be made. If we want the economic benefit of regional travel, the trade-off is keeping in place the social distancing and mass gathering limits that help keep everyone safe in the meantime. It's a finely balanced decision, but the right one I believe when interregional borders just don't work when the restrictions start reducing.  

And finally, I want to speak to some of the activity over the week ahead.

We continue to ask everyone who is on public transport, and planes, to wear a mask or face covering. Given the recent transmission we have seen on this form of transport, Cabinet has decided to move to mandating the wearing of face coverings on public transport for Level Two and above. These new orders will come into force from Monday. 

This isn't a decision we took lightly. But we know that masks protect you, and the people around you, and we now have a real-life example of that. They limit the chance of COVID-19 spreading in places where it is often harder to distance yourself, and to trace people.

In the meantime, we again urge everyone in Auckland to wear face coverings in public generally as well.

And finally, I have been asked whether the Government, or New Zealand's strategy, should change when it comes to taking on COVID-19. The answer is no. As I look around the world and at the experience of others, we are still of the view, now more than ever, that a stamp-it-out strategy is best for our people, for our economy, for the long-term wellbeing of New Zealand. That means every time we see cases, we act. We test, trace, isolate. And repeat, as many times as we need. And we work incredibly hard to limit the impact of Covid on everyone.

That does not mean heavy restrictions every time we see a case. In fact, our ongoing goal has to be to maintain our elimination strategy while trying to reduce the impact on as many people and businesses as possible.  

But there is no denying that the price Aucklanders are currently paying is the greatest.

I want to say, that even though many of us haven't been in the city, or haven't experienced the second round of Level Three – we know it's been tough. I know there are many who have found it harder this time. In part, I imagine the reminder that this is the world's reality, and that COVID is ever present is part of that. It is a hard reality to accept.

We may not have any choice over whether or not the world is in a global pandemic, but we do have choices around how we deal with it. We have made a choice, and we have a clear plan that means we can get through however long this pandemic is in the world, and keep as much normality, including for our economy, as possible.

We have done that for 6 months already, and we can keep doing it.

The next seven days, in fact the next several weeks, will see more cases. But it will see thousands of tests, hundreds of workers contact tracing, a team out in full force to stamp out Covid in New Zealand.

And I hope it will also see everyone playing their part.

Staying home if they're sick and getting a test.

Downloading the NZ Covid tracer app.

Keeping a log of everywhere they go, and everyone they're with.

Washing their hands 

Being kind.

In our fight against this virus, we have held some records. Now the one we have to beat, is around resurgence. And if any one country knows how to bounce back, it is us.

This has been a hard year. It's been a hard year for Christchurch who has fresh reminders of that this week. It's been a hard year for Auckland, it's been a hard year for drought stricken and flood ridden parts of the country. So if it feels hard, that's because it has been. But let's also remember, in a world where 2020 has frankly been terrible, we are strong, we have been kind, and we are doing really well.