Wholesale money markets mark down two and three year swap rates to virtually zero, taking their cues from Reserve Bank of New Zealand signalling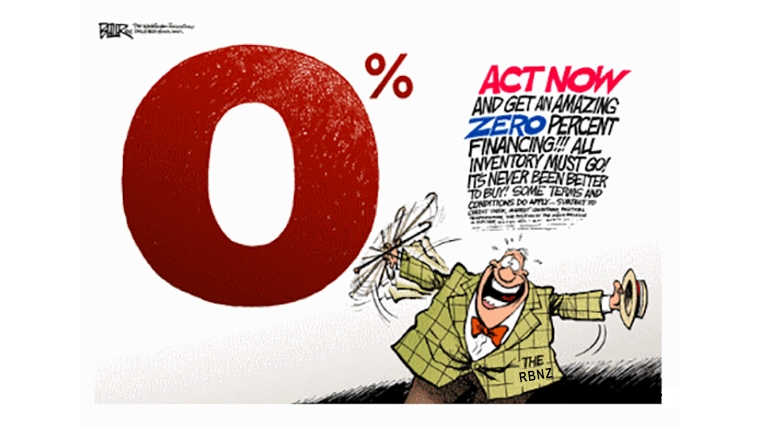 It has happened.
Wholesale swap rates sank to 0% on Wednesday.
The one year wholesale swap rate is down 2 basis points to just 0.09% pa. That is $9 of annual interest for $10,000.
But the two year wholesale swap rate is down 3 basis points to just 0.0025%, or just 25 cents per year for a $10,000 deposit. You don't get any closer to zero than that.
And that is a 7 basis points fall in one week and a 20 basis points fall since the start of August.
It is no better for a three year tenor where swap rates are the same - yes, 25c per year for $10,000 for three years. Or 75c over three years!
For a five year tenor, the swap rate is 0.0925%. And for ten years it is 0.51%.
Every wholesale swap rate is a record low Wednesday, except the 10 year. The record low for that tenor is 0.49% which was reached on August 25, but is sure to be breached soon.
These minuscule returns are being driven by market acceptance that the Reserve Bank of New Zealand will cut its Official Cash Rate to zero soon, and may even go negative.
What that will achieve is uncertain. What the RBNZ wants is to encourage is investment and spending, and by implication, jobs. But if 0.20% doesn't do that (the two year swap rate on August 1), it seems very unlikely -0.20% will either.
But it will effectively wipe out returns for savers, returns that were already almost non-existent. Bank treasurers can borrow wholesale at 0.0025% so why would they want to offer retail savers anything?