Dairy prices rise for fourth straight time; US retail and factory data positive; World Bank downgrades growth again, but China a bright spot; UST 10yr at 0.96%; oil and gold up; NZ$1 = 72.4 USc; TWI-5 = 73.4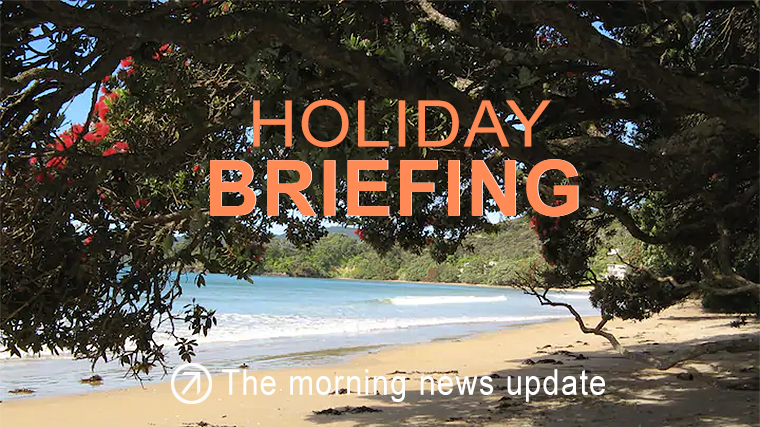 Here's our summary of key economic events over the New Year holiday break that affect New Zealand, with news the greenback is fading in value internationally, undermined by four years of disastrous leadership, even though it retains its safe-haven status - for now.
But first, the overnight dairy auction was a positive one. In US dollar terms, prices were up +3.9% with satisfying rises for all products. Analysts had expected no change. This is now the fourth consecutive dairy auction where prices rose. In New Zealand currency, prices rose +1.8%, clipped by the rising Kiwi dollar. Still, as these rises are continuing it might motivate a positive review of farm gate payout prices.
In the US, all eyes may be on the unusual Georgia Senate election runoffs, but in their national economy, post Christmas holiday retail sales were positive and up +5.5% compared to the same period last year.
More positive are the widely-watched local factory PMIs. The globally benchmarked one was positive as we reported yesterday, but today's local one is much more so and recording a strong expansion and much better than expected.
Retail sales in Singapore also made a strong comeback in November, reducing the 2020 deficit noticeably. There was an "improvement" in Hong Kong too, but of a different order as they are still recording levels lower than the year-ago benchmarks.
The Chinese economy is on track to grow by almost +8% in 2021, following a +2% growth in 2020, the World Bank said in its latest Global Economic Prospects report. It sees the US growing +3.3%, the EU growing +3.6% and Japan up +2.5% in 2021. But all these represent lower estimates from their previous review and the world's economy will only expand by +1.9% this year they say, down from its previous forecast of 2.1% and the previous decade's 2.5% pace.
Part of China's advantage is its use of forced labour in its Xinjiang province using interred Uighur people. See these comprehensive investigations here and here. These are both remarkable reporting given Beijing's very tight controls in the province.
And China has started the new year with a sharp strengthening of its currency against the US dollar despite Beijing's move to lower the weighting of the greenback in its currency basket amid broad US dollar weakness.
After losses yesterday, Wall Street is clawing some of those back today with the S&P500 up +0.5% in afternoon trade. Overnight, most European markets were -0.5% lower although London bucked the trend. Yesterday, the Shanghai market ended its session up +0.7%, Hong Kong was up +0.6%, but the very large Tokyo market was down -0.4%. The ASX200 was also lower, dipping very slightly. But the NZX50 Capital Index was up an impressive +2.1% in their initial 2021 session and the best daily results globally.
The latest global compilation of COVID-19 data is here. The global tally just keeps on rising, now at 85,900,000 and up +572,000 overnight. We are heading for 100 mln well before the end of January mainly because the UK variant is taking off worldwide now. And many countries are getting a surge from New Year's celebrations where social distancing was abandoned. It is still very grim in Russia (+24,000 overnight), the UK (+76,000), South Africa (+30,000) and Turkey (+14,000). It does seem to be easing in Europe, although not in the UK or Sweden (+7000 overnight). Global deaths reported now exceed 1,858,000 and surging +11,000 in a day as death rates rise everywhere.
But the largest number of reported cases globally is still in the US, which rose +244,000 overnight for their tally to reach 21,375,000. The US remains the global epicenter of the virus. The number of active cases fell overnight and is now at 8,270,000 and that level is down +45,000 in a day, so more recoveries than new cases for the first time in a long time. Their death total is up to 363,000 however (+3000). The US now has a COVID death rate of 1093/mln, but the disastrous UK level (1121) is actually rising faster now.
In Australia, their Sydney-based community resurgence seems to be coming under control. But that takes their all-time cases reported to 28,519, and +15 more cases overnight. Now 284 of these cases are 'active' (+5). Reported deaths are unchanged at 909.
The UST 10yr yield will start today up by +5 bps at just over 0.96%. Their 2-10 rate curve is steeper at +84 bps, their 1-5 curve is also steeper at +27 bps, and their 3m-10 year curve is much steeper at +88 bps. The Australian Govt 10 year yield is up +2 bps at 0.96%. The China Govt 10 year yield is down -2 bps at 3.22%, while the New Zealand Govt 10 year yield is down sharply by -6 bps at just under 0.94%.
The price of gold is up again and by another +US$13 in New York to be now at US$1,951/oz.
Oil prices are much higher today by about +US$2 at US$49.50/bbl in the US, while the international price is now just under US$53/bbl. The Saudis and Russians have said they will cut production in February in an effort to raise prices.
And the Kiwi dollar has risen firmly today, now at 72.4 USc and up about +¾c and to a new 33 month high. Against the Australian dollar we have slipped marginally and we are now at 93.4 AUc. But against the euro we are firmer by nearly +½c at 58.9 euro cents. The net effect is that our TWI-5 is firmer at 73.4 and a 21 month high.
The bitcoin price has slipped again today, but only very slightly this time, and is now at US$32,444 or -0.9% below the level at this time yesterday. The bitcoin rate is charted in the exchange rate set below.
The easiest place to stay up with event risk today is by following our Economic Calendar here ».