US dollar slips as bond yields, commodities and equities rise; Japanese confidence sinks again; China encourages offshore spending; UST 10yr at 1.05%; oil up and gold down; NZ$1 = 72.7 USc; TWI-5 = 73.8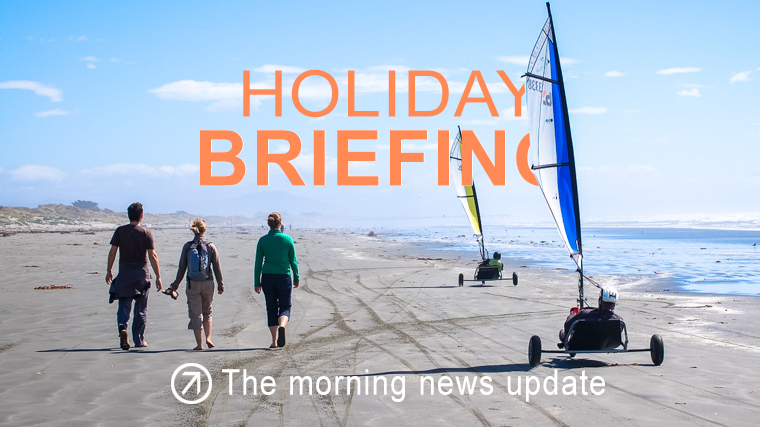 Here's our summary of key economic events over the New Year holiday break that affect New Zealand, with news the control of the US Senate looks like it has been flipped in a mirror of the US Presidential elections. Equity and bond markets are rising, although the greenback is still sinking.
The falling American currency is being reflected in commodity prices, almost all of which are quoted in US dollars. The across the board rises for commodities has a large part of 'currency adjustment' included. But for the US, the effect will be inflationary.
Those expectations are driving a surge in bond sales by corporates, trying to lock in very low rates as market experts see a reflating environment where interest rates could rise quite quickly quite soon. A reflation trade trend could upend asset valuations, and damage public finances in the short-term. Company treasurers are adjusting their balance sheets in anticipation.
This weekend we get the December non-farm payrolls report and it is expected to show only a modest +100,000 expansion as the labour market there runs out of recovery steam. That may be optimistic because today's pre-cursor ADP survey reports a -123,000 fall in employment with most sectors shedding jobs again in December.
US factory orders for November have held up reasonably well, but of course that is before the new pandemic wave hitting the country. These orders were up +1% on a seasonally adjusted basis from October, but are still lower than for the same month a year ago.
Also falling are US mortgage rates, pushing lower to new record low levels. Their benchmark 30 year fixed rate is now at 2.67% pa, plus points (0.7%).
The US Fed will release the minutes of its December meeting soon, and if there are important things to note, we will update this item then.
In Japan, consumer confidence is in the basement, battered by the next wave of the pandemic and impending lockdowns. It is falling away again after never having recovered fully from the initial dive in the first pandemic wave.
In Hong Kong, Beijing has arrested all their democracy politicians, saying their attempt to win elections breaches their national security laws.
China is loosening its exchange controls, permitting more funds to flow overseas in an effort to release pressure on its fast-strengthening currency. It seems to be on the way to 6 to the US dollar. It was 7 in July, and has just dipped below 6.5 overnight. But of course many countries will look warily at the buy-ups that will result. A new wave of international Chinese company expansion is about to start.
But even in yuan, food prices in China continue to rise relentlessly, so a target may be buying up international food supply sources.
Wall Street is up more than +1.1% in early afternoon trade, helped by the election results in Georgia it seems. Overnight, European markets rose even more, up about +2% although London shone with a +3.7% leap. Yesterday, the very large Tokyo market slipped -0.4%, but Shanghai gained +0.6% and Hong Kong +0.2%. The ASX200 however fell -1.1% yesterday while the NZX50 Capital Index slipped -0.3% although holding on to most of the prior days big gain.
The latest global compilation of COVID-19 data is here. The global tally is rising faster, now at 86,704,000 and up +804,000 overnight. We are heading for 100 mln well before the end of January mainly because the UK variant is taking off worldwide now. And many countries are getting a surge from New Year's celebrations where social distancing was abandoned. It is still very grim in Russia (+24,000 overnight), the UK (+62,000), South Africa (+14,000) and Turkey (+14,000). It does seem to be easing in Europe, although not in the UK or Sweden (+32,000 in the past three days). Japan is stressed with a rising tide of cases, up to +4000 in a day. China is facing a new surge too. Global deaths reported now exceed 1,875,000 and surging +17,000 in a single day as death rates rise everywhere.
But the largest number of reported cases globally is still in the US, which rose +251,000 overnight for their tally to reach 21,626,000. The US remains the global epicenter of the virus. The number of active cases rose overnight and is now at 8,391,000 and that level is up +121,000 in a day, so more new cases than recoveries again. Their death total is up to 366,000 however (+3000). The US now has a COVID death rate of 1104/mln, approaching the disastrous UK level (1136).
In Australia, their Sydney-based community resurgence seems to be coming under control. But that takes their all-time cases reported to 28,536, and +17 more cases overnight, most in managed isolation. But 299 of these cases are 'active' (+15). Reported deaths are unchanged at 909.
The UST 10yr yield will start today up a notable +9 bps at just over 1.05% and the first time it has been above 1% in ten months. Their 2-10 rate curve is very much steeper at +90 bps, their 1-5 curve is also steeper at +32 bps, and their 3m-10 year curve is much steeper at +96 bps. The Australian Govt 10 year yield is up +10 bps at 1.06%. But the China Govt 10 year yield is down -2 bps at 3.20%, while the New Zealand Govt 10 year yield is up more modestly by +3 bps at just under 0.97%.
The price of gold is down quite sharply today by -US$45 in New York to be now at US$1,906/oz. That's more than a -2% fall, and silver fell just as much.
Oil prices are higher again today and by about +US$1.50 to just under US$51/bbl in the US, while the international price is now just on US$54.50/bbl. The prospect of lower Mideast supply is raising these prices.
And the Kiwi dollar has risen firmly again, now at 72.7 USc to a new 33 month high. Against the Australian dollar we are holding at 93.5 AUc. But against the euro we are firmer at 59.2 euro cents. The net effect is that our TWI-5 is up at 73.8 and a 21 month high.
The bitcoin price has risen sharply again today, in fact hitting a new all-time high of US$35,751 although it has now slipped back to US$34,610 which is +6.7% above the level at this time yesterday. The bitcoin rate is charted in the exchange rate set below.
The easiest place to stay up with event risk today is by following our Economic Calendar here ».