Biden takes over some huge and growing US economic problems; Australia records improving economic data; China races to join TPP; UST 10yr at 1.08%; oil stable and gold up; NZ$1 = 72.5 USc; TWI-5 = 73.7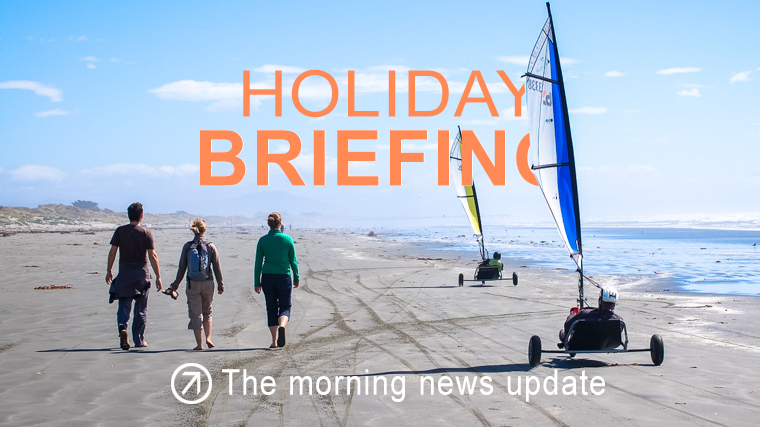 Here's our summary of key economic events over the New Year holiday break that affect New Zealand, with news economic events are overshadowed today even if the political direction is now very much clearer.
The political news this morning is that there are now serious calls for the removal of the US President from office before he can do even more damage in the next two weeks.
Elsewhere in the US, +922,000 more people filed for State jobless claims last week, the week straddling the New Year, taking the total to 5.4 mln and only a small rise, as many came to the expiry of their benefit entitlement. Although it might take some additional time, the new Congress is likely to raise the level of Federal support.
The American trade deficit for both goods and services rose in November to -US$68.1 bln and far above the previous record set in October of -US$63.1 bln. Their goods deficit was a record high -US$86.1 bln for the month while the services surplus was a record low +$18.2 bln for the month. This makes the overall trade deficit -US$651 bln for the past year, or -3.1% of GDP. In 2019 that deficit was -US$577 bln or -2.6% of GDP.
The politically sensitive merchandise trade deficit with China was -US$314 bln and a small improvement from the -US$347 bln in 2019.
In the release of the minutes from the last US Federal Reserve Board meeting, they seem on track to let their asset growth rise be their primary support measure for "significant policy accommodation" (pg 10) but the US$120 bln/mth program isn't anything new. However, they are watching the faster spread of the pandemic which is making them nervous that the recent return to growth in the United States will stall, and hoping the vaccines will rescue them and not require more intervention. Vaccines were mentioned 17 times in these minutes.
American vehicle sales come with a small uplift in December, but for the full year they total just 14.6 mln. This is -15% less than in 2019. Despite a second half recovery of sorts, that makes them a distant second to China who sold 25.3 mln in 2020, only -2% less than in 2019.
Australia recorded a record trade surplus in November, all due to strong iron ore sales to China. But their export growth is slowing all the same.
Australia also reported a very strong recovery in building consents in November, particularly for houses, and notably not for high-density dwellings.
China is moving forward with its application to join the CPTPP, taking advantage of American weakness to join before the Biden Administration can change US policy on the matter.
German factory orders for November surprised with relatively better data than expected, up +2.3% from October when a decline was expected, and +6.3% higher than a year ago.
EU retail sales also surprised, but in this case, not in a good way. It was down -6.1% in November from October, and down -2.9% year-on-year. This is a very worrying trend revealing a fast loss of momentum.
On the commodities front, copper prices are now at an 8 year high. Partly, this is due to the pandemic in South America curbing important production volumes as demand from China stays high. The pandemic affects supply as much as demand, sometimes more.
Airfreight is another example. Global air freight markets in November showed freight volumes improving compared to October, but remain depressed compared to 2019. Capacity remains constrained from the loss of available belly cargo space, as passenger aircraft remain parked. Asia/Pacific volumes are down nearly -11% year-on-year. But the cost of air cargo is sky-high. The small recovery in passenger traffic was snubbed out in November and apart from domestic air travel in China, things remain very grim for this industry.
Wall Street is up more than +1.3% in early afternoon trade, boosted by a much clearer sense of where the US is heading politically. Overnight, European markets rose about +0.5%. Yesterday, the very large Tokyo market rose a strong +1.6%, and Shanghai gained +0.5% but Hong Kong fell -0.7%. The ASX200 rose +1.6% yesterday while the NZX50 Capital Index rose +1.1% and cementing in some big gains to start the year.
The latest global compilation of COVID-19 data is here. The global tally is rising faster, now at 87,434,000 and up +730,000 overnight. We are heading for 100 mln before the end of January mainly because the UK variant is taking off worldwide now. And many countries are getting a surge from New Year's celebrations where social distancing was abandoned. It is still very grim in Russia (+24,000 overnight), the UK (+63,000), South Africa (+22,000) and Turkey (+14,000). It does seem to be easing in Europe, although not in the UK or Sweden (+32,000 in the past three days). Japan is stressed with a rising tide of cases, up to +6000 in a day. China is facing a new surge too but reliable data seems suppressed. Global deaths reported now exceed 1,889,000 and surging +14,000 in a single day as death rates rise everywhere.
But the largest number of reported cases globally is still in the US, which rose +254,000 overnight for their tally to reach 21,880,000. The US remains the global epicenter of the virus. The number of active cases rose overnight and is now at 8,482,000 and that level is up +91,000 in a day, so more new cases than recoveries again by a substantial margin. Their death total is up to 370,000 however (+4000). The US now has a COVID death rate of 1116/mln, approaching the disastrous UK level (1153).
In Australia, their Sydney-based community resurgence seems to be coming under control. But that takes their all-time cases reported to 28,547, and +11 more cases overnight, most in managed isolation. But 297 of these cases are 'active' (-2). Reported deaths are unchanged at 909.
The UST 10yr yield will start today up another +3 bps at just over 1.08%. Their 2-10 rate curve is steeper again at +94 bps, their 1-5 curve is also steeper at +34 bps, and their 3m-10 year curve is steeper too at +99 bps. The Australian Govt 10 year yield is up +2 bps at 1.08%. But the China Govt 10 year yield is unchanged at 3.20%, while the New Zealand Govt 10 year yield is up +5 bps at 1.02%.
The price of gold is up +US$7 in New York to be now at US$1,913/oz.
Oil prices are little-changed today and still just under US$51/bbl in the US, while the international price is now just over US$54/bbl.
And the Kiwi dollar has settled at 72.5 USc today. Against the Australian dollar we are also holding at 93.5 AUc. Against the euro we are still at 59.1 euro cents. That means our TWI-5 is at 73.7.
The bitcoin price has powered higher yet again today, hitting a new all-time high of US$39,297 which is +13.5% above the level at this time yesterday. And in local currency, it has shot up well above the NZ$50,000 level to be at NZ$54,204. The bitcoin rate is charted in the exchange rate set below.
The easiest place to stay up with event risk today is by following our Economic Calendar here ».