Proceeds of crime from foreign criminals restrained by New Zealand authorities weigh in at nearly $1 billion over the past decade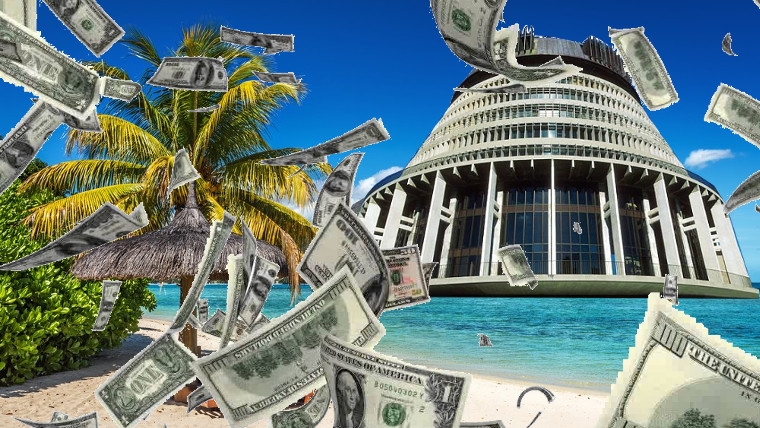 By Denise McNabb*
Foreign criminals targeting New Zealand to launder ill-gotten gains plus millions frozen in local bank accounts have swelled the value of restrained proceeds of crime in the last decade to nearly $1 billion.
Money laundering is providing some of the biggest hits, according to latest police data in the period to mid-February.
Since 2010, $994.3 million has been restrained under the Criminal Proceeds (Recovery) Act 2009 (CPRA) with $327.3 million of that tally forfeited to Treasury for use in criminal rehabilitation programmes, largely related to drug and alcohol abuse. The next bidding round for funds of around $5 million to $6 million closes on 15 March.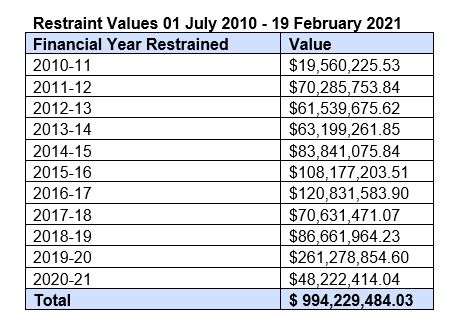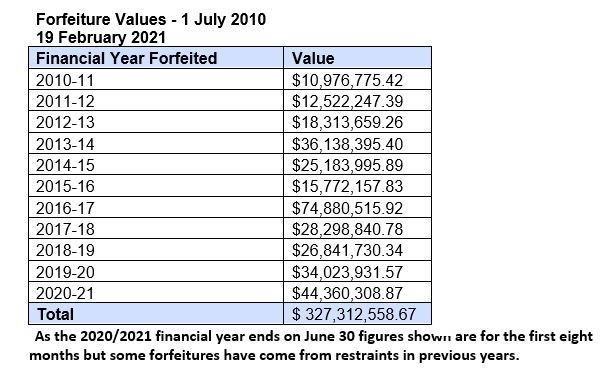 Value differences
A police spokesman said the value forfeited to the Crown often didn't match the restraint value due to third party interests (banks) in properties or assets not sought for forfeiture. Values also fluctuated between a forfeiture being granted and the sale of an asset, usually not less than six months after a court-issued forfeiture.
The CPRA designates the Official Assignee to take custody and control of the assets restrained or forfeited by the courts and to dispose of confiscated assets.
Biggest restraint

The largest single asset restraint made under the act is $141 million in cash, assets and property, proceeds of cyber-crime channelled through Canton Business Corporation, the shell company behind the international bitcoin exchange, BTC-e, controlled by Russian cryptocurrency criminal mastermind, Alexander Vinnik who was arrested in Greece in 2017. New Zealand police spent 11 months in 2019 and 2020 through Operation Hermes recovering the assets. Vinnik was extradited to France early last year and sentenced to five years in prison in December on charges of laundering €135 million (about $NZ223.62 million). He faces further criminal charges in the United States and is wanted in Russia.
Those seized assets (up $1 million from the original police estimate last year) are still frozen until the investigation is completed and evidence finalised, the police spokesperson said, but was unable to say when that would happen. The Vinnik cache lifted the 2019-20 value of restrained assets to $261.3 million up 195% on the preceding year's $86.66 million.
Police data also shows in 2019-20 a further 38 restraints valued at $56.6 million from money laundering. This brought the year's total in that crime category to $197.6 million, followed by 256 counts of meth asset seizures ($19.05 million), 90 counts of cannabis dealing ($17.9 million), 38 counts of deception and fraud ($13.435 million), four counts of illegal trades and other offences ($9.8 million) and three tax crimes ($2.45 million). Lesser restrained amounts were for MDMA (Methylenedioxymethamphetamine) and ecstasy drug seizures, other drugs, and a sex crime.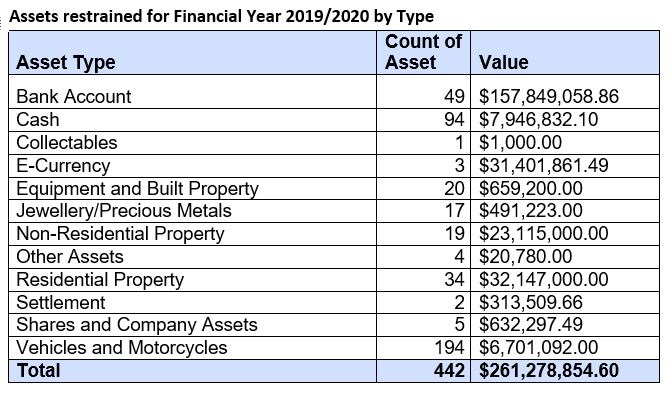 Assets restrained for Financial Year 2019/20 by Main Offence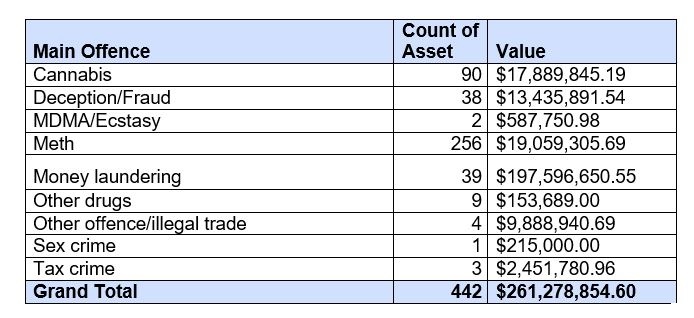 Venezuelan connection
One large money laundering seizure in the 2018-19 year of $US11.85 million ($16.14 million) is still frozen after a recent Court of Appeal case by Andreina Gamez Rodriguez failed to free the sum in a BNZ account registered to Hamilton-based Map and Associates Trustee Company. The money was wired from an account held with the Lombard Odier add CIE (Bahamas) Ltd Bank in Rodriguez's name. BNZ alerted the trustee company under its anti-money laundering and countering financing of terrorism obligations.
The Commissioner of Police claimed the funds were derived from the dishonest and fraudulent conduct of Rodriguez's husband, Luis Carlos De Leon-Perez, a dual US-Venezuelan citizen who was arrested in Spain in 2017 and extradited to the United States to face money laundering and bribery charges.
Perez, a former lawyer for the Venezuelan state-owned and controlled oil company Petroleos de Venezuela SA (PDVSA), pleaded guilty in July 2018 to soliciting bribes and kickbacks under a sealed plea agreement.
It is alleged he and others took US$119 million in bribes in return for arranging lucrative contracts for clients at a time PDVSA was perilously close to folding during the country's financial crisis between 2011 and 2013. His share was claimed to be not less than $US16.1 million ($21.92 million). The US Department of Homeland Security is still investigating the activities of Perez and others who are fugitives on the run. An investigation by Infodio.com's Alec Boyd has revealed a global money laundering operation for the funds with Rodriguez's name on documents.
Since Rodriguez lost her case in the Court of Appeal last November Map & Associate's director, Peter Bullen, said his firm has heard nothing further from Rodriguez and did not know if there would be further appeals. He declined to comment further.
But the police spokesperson confirmed the investigation was ongoing and at an application seeking forfeiture had not yet been sought but it would be filed when the investigation was completed and evidence finalised.
Highest forfeiture
While the Vinnik cybercrime asset chest is the highest amount restrained, the highest single amount forfeited in a money laundering case is $43 million laundered by William Yan, aka as  Bill Liu, Yang Liu and Yong Ming Yan. At the time he was charged in November 2017 the courts heard New Zealand would keep $15 million of those funds.
Pete Seufatu, MBIE's Criminal Proceeds Integrity Unit national manager, said the amount was both the highest single forfeiture under the Criminal Proceeds (Recovery) Act 2009 and its predecessor, The Proceeds of Crime Act 1991) in a money laundering case.
---
*Denise McNabb is a New Zealand freelance journalist. She can be reached at dmcnabb98@gmail.com
***This article was first published in our email for paying subscribers early on Thursday morning. See here for more details and how to subscribe.