Motor Industry Association wary of forecasts by Fitch and the Climate Change Commission around the pace at which NZ's vehicle fleet can be electrified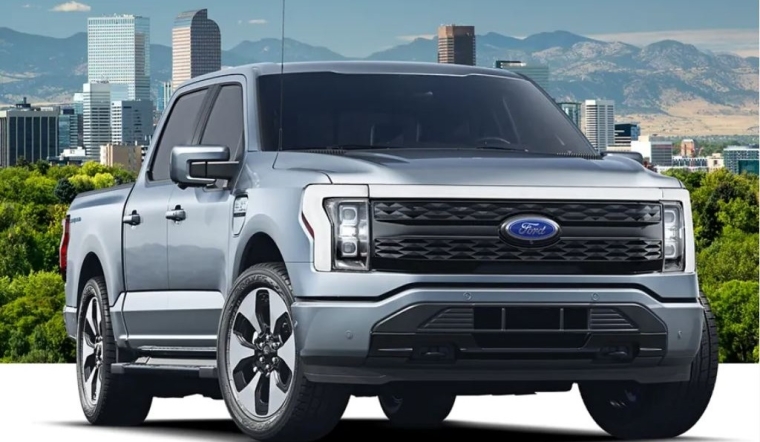 Motor Industry Association CEO David Crawford says "consultants" are the only people bullish about the electric vehicle (EV) market.
While vehicle manufacturers are scrambling to make lower-emitting vehicles, the uptake might not happen as soon as the Climate Change Commission and now credit rating agency, Fitch, are predicting, Crawford told interest.co.nz.
Fitch said the Government's feebate scheme reinforces its bullish outlook for New Zealand's EV market.
The scheme, announced on Sunday, will see buyers of newly imported, new or used, high-emitting vehicles pay a fee, and buyers of low-emitting vehicles receive a rebate.
Fitch forecasts the country's EV sales growing at an average annual rate of 55.5% between now and 2030.
"This represents an EV penetration rate of 58.4% by the end of 2030, up from around 2% in 2020," Fitch said.
"We also note that there is some additional room for stronger growth as New Zealand's government will likely… follow the European Union trend of banning the sales of ICE [internal combustion engine] vehicles before the end of this decade."
The Climate Change Commission said New Zealand will need to stop importing ICE vehicles between 2030 and 2035 to meet its proposed emissions budgets.
"This is in line with decisions by other developed countries and with the latest modelling by the International Energy Agency," the Commission said.
It said EVs could make up at least half of New Zealand's total light vehicle imports by 2029. By 2035, 46% of all light vehicle travel could be in EVs and 36% of light vehicles on our roads could be electric.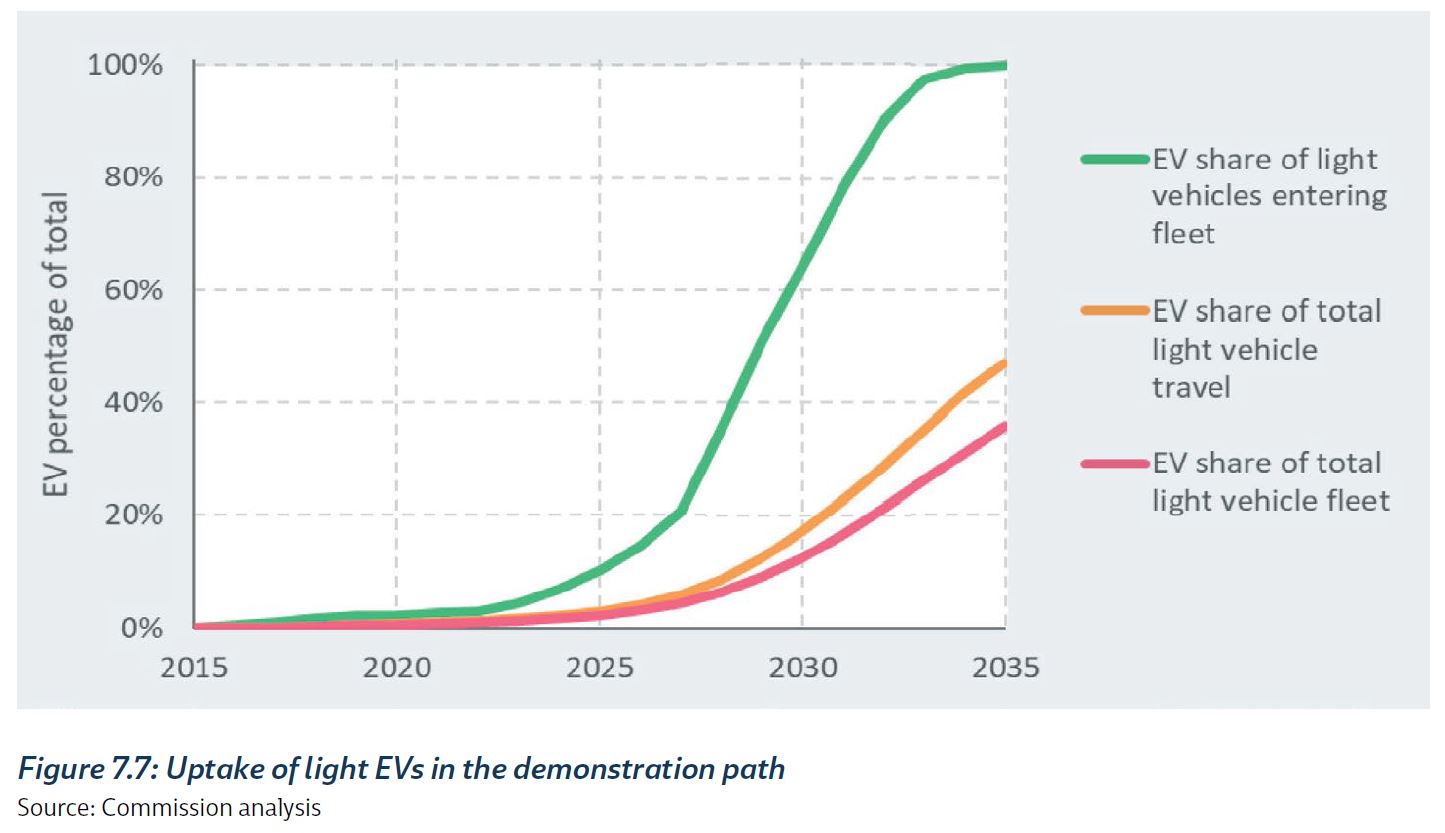 "About 50% of vehicles imported into Aotearoa are used and about 90% of these used vehicles come from Japan. The speed with which Japan rolls out EVs will affect how quickly we can roll out EVs here in Aotearoa in the short term," the Commission said.
"Historically EV uptake in Japan has been low. However, Japan is aiming for all vehicles entering their fleet from the mid-2030s to be low-emissions vehicles.
"We have reflected these constraints in our recommended emissions budgets. We heard from some submitters during consultation that our assumptions for EV uptake were too ambitious given these supply constraints.
"In our final advice, we have amended our assumptions and have highlighted different paths that could achieve our recommended emissions budgets."
Indeed, Crawford said the manufacture of EVs was the issue.
He noted the market for New Zealand-friendly vehicles, where the driver is on the right-hand side of the vehicle, is smaller than the market for vehicles where the driver is on the left. So, the likes of the US and Europe stand to benefit more from developments in EV technology.
While demand for utes is high in New Zealand, it isn't elsewhere. So electric utes are last in line when it comes to research and development.
Demand for electric cars, SUVs and vans on the other-hand is high in across all markets.
Crawford disagreed with Fitch, which suggested electric pick-up trucks could start hitting the domestic market in 2023/24, at which point the feebate scheme would reduce the cost differential between electric and petrol/diesel utes.
Fitch referenced the Ford F-150 Lightening, however Crawford said this sort of vehicle was larger than utes commonly used in New Zealand and targeted to the US market.
"Based on feedback from members of the Association, one or two brands are working hard to get in a fully electric ute," Crawford said.
"But our expectation is plug-in hybrid (PHEV) utes might become more widely available by 2025 and full battery electric (BEV) utes after that.
"There are a range of BEV vans on the market now and we expect more models will become available in the next 12 to 24 months.
"Speculation by [government] Ministers of when models are coming to the market is unhelpful and potentially misleading. At worst it becomes a death nell to business continuity."
The Climate Change Commission said: "We estimate the additional upfront cost for a EV in Aotearoa is currently around $16,000 excluding GST, of which about $11,000 is the cost of the battery.
"However, the outlook is positive, with leading international analysts such as Bloomberg New Energy Finance forecasting that electric cars will be cheaper to make than petrol cars by 2030.
"These expected cost reductions come through a combination of falling battery costs and other manufacturing cost reductions as automakers retool their production lines and scale up EV production. The cost of lithium ion batteries has already fallen 88% from 2010 to 2020 and is projected to more than halve again by 2030."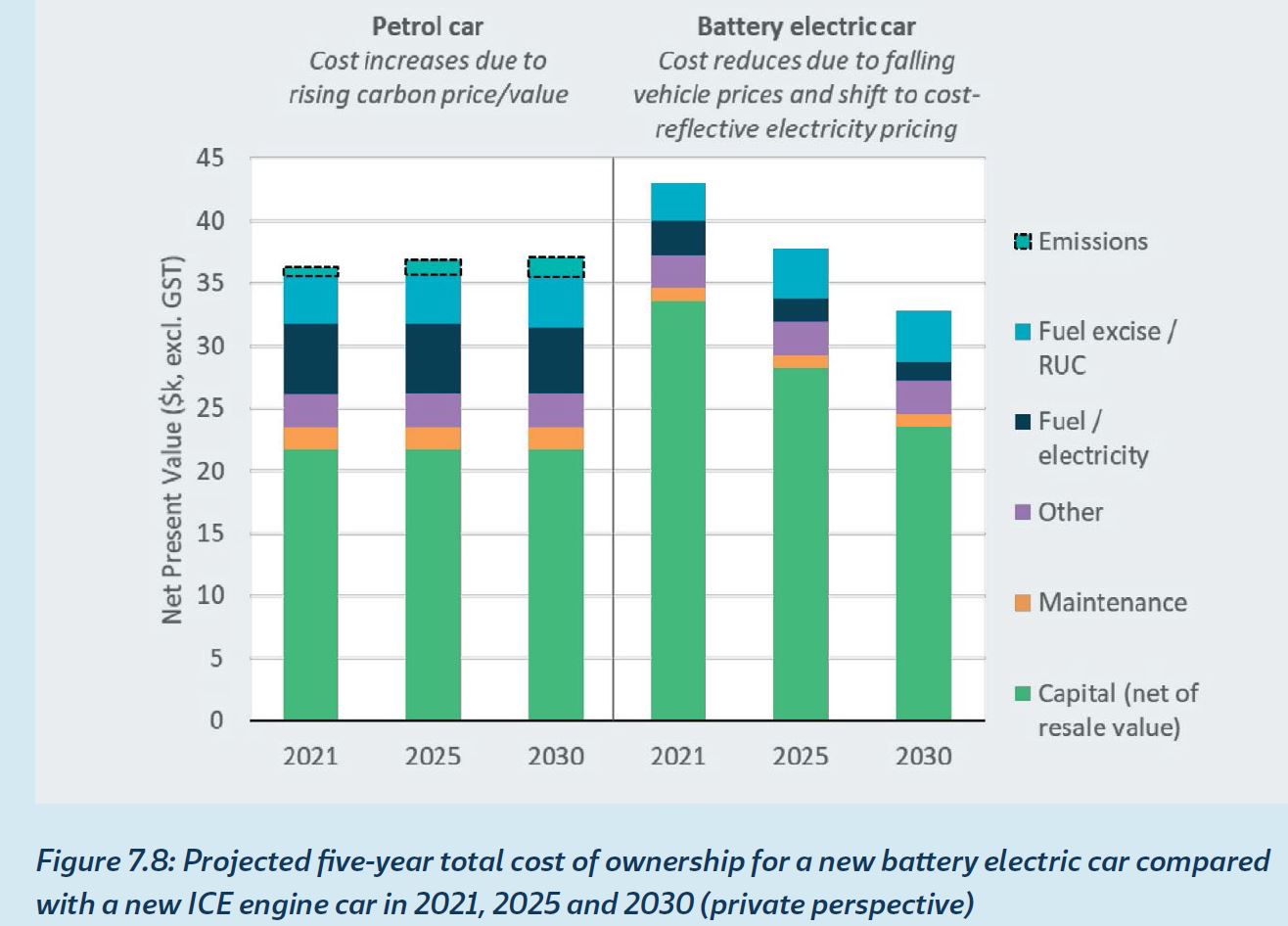 Crawford said the Motor Industry Association supports the Government's feebate scheme, having lobbied for it. 
He said New Zealand was playing catch-up with the policy. He maintained it would help distributors in New Zealand negotiate better access to lower-emitting vehicles.
He said the Government was still working out the formula that will be used to calculate fees and rebates.
The feebate scheme - overview
Under the feebate scheme, buyers of low-emitting cars will be able to get a rebate from July 1, 2021, while buyers of high-emitting vehicles will have to pay a fee from January 1, 2022.
The rules will apply to new and used vehicles that arrive in New Zealand. Fees and rebates won't be applied to sales of already-registered vehicles within the domestic second-hand market.
The maximum fee will be $5175 for a new vehicle and $2875 for a used one.
The maximum rebate will be $8625 for a new vehicle and $3450 for a used one.
Rebates will be available for vehicles worth less than $80,000 that have at least a three-star safety rating.
They'll be issued for electric and plug-in hybrid vehicles first registered from July 1. From January 1, a set of smaller rebates will be available for low-emitting vehicles that can't be plugged in.
Waka Kotahi New Zealand Transport Agency will administer the feebate scheme, and will issue rebates/collect fees directly from vehicle purchasers, not dealers.