Level 4 lockdown to be extended until at least 11:59pm on Tuesday, August 31 for Auckland and Friday, August 27 for the rest of the country; Parliament won't sit this week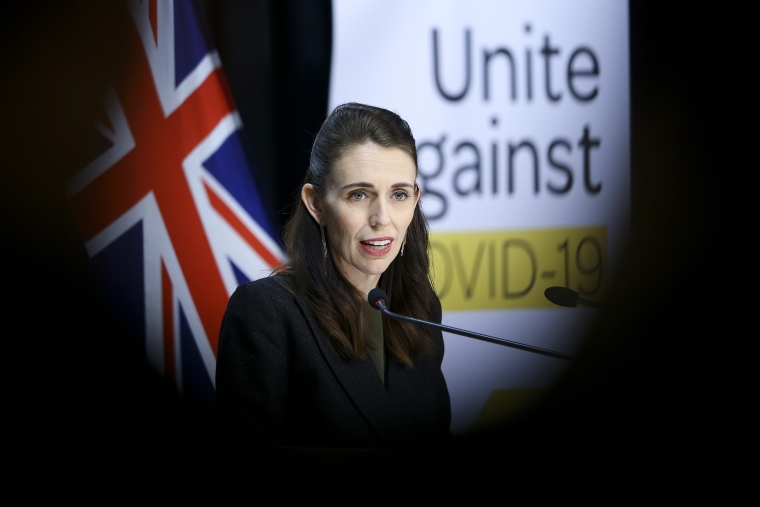 LAST UPDATED AT 6:14PM
Level 4 lockdown will be extended until at least Tuesday, August 31 for Auckland, and Friday, August 27 for the rest of New Zealand.
Cabinet made the decision on Monday.
Auckland's alert level will be reviewed on Monday. The rest of the country's settings will be reviewed on Friday. 
Prime Minister Jacinda Ardern said more certainty around the Covid-19 situation was required before moving down alert levels.
The decision follows 35 new cases of Covid-19 being reported on Monday, bringing the total number of cases in the community up to 107. Eight cases are in Wellington. The rest are in Auckland. 
Ardern said an issue is that contacts of positive Covid-19 cases are spread around the country.
Over 100 of the 14,000 contacts identified are in the South Island. Below is a map from the Ministry of Health that shows where these contacts are. Click on the magnifying glass to zoom in.
What's more, Ardern said almost 8000 people travelled from Auckland to their homes in other parts of the country after the lockdown came into force. So we've only had 72 hours where people have stayed put nationwide.
Ardern said the edges of the outbreak haven't been defined, nor the peak reached. 
She said early estimates were that the average number of people that cases in the community cluster are passing Covid-19 onto is six or higher. This number needs to be less than one for the for virus to be stamped out.
"So we have some way to go yet," Ardern said.
Looking further at the 14,000 contacts, just over half have been contacted. Just over 300 are "very" close contacts. There are 338 locations are interest.
Ardern noted the Ministry of Health was taking a conservative approach to identifying contacts. In other words, all attendees at a church service or awards night attended by an infected person are considered contacts.
Director-General of Health Ashley Bloomfield said seven people are in hospital with Covid-19. The only person in intensive care is someone from Fiji, who isn't part of the community cluster.
Ardern believed only 11 of the 107 people in the community cluster had received a vaccination. She the cohort of infected people was relatively young. 
She said eliminating Covid-19 remains the strategy.
Parliament suspended
Cabinet has decided Parliament won't sit this week, as planned before the outbreak. It will resume on Tuesday, August 31. 
Select committee meetings, which are chaired by Labour MPs, will take place virtually and be televised on Parliament TV.
Finance Minister Grant Robertson, Minister for Covid-19 Response Chris Hipkins, Transport Minister Michael Wood, Minister for Social Development and Employment Carmel Sepuloni, and Police Minister Poto Williams will appear before various committee this week.
However, the Epidemic Response Committee, chaired by the Opposition Leader, won't be stood up again.
During last year's lockdown, government ministers and various subject experts appeared before this committee for questioning. Meetings were broadcast. 
National wants this committee to be stood up again. It supports Parliament being suspended for one week only. 
ACT wants the Epidemic Response Committee to be brought back at the very least. 
Both parties are unhappy with the current set-up and are calling for more accountability. 
Below are copies of press releases related to this situation.
Leader of the House Chris Hipkins
"The Director-General of Health has advised, and Cabinet has agreed, that it is not advisable for MPs to participate in a large indoor gathering for an extended period of time, or travel inter-regionally to do so, while the COVID-19 risk for New Zealand remains high.

"As a result, the Government has consulted leaders of the other parties and the Speaker has been informed that the next sitting of the House has been postponed until Tuesday 31 August. This will be reviewed on Thursday.

"In making this decision, Cabinet was very mindful of the need for ongoing democratic scrutiny. Opposition and backbench MPs should still have the opportunity to question the Government in the absence of House sittings.

"As such, Ministers and senior government officials will be making themselves available to appear before virtual select committees over the coming week. Those meetings will be televised on Parliament TV and we expect opposition members to have the bulk of the allotted time to ask questions.

"I have worked with other parties to agree a schedule of meetings.

"I can confirm the Minister of Finance will be available to appear before the Finance and Expenditure Committee tomorrow morning, and the Minster for COVID-19 Response will appear before the Health Committee on Tuesday and Wednesday afternoon."

In addition, relevant ministers will appear before the Social Services, Transport and Justice committees this week, as follows. 

Tuesday:

10.30am – Finance and Expenditure (Hon Robertson & officials)
2.30pm – Health (Hon Hipkins & Health officials)

Wednesday:

10am – Transport & Infrastructure (Hon Wood & Officials)
11am – Social Services (Hon Sepuloni & Officials)
2.30pm – Health (Hon Hipkins and MIQ/Border officials)

Thursday:

10am – Justice (Hon Williams & Police)
11am – TBC
2.30pm – Health (Prof Skegg, other external experts)
National Party
The Prime Minister has advised me that she is unilaterally suspending parliament, Leader of the Opposition Judith Collins says.

"I have expressed that a one week suspension of Parliament is all the National Party will support. However, the Prime Minister has indicated that she expects it will continue longer than that.

"At a time when New Zealanders have the harshest lockdown in the world and have lost our freedoms because of the Government's failure to vaccinate and secure the border, this move by Jacinda Ardern is unfathomable.

"Look around the world and you will see parliaments managing to continue to function despite challenging circumstances. In the UK they operated virtually for almost a year.

"There are important questions that need to be asked as to how Delta got into New Zealand. Suspending Parliament means the Government avoids this scrutiny.

"As Leader of the Opposition I will be reaching out to the ACT and Māori Parties to establish how best we can prevent this shut down of democracy at the very moment we need it the most.

"Additionally, Labour have resisted all calls for the recommencement of the Epidemic Response Committee. Jacinda Ardern clearly thinks that her actions and the actions of her Government should be beyond reproach and is moving to ensure that is the case.

"This is unacceptable and an overreach of power. It leaves New Zealanders with no ability to demand accountability and transparency from the Government.

"Clearly, despite her assurances to govern for all New Zealanders, Jacinda Ardern is unwilling to be accountable to them.

"The National Party will lead the Opposition to demand democracy is retained during this time of crisis. New Zealand cannot and will not become a one-party dictatorship."
ACT
"Jacinda Ardern is happy to have a socially distanced 1pm stand up with a dozen journalists in a room but not a democratic parliament with elected representatives asking her questions," says ACT Leader David Seymour.

"Ardern called me this afternoon to say she has decided that Parliament should not sit this week.

"At the very least the Epidemic Response Committee should have been brought back.

"The suggestion that Select Committees with a Labour majority, which have been notorious for obstructing questioning are a substitute for Parliament would not be taken seriously at any other time.

"Ardern's objection that inter-regional travel is not justifiable is extraordinary. The planes are still flying to Wellington with people on them, Ardern just doesn't think those people should include Opposition politicians.

"In the previous Level 4 lockdown, all parties agreed to closing Parliament in return for an Opposition-led Epidemic Response Committee, this time there will be even less accountability.

"This decision to close Parliament is totally different from all parties agreeing, it is dictated by Jacinda Ardern alone."