Government payments to businesses total $1.26 billion since the start of this lockdown, as the Wage Subsidy supports 28% of those in paid work
The Wage Subsidy is supporting around 28% of the 1.47 million people in New Zealand in paid work.
The Government has paid 205,509 businesses $873.3 million in Wage Subsidies since the start of this lockdown on August 18.
It's also paid businesses $378 million in Covid-19 Resurgence Support payments and around $1 million in Leave Support Scheme and Short-Term Absence payments.
All up, these payments total $1.26 billion.
On top of this, the Government has lent 2071 businesses $30.4 million since the start of lockdown via the Small Business Cashflow Loan Scheme.
Answering questions by National Finance Spokesperson Michael Woodhouse during question time in parliament on Tuesday, Finance Minister Grant Robertson reiterated he didn't believe the Government would need to borrow more to cover the cost of this outbreak - yet at least.
He last week told interest.co.nz $4.7 billion of the $62.1 billion set aside last year for the Covid-19 response is available/yet to be allocated.
Furthermore, some initiatives unveiled last year haven't ended up costing as much as expected. This funding can be reallocated to costs arising from this outbreak. Robertson said, during question time, these funds total around $4 billion.
So, $8.7 billion of the $62.1 billion set aside for Covid-19 is available.
Robertson went on to say this wasn't the only funding available.
"Agencies are also looking to use their existing baselines," he said.
"In addition to that, if there is a need to top up the CRRF [Covid Response and Recovery Fund], we can do that without going above forecast net debt figures due to the exceptional performance of the New Zealand economy, providing significant fiscal headroom to do so."
Woodhouse also asked Robertson why he had spent "so much" of the funds set aside for Covid-19 on non-Covid related projects.
Robertson said he rejected Woodhouse's assertion and referred him to the Treasury graph below, which shows how as at the May Budget this year, the bulk of Covid-19 funding had gone towards social development.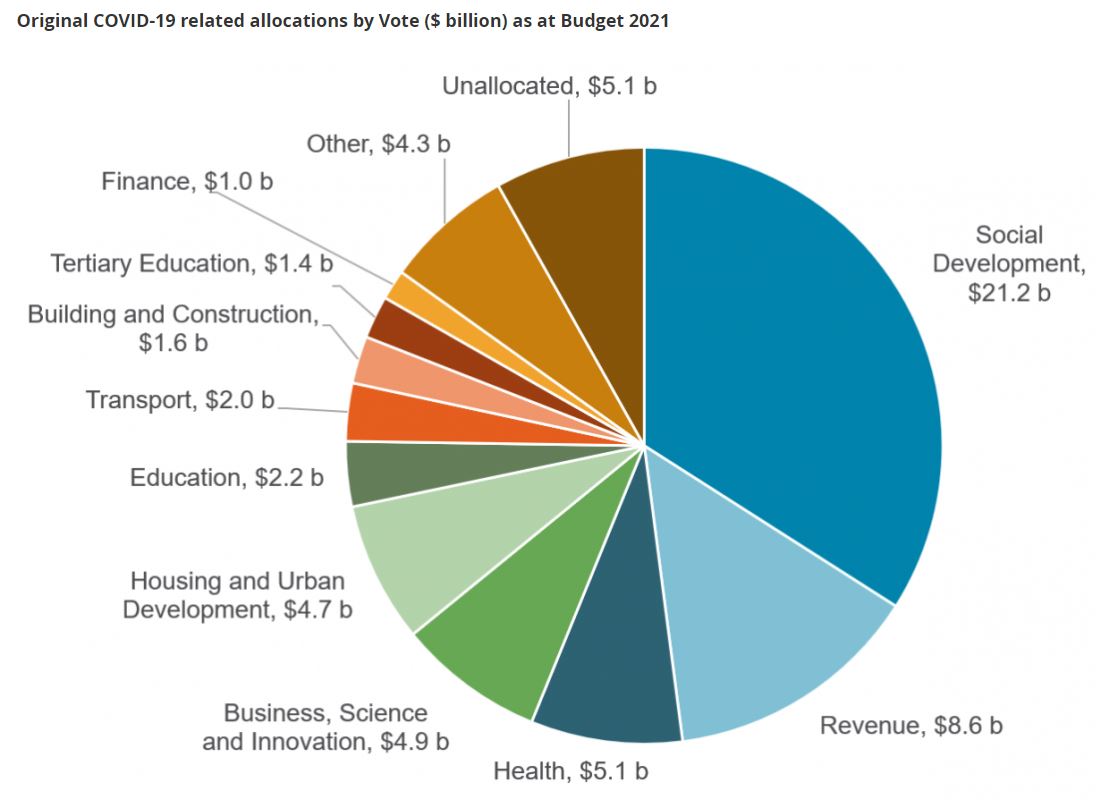 Woodhouse then asked Robertson, "Will he commit to showing the discipline needed to spend COVID money on COVID-related costs and not on things like three-quarters of a billion dollars on Three Waters reform?"
Robertson responded, "What I will commit to is a continuation of the Government's work to make sure we support the response and the recovery.
"What I won't do is what the member's party committed to do, which is spend up to $8 billion worth of the CRRF on tax cuts and his pet transport projects."
For more detail on the Government's finances, see this story from last week.
And for more on the different support scheme available, click on the links below.