Global producer prices on the rampage; China's carbon market failing; new yuan lending lacks demand; APRA eyes leverage risks again; UST 10yr 1.34%, oil rises and gold dips; NZ$1 = 71.2 USc; TWI-5 = 74.2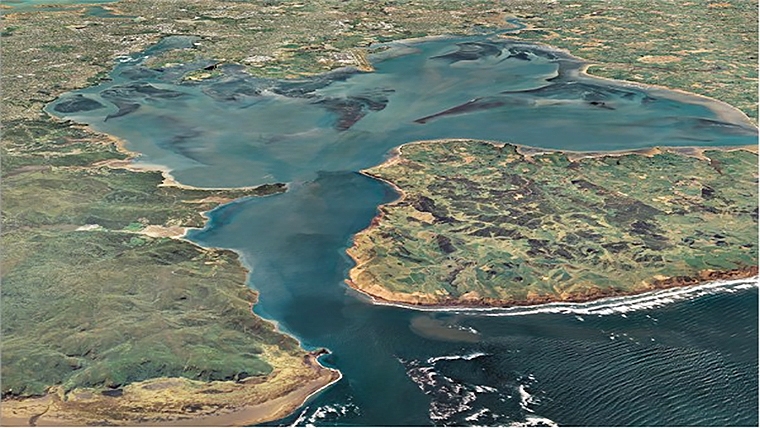 Manukau Harbour
Here's our summary of key economic events overnight that affect New Zealand with growing concerns about how fast and how widely producer prices are rising.
But first, frustration at the resistance of a minority, but a sizeable minority of Americans to not get vaccinated and thereby risking the health of those around them has boiled over at the top. The carrot-and-stick approaches to public safety are about to get more pointed, and the irresponsible will incur significant costs. (In stark contrast, Denmark has reached an 83% vaccination rate and is reopening.)
The latest update of the US Fed balance sheet shows it essentially unchanged for a fourth week in a row. They are getting ready to reduce bond buying in November, and that will pave the way for rate increases. Signals for this are expected in their September meeting in about two weeks.
The US producer price index rose +8.3% in August from a year ago, more than expected and the biggest annual rise since they started keeping this data in 2010. This is in the context of the global supply chain shocks, domestic labour shortages of skilled workers, and fast rising commodity prices. It seems less likely this sharp producer price pressure in transitory.
It is not just a US phenomenon. China reported its PPI rise earlier this week as +9.5%, Japan recorded +5.6% for July, Germany reported +10.4%, Taiwan +11.9%, South Korea +7.1%. Australia's +2.2% change is unusually restrained but New Zealand's +7.2% is mid-ranking on a world scale.
There will be no escape from this global rising tide - although we can mitigate it with a rising currency, and ours has in fact risen +2.2% since the end of July. However it is clear such a move will only take the top off this coming global inflation threat.
The Americans are reporting that they will import more beef at higher prices. The same report says their milk production will fall and price forecasts were raised.
On the commodity front, nickel prices surged past US$20,200 a tonne for the first time since May 2014, boosted by strong demand from stainless steel mills and electric vehicle battery makers, along with shrinking inventories. Copper and aluminium prices are also rising in a broad rally today. Going the other way, wheat prices are falling, although that is from generally high levels.
Canada reported that their August employment rose +90,200 in the month, two thirds of it as full-time employment. Although this was slightly less than was expected, their summer re-openings helped. They are actually now close to recovering all the pandemic job losses.
And we should note that China carbon market seems to stumbling in its early stages. Prices are falling and are now only NZ$9.90/tonne. That is far from the New Zealand price of $65.00/NZU where we ended this week, and the EU price of NZ$103.50/tonne. It is even above the NZ$25.30 for the Australian ACCU.
China is ten days away from its Mid Autumn Festival holiday, a week long break before their winter sets in. It usually features another vast movement of people but this year most of that travel will be domestic, Domestic bookings are high.
In China, new bank lending rose less than expected in August and not really bouncing back from the nine-month low seen in the previous month. Slowing credit growth indicated weakening financing demand from companies as their economy slows.
In Japan, a major convenience store operator will open about 1,000 unstaffed shops by the end of fiscal 2024 offering the same products as the chain's regular outlets, in the first large-scale deployment of fully automated stores in Japan.
Indian industrial production rose +11.5% year-on-year in July, lower than the +13.6% in the previous month, but above market forecasts of +10.7%. It is the fifth month of double-digit growth due to low base effects from last year but it does reflect a fast improvement in the past few months.
German consumer inflation came in at +3.9% in August, and a 28 year high.
In Australia, the auditor of James Packer-controlled Crown Resorts casino business have noted that ongoing regulatory and legal matters raise the question of whether it is a going concern. (see page 98.) That didn't stop Crown from paying some significantly large bonuses to some senior managers.
And the APRA boss says they are monitoring a rise in highly leveraged mortgages as the regulator considers potential macro-prudential measures to cool the surging housing market. It is a market expected to fly again when pandemic restrictions ease as vaccination rates rise.
And staying in Australia, there were another 1543 new community cases in NSW yesterday with another 1389 not assigned to known clusters, so zero improvement there. They now have 13,022 locally acquired cases. Victoria is reporting another 334 new cases yesterday, so it is still getting worse there, particularly in Melbourne's north. Queensland is only reporting one new case. The ACT has 24 new cases. Overall in Australia, more than 41% of eligible Aussies are fully vaccinated, plus 25% have now had one shot so far.
Wall Street is directionless in its Friday session, with the S&P500 currently down a further -0.2% and taking the weekly retreat to -1.1%. Overnight, European markets were mixed but down overall about -0.1%. Yesterday, Tokyo rose +1.3%, Hong Kong rose by +1.9% and Shanghai \rose another +0.3%. On a weekly basis these three key Asian bourses rose +3.0%, +1.5% and +3.4% respectively so they all had a very good week. The ASX200 recovered +0.5% on Friday but that still left it down -1.6% for the week. The NZX50 Capital Index fell by another -0.2% and taking its retreat for the week to -1.8%.
The UST 10yr yield opens today at just over 1.34%, so bouncing back up +4 bps in a day to a very similar level to one week ago. The US 2-10 rate curve is at +112 bps and steeper. Their 1-5 curve is also steeper at +74 bps, while their 3m-10 year curve is much steeper too at +129 bps. The Australian Govt ten year benchmark rate starts today at 1.27% and recovering +4 bps from this time yesterday. The China Govt ten year bond is at 2.90% and up +1 bp. The New Zealand Govt ten year is now at 1.88% and down another -2 bps on the day.
The price of gold has slipped -US$5 today and now at US$1791/oz.
Oil prices have risen by -US$1.50/bbl, so in the US they are now just over US$69.50/bbl, while the international Brent price has risen to just over US$72.50/bbl.
The Kiwi dollar opens today at 71.2 USc and little-changed since this time yesterday, but -25 bps lower since this time last week. Against the Australian dollar we are slightly softer since yesterday at just over 96.2 AUc but a little firmer over the whole week. Against the euro we are firmer at 60.3 euro cents. That means our TWI-5 starts today at just on 74.2, firmer for both the day and the week and still right at the top of the 72-74 range of the past ten months.
The bitcoin price has stayed down, now at US$45,769 and a drop of -2.5% since this time yesterday and a retreat of -7.9% in a week. Volatility in the past 24 hours has been moderate at just under +/- 2.5%.
The easiest place to stay up with event risk today is by following our Economic Calendar here ».