China's Evergrande situation worsens; China growth vanishes; panic selling of iron ore contracts; US sentiment stays low; Australia oks new coal mine; UST 10yr 1.37%, oil soft, gold falls again; NZ$1 = 70.4 USc; TWI-5 = 73.7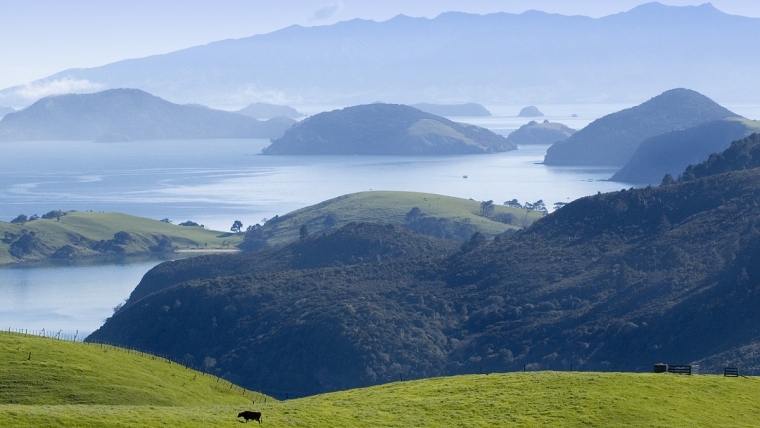 Inshore islands, Coromandel peninsular
Here's our summary of key economic events overnight that affect New Zealand with news China is being buffeted with some pretty major forces it is struggling to control.
First, their central bank has injected NZ$20 bln (¥100 bln) into their financial system overnight through seven and 14-day reverse repurchase agreements, the most since February, as the Evergrande situation seems to be getting worse there. Evergrande bond holders can't find buyers, which points to sharp losses and ugly margin calls, both of which can cause a cascading impact and general contagion. The whole situation is starting to look like an uncontrolled crash.
Worse for China, a top analyst sees Q3 delivering zero growth as the overall economy slows fast now. One reason is that their carmaking industry is stumbling and for the same reason the US auto industry is too - a lack of computer chips.
This overall economic pullback has meant that Chinese firms are far more reluctant to invest overseas. Through August, the 2021 levels are more than -4% lower than in 2020.
And the iron ore price has dived further in China in what is being described as a "brutal collapse". It is now below ¥600/tonne and a -55% fall since it peaked May 2021. Their environmental agency is planning a new winter air pollution campaign that is expected to curb steel mill activity sharply. There are tales of 'panic selling' surfacing now, especially in Australia.
China's bid to join the TPP comes with problems for them, as the process requires all existing members to agree, and that includes sceptics like Australia and Japan. It may have boxed itself in to having to either negotiate seriously for economic reform with these antagonists, or be seen as just an opportunist trying to derail the new AUKUS alliance. Either will be somewhat humiliating for China. If it feels that way, it could lash out.
In the US, the closely-watched University of Michigan sentiment survey came in at the same level in September as it was in August - and that isn't good because August was a sharp dive to a decade low. The worries all center around inflation. There is unease that it won't be transitory, which for consumers could be self-fulfilling. A strong view is that now is not a good time to buy a house.
Singapore's exports sagged in August and by more than expected. A good bounce-back from a weak July was expected but it didn't happen, so this has been a big miss. In fact August exports were lower than for July and that ate into the year-on-year gains which are now pretty modest.
In Australia, they have approved a major expansion to coal mining, just before the United Nations Cop26 climate conference in Glasgow, Scotland, where Australia will be pressed to commit to tougher emissions reduction targets. It now seems likely Australia will ignore those calls.
Meanwhile, the cost of lithium is racing higher as the rest of the world moves away from fossil fuels. Technical and battery-grade lithium carbonate prices increased by over 20% in the first half of September and in China have doubled so far in 2021.
And back in Australia, there were another 1284 new community cases in NSW reported yesterday with another 1167 not assigned to known clusters, so still going backwards there. They now have 14,175 active locally acquired cases. Victoria reported another 510 new cases yesterday, so it is worse there too. Queensland is reporting one new case. The ACT has 30 new cases again. Overall in Australia, more than 45% of eligible Aussies are fully vaccinated, plus 25% have now had one shot so far. That is 70% who have been vaxxed and flat-lining. In New Zealand it is now 72% rising fast still. Kudos to the Herald for championing a 90% goal. At the +60,000 per day rate we are currently at, that is less than two weeks away.
The Friday session on Wall Street has traded lower since its opening, with the S&P500 now down -0.9% in early afternoon trade and falling almost -1.0% below where it ended last week. Overnight, European markets were mostly -1.0% lower. For the week, Paris lost -1.8%, London lost -0.9% and Frankfurt lost -1.2%. Yesterday the very large Tokyo market recovered +0.6% to end the week up +0.4%. And Hong Kong recovered +1.0% but ended its week down -3.7%. Shanghai rose a minor +0.2% yesterday but that left it -2.3% lower for the week. Evergrande isn't helping. The ASX200 closed down -0.8% to end the week flat. And the NZX50 Capital Index closed up a strong +1.2% yesterday in a rally that built during the day, and for the week was up +1.3%.
The UST 10yr yield opens today at just over 1.37%, so up another +3 bps from this time yesterday. That puts the interim weakness during the week behind us. The US 2-10 rate curve is at +114 bps and marginally steeper. Their 1-5 curve is steeper too at +79 bps, while their 3m-10 year curve is steeper at +131 bps. The Australian Govt ten year benchmark rate starts today at 1.33% and also up another +5 bps. The China Govt ten year bond is at 2.91% and unchanged. The New Zealand Govt ten year is now at 1.88% and up +7 bps and back up to where it was a week ago, after falling to 1.79% in between.
The price of gold has fallen another -US$4 today and now at US$1753/oz which takes it back to about where it dipped briefly to in mid-August. It hasn't been a good day for the yellow metal. Silver has fallen again and is back to year-ago levels.
But oil prices have drifted -50 USc lower overnight so in the US they are now just under US$72/bbl, while the international Brent price is now under US$75/bbl.
The Kiwi dollar opens today at just on 70.4 USc and losing another -¼c since this time yesterday. It is almost -¾c lower than this time last week. Against the Australian dollar we are at 96.4 and down more than -½c overnight. Against the euro we are little-changed at 60 euro cents. That means our TWI-5 ends the week at just under 73.7, still at the top of the 72-74 range of the past ten months but down -50 bps in a week.
The bitcoin price has slipped again today, now at US$46,966 and -1.4% softer than this time yesterday. But it is +5.0% higher than a week ago. Volatility in the past 24 hours has been modest at just under +/- 1.5%.
The easiest place to stay up with event risk today is by following our Economic Calendar here ».