US default looms; Evergrande misses key payment; factories expanding in Japan, Taiwan, Singapore; key commodity prices surge; China drops hammer on cryptos; UST 10yr 1.46%, oil firms but gold slips; NZ$1 = 70.1 USc; TWI-5 = 73.6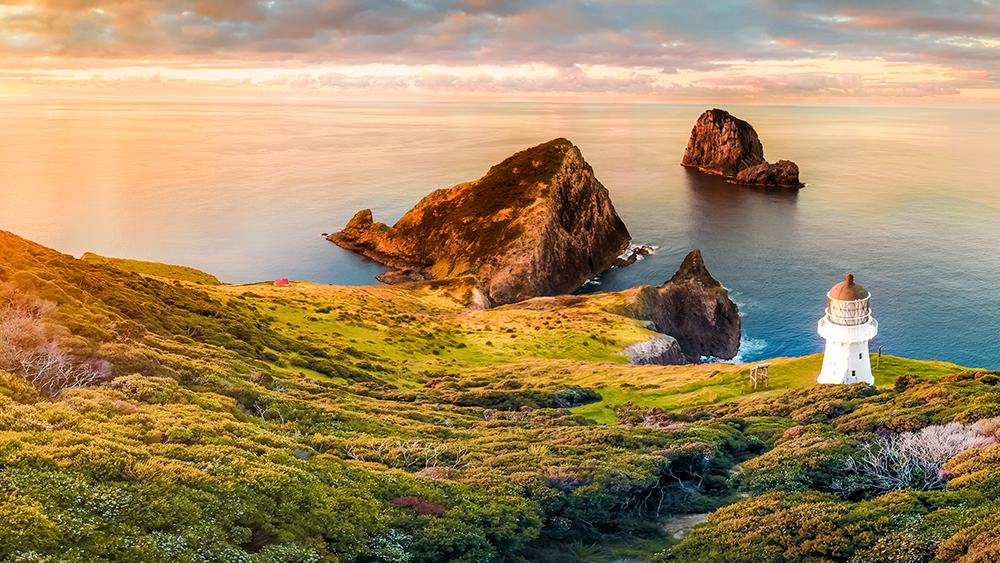 Cape Brett lighthouse, Bay of Islands
Here's our summary of key economic events overnight that affect New Zealand with news the world's factories are expanding still, and the prices of some key commodities are surging.
But there are now reports that the Whitehouse is about to order its Federal agencies to prepare for a shutdown as its debt limit is now exceeded.
Meanwhile, American new home sales data for August was minorly positive, adding to the good July, but really only taking them back to pre-pandemic levels. Still this latest data is a four-month high.
Global investors who own Evergrande's USD bonds did not receive their US$83 mln coupon payment by yesterday's deadline. There is a 30 day grace period before a default event is triggered however. At stake are bonds with a face value of only US$2 bln, but it is an event sending reverberations through the US$400 bln Asian debt markets. Evergrande paper is now trading at just 28c in the dollar. Total Evergrande liabilities, which includes much more than its traded bonds, exceed US$300 bln. Given that China's GDP is US$14.5 tln, that is 2%, so the Chinese economy could feel an Evergrande collapse.
And China is arresting the senior management of another failed conglomerate, HNA.
In Japan, consumer prices slipped by -0.4% in August 2021 from a year ago, after a -0.3% drop a month earlier. This was the eleventh straight month of decrease in consumer prices, amid weakening consumption due to the ongoing pandemic. Core consumer prices were flat, in line with forecasts and ending a decrease for the first time in 13 months. (In the linked report ▲ means negative.)
The latest Japanese factory PMI for September shows the sector expanding at a modest level still. New orders slipped but managers are obviously confident about the future because hiring remained strong. Price pressure wasn't noted in this survey. Meanwhile, the Japanese services PMI for September records a small contraction, but far less than for August.
In Taiwan, their export order data grew less than forecast in August on unexpectedly weaker demand for new smartphones. But they were +17% higher than a year ago and +34% higher than for August 2019. More importantly perhaps, the ratio of their firms' exports that are produced offshore is falling.
Singapore industrial production rose +11% in August, better than expected, and +29% above the pre-pandemic levels two years ago.
But despite an 84% full vaccination rate, Singapore is seeing a renewed surge in Covid cases, stressing their hospitals, and they are instituting new social restrictions including work-from-home.
In the past week, the cost of shipping a container held steady at record high rates. At least it didn't rise again. Most pressure in on goods flowing from China to the US and EU. Least pressure is for goods flowing into China, and trans-Atlantic to the EU.
But the Baltic Dry index pushed on up higher this week, now at a twelve year high.
The price of lithium continues to rise, unchecked, and now up +310% in a year. Coal prices remain near record highs in September, amid tight supplies and strong prospects for the winter demand. Iron ore prices however are still falling. But that is not the case for aluminium which rose this week to a 13 year high. Dr Copper isn't so bullish however. But tin prices are in the clouds, at an all-time high caused by high demand from the electronics industry and very short supply. Nickel prices are high too on demand for stainless steel. But 10% of the world's nickel ends up in the Chinese property market, so that is taking the top off recent rises.
The IMF has been reviewing Australia's economic situation and released its staff report yesterday. It noted that Australia needs to address the rising financial stability risks posed by rocketing house prices, which are expected to increase by up to +20% this year. I wonder what they would say about NZ's higher rises? The IMF also warned Australia there would be a "reckoning" for so-called zombie companies once pandemic supports were withdrawn, which could result in a spike in corporate insolvencies, particularly in SMEs.
And staying in Australia, there were another 1043 new community cases in NSW reported yesterday with another 840 not assigned to known clusters, and these numbers are material no improvement. They now have 12,148 active locally acquired cases. Victoria reported another 733 new cases yesterday. Queensland is reporting zero new cases again. The ACT has 19 new cases again. Overall in Australia, more than 49% of eligible Aussies are fully vaccinated, plus 25% have now had one shot so far. Vaccination hesitancy is dissolving fast in Australia, so a 90% target there now looks feasible.
The S&P500 is up +0.2% in late afternoon Friday trade, and up +1.3% for the week but still more than -2% below its record high. That follows a general pull-back of close to -1% in European markets overnight. Yesterday, the very large Tokyo market rose an impressive +2.1% to reduce its weekly loss to -1.2%. Hong Kong was fell -1.3% yesterday leaving it with a -1.6% weekly retreat while Shanghai fell -0.8% to cement in a -1.4% weekly loss. The ASX200 ended down -0.4% on the day and -0.7% for the week. The NZX50 Capital Index ended the day down -0.4% but for the week it did manage to post a +0.2% gain.
The UST 10yr yield opens today up again at just over 1.46% and +5 bps higher from this time yesterday and a 3 month high. A week ago it was 1.37% and rising. The US 2-10 rate curve is steeper at +119 bps. Their 1-5 curve is also steeper at +88 bps, while their 3m-10 year curve is steeper at +140 bps. The Australian Govt ten year benchmark rate starts today at 1.40% and also up +7 bps. The China Govt ten year bond is at 2.89% and up +1 bp. And the New Zealand Govt ten year is now at 1.89% and up +6 bps from this time yesterday and back to where it was a week ago.
The price of gold will start today marginally lower, down -US$5 at US$1747/oz. A week ago it was at US$1753/oz.
But oil prices have moved higher again overnight and compared to yesterday's levels are up another +$1 to just under US$74/bbl in the US, while the international Brent price is even higher at just under US$77.50/bbl. At these prices, we are seeing many more rigs being brought back into production, especially in the US.
The Kiwi dollar opens today at just on 70.1 USc and more than -¾c lower than this time yesterday. It is -¼c lower in a week. Against the Australian dollar we are softer at just over 96.6 AUc. Against the euro we are -50 bps weaker at 59.8 euro cents. That means our TWI-5 starts today at 73.6 and below the top of the 72-74 range of the past eleven months, and little-changed in a week.
The bitcoin price has fallen today, and is down at US$42,089 and a -6.2% retreat from this time yesterday. A key reason this time is that China has moved to ban all crypto trading, mining or holding. Volatility in the past 24 hours has been extreme at just over +/- 5.4%.
The easiest place to stay up with event risk today is by following our Economic Calendar here ».