SBS, TSB, raise short term deposit rates; HSBC with new PIE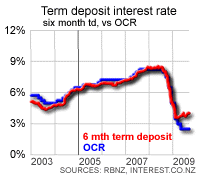 TSB shifted it special five month term deposit to six months, raising the rate as it did so. TSB's new special six month term deposit is 5%, with a minimum deposit of NZ$10,000. The rate is up from 4.65% previously. Meanwhile, SBS Bank raised its special five to twelve month term deposit rates, with interest paid quarterly, by 40 basis points to 4.4%. Minimum investment is NZ$5,000. Banks have focussed competitive term deposit moves around four to nine month terms in recently, with the average six month term deposit rate detaching itself from the Official Cash Rate as banks fight for more local funding. See all term deposit rates for terms less than one year here, and for terms one year and greater here.
HSBC has introduced a new nine month PIE fund at 4.15%. The equivalent return at 33% tax is 4.33%, and equivalent return at 38% tax is 4.68%. Minimum investment is NZ$10,000. See and compare PIE funds here.