Businesses less pessimistic, but recession will roll on, NZIER says
New Zealand's economy will contract in the June and September quarters and unemployment is expected to reach 7.8% next year, the New Zealand Institute of Economic Researchers (NZIER) said on Tuesday.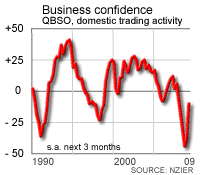 The NZIER Quarterly Survey of Business Opinion (QSBO) for the June quarter of 2009 showed that a net 10% of firms surveyed expected a decline in their own activity over the next three months. However, this was an improvement from a net 36% expecting a decline in the March survey. "Businesses are less pessimistic than they have been in the past six months", NZIER CEO Jean-Pierre de Raad said. "Fewer businesses expect a reduction in their own trading activity in the next three months. But the recession is not over yet. These latest data do not alter our view of a continued contraction until the December quarter," de Raad said. A net 36% of firms reported a decrease in their output and sales in the June quarter, pointing to another quarter of recession, de Raad said. New Zealand's GDP contracted 1% in the March quarter, its fifth consecutive quarter in recession.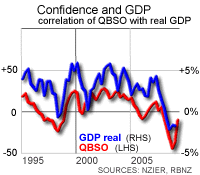 The NZIER said it expected unemployment would continue to rise to 7.8% in 2010. A net 19% of firms surveyed said they expected to cut staff numbers over the next three months, after a net 31% said they had cut staff in the June quarter. "Households have not yet felt the full impacts of this recession," de Raad said. De Raad said that the June survey included a new question regarding firms' access to credit. "Many commentators say access to credit is a big issue for firms. But that is not what firms tell us in this survey. Ongoing access to finance is of course a concern, and firms report a tightening of terms and conditions and fees. But access to credit does not seem to be playing a major role in their business. It is weak demand (sales) that is the biggest barrier to firms increasing output," he said. The QSBO is a survey of around 3,500 firms.