Home loan affordability worsens in April by the most in a year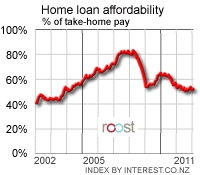 The New Zealand Housing Affordability measure from interest.co.nz worsened the most in over a year in April as a higher median house price and higher interest rates increased the amount needed to service a home loan. After a year of almost unbroken improvement in affordability the trend has reversed in March and April. "This is a spanner in the works for many first home buyers and rental property investors who were getting back into the market," said Interest.co.nz Editor Bernard Hickey. "The improvement in affordability helped fire up the market again in March and April, but this reversal is likely to cause many to think again before diving back into housing," Hickey said. The REINZ median house price rose to NZ$340,000 in April from NZ$335,000 in March, while the average 2 year mortgage rate rose back to 6.24% from 6.07%. These two factors increased the proportion of a single median income needed to service an 80% mortgage on a median priced house to 56.2% in April from 54.6% in March. This was the biggest deterioration in the home loan affordability series since March 2008 and came despite an improvement in after tax incomes because of tax cuts on April 1.
This measure of housing affordability had improved to its best level in 5 years in February because of a sharp fall in interest rates and falls in the median house price. Affordability hit its worst level of 82.9% in November 2007 when house prices peaked and 2 year mortgage rates were close to 10%.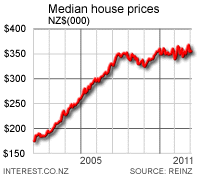 Many home buyers jumped in March and April to take advantage of lower interest rates and look for bargains, which improved the number of houses sold and had stabilised prices. But interest rates started rising again in late March and the April 30 cut in the OCR has largely not been passed on to most fixed rates and variable rates by the major banks. "The housing market usually cools off in winter and this worsening of affordability is likely to add an extra chill," Hickey said. "The budget on May 28 is expected to confirm the delay or cancellation of further tax cuts in 2010 and 2011, so affordability is unlikely to improve again unless mortgage rates fall and house prices fall," he said. Interest rates have stopped falling despite the Reserve Bank's OCR cut and some longer term mortgage rates have actually risen as heavy government borrowing globally forces rates higher and bank margins are squeezed. "The only realistic hope therefore for home loan affordability is further falls in house prices." Affordability remains slightly out of reach for most individual home buyers. The threshold proportion of after tax income considered prudent to sustainably own a house is around 40%. Anything above that is starting to become unaffordable. Affordability also worsened for a typical first home buyer. The Housing Affordability report's measure shows the mortgage servicing proportion worsened to 48.8% in April from 47.4% in March. This measure is for a median income earner aged 25-29 buying a first quartile home. Interest.co.nz thinks the "˜affordable' threshold is 40% for such a home buyer.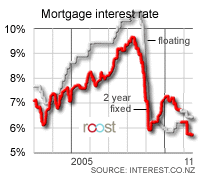 The report's measure of affordability for a "˜typical' household shows that proportion rose to 36.7% in March from 35.9% the previous month. This "˜typical' household includes one 30-34 year old male earning a median income, one 30-34 year old female earning 50% of a medium income and one child over five. Interest.co.nz thinks the "˜affordable' threshold is 30% for such a household. The report's measure of a "˜typical' first home buying household shows the proportion required to buy the first quartile home worsened slightly to 23% in April from 22.5% in February. It has, however, improved from 34% a year ago and 34.9% at its peak in November 2007. This measure is for one full time male aged 25-29 and one full time female aged 25-29 with no kids. Interest.co.nz considers the affordability threshold for this group as 30%, although that doesn't leave room for children. Southland continued to be the cheapest region in the nation with the typical home buyer having to pay 34.5% of take-home pay to afford the mortgage on a median house. The most expensive region was the Central Otago Lakes region on 71.3%, although this is down from 115.4% a year ago. Home loan affordability for typical buyers Links to individual reports for regions can be found here Home loan affordability for first-home buyers Links to individual reports for regions can be found here