Housing market stabilising as volumes rebound, median edges up, REINZ says (Update 2)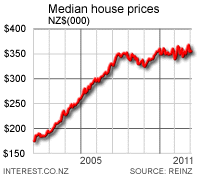 House sales volumes were up nearly 40% in April from a year ago and the median house price rose slightly in April from March, suggesting the housing market had stabilised, the Real Estate Institute of New Zealand (REINZ) said on Tuesday. Update 2 includes Auckland, Wellington and Canterbury figures, and days to sell. There were 6,210 homes sold in New Zealand in April, up 39.5% from a year ago, REINZ reported, The median sale price in the month was NZ$340,000, up from NZ$335,000 in March and down 1.44% from a year ago. It is down from the November 2007 peak of NZ$352,000. The number of sales showed the traditional April fall, down from sales March of 6,694. April sales were up from 4,450 in April 2008, but down from 8,194 in 2007. The median price was down from NZ$345,000 in 2008 and NZ$349,000 in 2007. However, the median price was at least NZ$35,000 higher than pre-2007 years.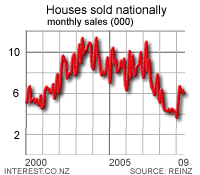 "(T)he figures reinforce a certain level of stability in relation to price and turnover, and are pleasing particularly as April is traditionally a slower month due to school holidays and seasonal adjustments," REINZ President Mike Elford said. "The figures are not hugely significant, but enough to generate a degree of optimism about the way forward from here," Elford said. The proportion of houses sold for under NZ$400,000 in April was 63.3% of total sales, slightly down from March. Houses prices between NZ$400,00 and NZ$599,999 made up 24.1% of total sales, the same as in March. Sales between NZ$600,000 and NZ$999,999 were up very slightly at 10.2% of the total, and sales over NZ$1 million remained at 2.4%. In Auckland, the median sale price remained the same as in March at NZ$435,000. This was down from NZ$450,000 in April 2008 and NZ$452,000 in April 2007. There were 2,081 houses sold in Auckland, representing 33.5% of total sales. Although total sales were down from March, the proportion of sales was up slightly from 32.7% in March, and 30.3% in April 2008. The median sale price in Wellington fell from NZ$376,000 in March to NZ$367,500 in April. This compared to NZ$375,000 in 2008 and NZ$377,900 in 2007. Wellington sales of 691 made up 11.1% of the total, and were down from 755 in March (11.3% of total). The proportion of sales was down from 12.5% in 2008, but up from 10.3% in 2007. In Canterbury/Westland the median price in April rose NZ$5,000 from March to NZ$295,000. This compared to NZ$300,000 in April 2008 and NZ$310,000 in 2007. There were 965 sales in the region, making up 15.5% of total sales. Sales were down from 1,090 in March (16.3% of total); up from 639 (14.4%) in April 2008; and down from 1,174 (14.3%) in 2007.  The 'days to sell' figure fell to 42 in April from 44 in March and April 2008. However it was still up 28 in April 2007.