Building consents rise slightly in March from Feb, but trend is still downward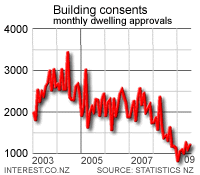 The number of building consents issued for dwelling units rose slightly in March from February, as a rise in non-apartment consents covered for a 46% drop in apartment consents, figures from Statistics New Zealand (Stats NZ) show. There were 1,091 consents issued for dwellings over the month, still down 30% from March 2008. The number of apartment consents fell from 193 in February to 104 in March. The latest figure was 50% higher than apartment consents issued in March 2008, but down almost 50% from March 2007. The amount of non-apartment dwelling consents issued rose to 987 in March from 866 in February. However this was still down 37% from the 1,517 consents issued in March 2008.
Despite the rise in unadjusted figures, Stats NZ said that the seasonally adjusted trend for dwelling consents had fallen more than 50% since June 2007. Seasonally adjusted, dwelling consents fell 4.6% from February, and were down 34.5% from March 2008.  The rise in the amount of dwelling consents issued was led by a surge in the Auckland region, back up to the March 2008 level at 315. This was up 43% from February. In Wellington, after a jump in apartment consents in February, total consents fell 70% in March to 64, also down 43% from March 2008. Consents rose 43% to 209 in the Canterbury region in March from February, but were still down 15% from March 2008.