Analysis: Why Kiwibank is unlikely to repeat its amazing December quarter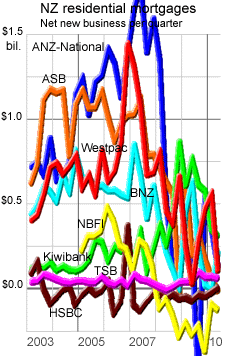 By Bernard Hickey
Kiwibank was the biggest mortgage lender in the December quarter, beating the big Australian banks for the first time. It lent NZ$871 million extra in the December quarter, more than quadruple its lending the same quarter a year ago and almost six times more than the biggest lender ANZ National. But even Kiwibank says this growth rate can't last, partly because its competitors are already hitting back and partly because Kiwibank's owners, NZPost , will have to stump up a lot more capital to back this lending growth. The December quarter was stunning for New Zealand's mortgage market in many ways. Interest rates fell the fastest in history as the Reserve Bank slashed the Official Cash Rate from 8.25% in late July to 5% in early December. Many will recall Kiwibank was the most aggressive and fastest to pass on the rate cuts through September, October, November and December. Meanwhile, the bigger Australian banks did eventually match Kiwibank, but were strangely reticent about fighting hard for market share. ASB, BNZ, ANZ-National and Westpac were all protective of their funding during a long period when international markets virtually shut down. About 40% of the funds for these Australian-owned banks come from international money markets. They froze through late September and into October before defrosting slightly in November and December. The banks are all able to roll over their short term foreign debts, but only for relatively short periods and at much higher rates. This also restricted the big banks from competing hard because they wanted to preserve their profits and capital strength.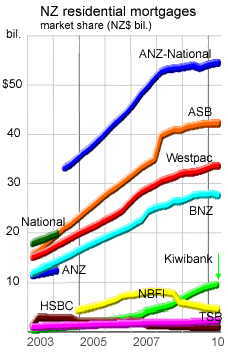 Chasing Kiwibank would have eaten into those profits. Politicians and many borrowers may have preferred the banks to sacrifice those profits to match Kiwibank, but their high profitability has been the bedrock of their stability during the credit crunch. Their counterparts in Britain and America have virtually stopped lending while they try to rebuild their balance sheets. Meanwhile, Kiwibank gets almost all its funds from regular savers with money in term deposits. Its government ownership also meant it was not under the same pressure to protect profits. So Kiwibank made hay and turned the market on its head. The New Zealand banking scene has never seen a period where the market minnow with just 3.3% of the overall mortgage market lent 66% of the new mortgages. ANZ-National lent just NZ$148 million extra in the December quarter, meaning its loan book rose 0.3% to NZ$53.5 billion. ASB's lending actually fell NZ$39 million to NZ$40.9 billion, while BNZ's rose just NZ$9 million to NZ$26.4 billion and Westpac's rose NZ$598 million to NZ$31.8 billion. But Kiwibank's stunning growth has in all likelihood slowed sharply in the March quarter. Kiwibank CEO Sam Knowles said after the bank's results that he expected to ease because the other banks were now more certain of their funding and were getting back in the market. This is true in that the Australian-owned banks started borrowing from the Reserve Bank in November in exchange for mortgage backed securities through a Term Auction Facility (TAF). Since then the banks have borrowed NZ$6.95 billion from the government, meaning they're a bit more cashed up for new lending. But there's another force pushing down on Kiwibank's growth. It is getting short of capital and simply couldn't repeat last year's 50% growth without another capital injection from NZ Post. Kiwibank's tier 1 capital ratio fell to 7.3% by the end of December from 8.3% at the end of June, whereas ANZ National is on 8.2%, ASB is on 8.4%, BNZ is on 7.9% and Westpac is on 7.8%. Given another direct capital injection from the government is unlikely and a private injection of equity is also out of the question, NZ Post is now doing some fancy footwork and loading up its balance sheet with some more debt to put money into Kiwibank. NZ Post's bond issue to raise NZ$200 million will help, but Kiwibank will only get some of that. Another sign Kiwibank has put the brakes on is that it is not competing as hard for term deposits. It's rates are now below its competitors. Kiwibank's day in the bright sun may have passed, but it will remain a competitive force after that amazing December quarter. * This article was first published yesterday in our daily subscription newsletter for the banking and finance industries. The email costs NZ$365 per annum and carries exclusive news and analysis for New Zealand banking and finance industry executives, regulators and investors. 
Sign up for a free trial here.