Record amount of Kiwis leave for Australia in year ended Dec 08 (Updated)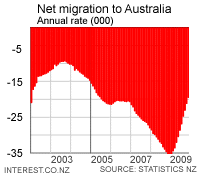 More Kiwis moved to Australia in 2008 than in any other year, figures from Statistics New Zealand (Stats NZ) show. In the year ended December 2008, a net 35,395 moved permanently across the Tasman, up from the previous record of 35,306 in the 12 months ended November. In the month of December, a net 2,602 Kiwis left for Australia's shores, up from 2,558 in November. The trend over 2008 declined month-by-month. However, the monthly numbers are set to rise again as January has historically been the month with the highest migration figures across the ditch. A total 48,452 left New Zealand permanently for Australia in the 12 months ended December, while 13,057 moved the other way. Of those arrivals, two thirds were New Zealand citizens, Government Statistician Geoff Bascand said. In the 12 months ended December 2008, net permanent long term migration to New Zealand from all countries fell to 3,814 from 5,491 in the 12 months ended December 2007. This was the lowest December year figure since 2000.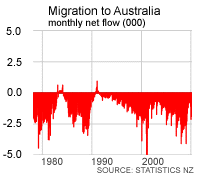 New Zealanders went on 187,329 short term overseas trips in the month of December, down 6% from December 2007, Bascand said. "There were fewer trips to all the top 10 destinations including Fiji (down 1,400 or 18%), China (down 1,300 or 13%), the United States (down 1,100 or 13%) and the United Kingdom (down 700 or 8%)," he said. New Zealand's tourism industry experienced more arrivals from Australia in December, but fewer from countries on the other side of the world, such as the UK, as the global recession meant holiday makers apparently chose to make trips of shorter rather than longer distances. "Short-term overseas visitor arrivals (322,200) in December 2008 were up 4,900 (2%) compared with December 2007. This figure was the highest monthly total ever recorded. Visitor arrivals from Australia at 132,900 were up 7,100 (6%) from December 2007, also the highest ever monthly total. There were drops in visitor arrivals from Korea (down 2,700), the United Kingdom (down 1,900) and Japan (down 1,600).