Housing set to be affordable by late 2009, report shows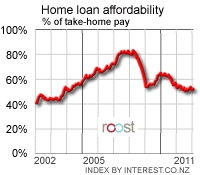 Plunging mortgage rates and another fall in house prices improved home loan affordability by a record amount in December to its best level in 4 years, the monthly Home Loan Affordability report from www.interest.co.nz shows. At current rates of improvement, housing is likely to be broadly affordable again for most home buyers towards the end of 2009.
The full reports are available here
. Affordability recovered dramatically through 2008 as both the slumping housing market and an unprecedented fall in fixed mortgage rates made it easier for both first home buyers and established households to buy houses. A reduction in tax rates also helped lift disposable incomes. The improvement in December was driven largely by lower interest rates in the wake of the Reserve Bank's 150 basis point cut in the Official Cash Rate to 5% on December 4. A 3% fall in the median house price to NZ$328,500 added to the improvement created by a 41 basis point fall in the average 2 year fixed mortgage rate to 7.07%. The proportion of an after-tax median income needed to service the mortgage for the median house price fell to 59.6% in December from 63.8% in November. This was the first improvement to below 60% for a typical home buyer since January 2005 and well below the record worst level of 82.9% in November 2007.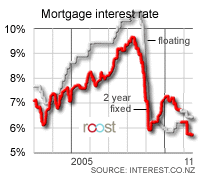 Through 2008 the median house price fell 7% and the 2 year fixed mortgage rate fell 227 basis points, driving the affordability proportion down from 81.1% in December 2007 to 59.6% in December 2008. However, affordability remains out of reach for most home buyers. The threshold proportion of after tax income considered prudent to sustainably own a house is around 40%. Anything above that is starting to become unaffordable. The Home Loan Affordability report's measure of affordability for a typical first home buyer (a median income earner aged 25-29 buying a first quartile home) shows the mortgage servicing proportion improving to 52.2% in December from 54.4% in November and 73.0% a year earlier. The report's measure of affordability for a "˜typical' household (one 30-34 year old male earning a median income, one 30-34 year old female earning 50% of a medium income and one child over five) shows that proportion dropping below 40% for the first time since January 2005. This proportion dropped to 38.9% in December from 41.6% in November and 52.8% a year ago. Affordability looks set to improve further through the remainder of 2009 as interest rates and house prices continue to fall at the same time as tax rates are cut. At the current rate of improvement housing would be broadly affordable for many home buyers by mid to late 2009.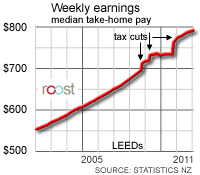 However, one new hurdle for home buyers is that mortgages with low interest rates will not be as freely available as they were through 2003 and 2004 when affordability was back below the 40% threshold. Rationing of credit by banks and demands for higher deposits may constrain a rebound any housing market volumes and prices, keeping affordable housing out of the reach of buyers with only small deposits. The Reserve Bank of New Zealand is widely expected to cut the Official Cash Rate by a further 100 basis points to 4% next Thursday. Many economists expect further cuts through the first half of 2009 to a low of 3% to 3.5%. That creates the potential for variable mortgage rates to fall to 5.5% to 6%. All 12 regions surveyed in the Home Loan Affordability report showed improvements in affordability. The biggest improvements in affordability were in Nelson/Marlborough and the Central Otago/Queenstown Lakes regions, where median house prices fell 11% and 10% respectively. Southland continued to be the cheapest region in the nation with the typical home buyer having to pay 33% of take-home pay to afford the mortgage on a median house, down from 34.2% in November and 49.3% a year ago. However, Southland still remains the only region where its affordability levels is under the 40% threshold considered affordable. Also, here's our
estimate of price to income multiples for New Zealand
, which is another way of measuring affordability.