November trade deficit best in 7yrs, but trade declines from October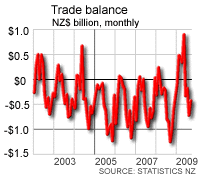 New Zealand's trade deficit contracted to NZ$520 million in the month of November as the value of exports rose more than what was paid for imports over the November year, figures from Statistics New Zealand (Stats NZ) show. Although export (9.4%) and import (5.2%) values rose over the November year, both fell between October and November 2008 as global and local demand continued to fall amid on-going global economic turmoil. "Net exports will remain a drag on economic growth in 2009," JP Morgan economist Helen Kevans said. "Weak global demand and falling commodity prices will mean that export growth will moderate, even though the end of the drought should fuel further agricultural activity and NZD depreciation will boost exporters' competitiveness," Kevans said.
"Demand for imports will remain subdued as domestic demand flags amid deteriorating housing and labour market conditions, although aggressive monetary policy easing should cushion the blow." The November deficit of NZ$520 million was the smallest for a November month since 2001. In October, the deficit was NZ$942 million. Exports recorded a 9.4% increase from November 2007, due to high dairy prices and the commencement of Tui oil exports, Stats NZ said.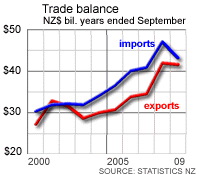 The rise in imports has eased over recent months, with a rise of 5.2% between November 2007 and November 2008. The easing was largely due to falls in crude oil prices. However, between October and November 2008, both export and import values fell, with imports falling further than exports. Merchandise exports in November totaled NZ$3.685 billion, down NZ$149 million from October. New Zealand's biggest export category - milk powder, butter and cheese - rose very slightly to NZ$1.006 billion over the month, while its second biggest exporter - meat and edible offal - rose 21% to NZ$342 million. New Zealand's third largest export earner in October - crude oil - fell 61% to NZ$97 million between October and November. Exports of logs and wood articles fell slightly to NZ$235 million. Merchandise imports in November were NZ$4.205 billion, compared with NZ$4.776 billion in October, a drop of NZ$571 million. New Zealand's top three import categories in October all recorded falls in November. Imports of petroleum and petroleum products fell 35% to NZ$535 million, while mechanical machinery and equipment imports fell 9% to NZ$528 million. Imports of vehicles, parts and accessories fell 26% to NZ$321 million.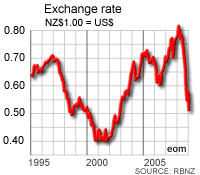 By destination, one notable change between October and November was New Zealand's trade relationship with South Korea. Exports to Korea fell 29% to NZ$96 million over the monthly period, while imports from Korea rose 95% to NZ$257 million. Over the November year, exports fell 38% and imports rose 56%. Exports to Australia, New Zealand's largest trading partner, rose 11.4% over the year to November due to an increase in crude oil exports, Stats NZ said. However, exports to Australia fell 13% to NZ$819 million between October and November. Of New Zealand's four largest trading partners, only exports to the United States recorded an increase from October, up 45% to NZ$491 million. In the year to November, exports to the States rose 56%. "Natural made milk constituents and frozen boneless beef cuts were among the main drivers of the increase to the United States," Stats NZ said. New Zealand imports from three of our four largest trading partners fell between October and November, with imports from China being the exception, rising 6% to NZ$490 million. In the year to November 2008, imports from China rose 17.8%. Imports from Australia fell 21% to NZ$681 million between October and November. Over the November year they fell 10.5%.