Butter price drops 12% in fortnight as payout below NZ$5/kg possible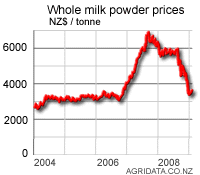 Fonterra's dairy payout for the current 2008/09 looks set to drop below NZ$5/kg from NZ$7.66/kg last season and well below the current official forecast of NZ$6/kg as dairy commodity prices have collapsed in recent weeks at the same time as the currency has firmed from 52 USc to 60 USc. Prices announced last night by the US Department of Agriculture show Butter prices fell 12% to US$2,150 a tonne from US$2,450 two weeks earlier, and are down from US$4,050 a tonne just 5 months ago. The fall in skim milk powder prices to US$1,950 a tonne from US$2,150 a fortnight ago reinforces the trend. New Zealand dollar prices have fallen even more because of the New Zealand dollar's recent rise. Weak demand from China and India, and strong supplies from the United States and Australia are helping to drive prices down.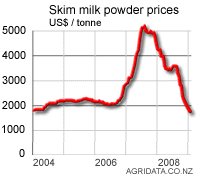 Using the latest prices and a NZ dollar at 60 US cents, the Agrifax Fonterra payout calculator suggests a payout range of NZ$4.99 to NZ$5.09. * This article was first published earlier today in our daily subscription newsletter for the banking and finance industries. The email costs NZ$365 per annum and carries exclusive news and analysis for New Zealand banking and finance industry executives, regulators and investors. Sign up for a free trial here.