High priced houses held up REINZ median price in October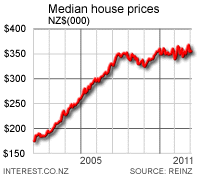 Higher priced houses held up the median sale price for residential property in New Zealand in October, but volumes remain very weak. The number of houses sold nationally fell to 4,469 in October from 4,499 in September and were down a third on October last year, figures from the Real Estate Institute of New Zealand (REINZ) show. The median sale price for residential property in New Zealand for the month of October rose NZ$5,000 from September to NZ$335,000. The median sale price in October was 4.3% lower than in October 2007 and 4.8% lower than its peak in November 2007. There were relatively fewer cheaper houses sold in October than in October last year. The proportion of properties sold for less than NZ$400,000 fell to 60% from 65% in October 2007. First home buyers and property investors have withdrawn from the market in the last year, meaning proportionally more properties are being sold with higher prices to buyers using inflated equity in homes they already own. This has the effect of dragging the median higher than it otherwise would be. The median sale price for the lower quartile of sales in October dropped 6.6% from their peak. This drop was more than the 4.8% drop for all sales from their peak in November 2007.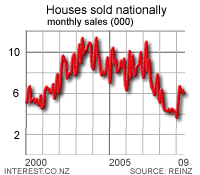 "It is heartening to see the market holding its own despite the problems in the United States, the international financial markets and high interest rates, not to mention the loss in confidence caused by negative opinions published in the media," REINZ Vice President Peter McDonald said. "Going forward, the news is even better. Up-to-date reports post election show the level of activity has increased with more enquiries showing the market may be picking up. Uncertainty caused by the election has stabilised and with interest rates and fuel prices going down, people's confidence in real estate is returning," McDonald said. In the spring selling season, Auckland sales volumes fell 4% from September to 1,371, with Wellington volumes also falling slightly. The biggest drop in volumes was in the Nelson/Marlborough region which experienced a 28% drop from September, to 158 houses sold.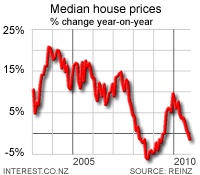 The Auckland median sale price rose 3% from September to NZ$433,000. In Wellington, the median price rose 5% to NZ$369,000. The median sale price in Northland showed the biggest rise nationally, up 13% from September to NZ$336,000. The volume of houses sold in the region also rose to 109 from 104 in September. The other notable rise in the median sale price was in Taranaki, up 11% from September to NZ$285,000. Volumes fell to 145 in October compared with 158 in the previous month. Nationally, days to sell fell to 47 in October from 52 in September.