Investors turn to term deposits, says survey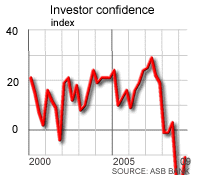 Term deposits are now viewed by investors as providing a better return than any other investment class, according to the latest update of the ASB Investor Confidence survey. It is the first time in this survey has ranked term deposits on top. Rental property continued its fall in popularity, losing another percentage point to sit in third place on a net 15% support. TDs burst through the pack, improving their preference rating by 5% to a net 21% in this third quarter report, a clear 5% points ahead of second ranking bank savings accounts ( up 1% on its Q2 support). ASB's Jonathan Beale, Head of Investment Services, said that term deposits had traditionally been seen as a conservative investment choice, attracting steady but not spectacular support. "Since the last quarter of 2007 their appeal has been rising, and they have now climbed into undisputed top spot. "Investors are clearly making a distinction between term deposits with institutions such as banks and those with finance companies. "Our survey was completed before the announcement of the retail deposit guarantee scheme, and this development will strengthen the attraction of term deposits and bank savings in the minds of investors. Beale said he was not surprised that rental property, while in decline in popularity, still retained a degree of support as the majority of investors in this category tended to take a long-term view, and rent levels were stable. "While the attraction of rental property has fallen a net 9% from its long-standing heyday of between 2003 and early 2007, it still has stronger support than mainstream investment options such as publicly listed shares (up a net 1% to 8%), and managed funds and unit trusts (down 1% to a net 10%).
Impact of Kiwisaver
"The attraction of Kiwisaver stayed constant at 4% net support as did the proportion of people who intend to save with Kiwisaver (50%). "The level of respondents who intended to use Kiwisaver as their primary means of saving increased by 5% overall to 45% while the number of people that believed KiwiSaver will be enough to support them in retirement declined by a net 2% to 18%. "With Kiwisaver being in its infancy, we have yet to see any real trends emerging, but in the history of the survey, no investment product has matched it for the immediate impact it has had on the public's perceptions and intentions."
September weak
Beale said that while the survey showed that at the end of September investor confidence had been on the rise, having lifted 4 points to a net positive 3%, this would not be the situation if the survey was taken today. "A breakdown of the monthly results shows that while July and August confidence was on the rise, in September confidence declined dramatically to its lowest level since November 2002. "While confidence has ebbed, the international and local initiatives to free up the flow of credit and protect a level of deposits will now be providing a steadying influence."