Benefit claims rising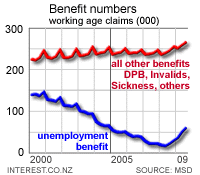 The latest data from the Ministry of Social Development shows that for the first time since December 1999, the total number of adults on a means-tested benefit has risen year-on-year. As at September 30, 2008 there were 269,608 people on a 'main' benefit, up +2.4% from a year earlier. This is now 8.2% of the working age population. There was growth in claimants for all the main classes of benefits. But there are now only 23,273 claiming the unemployment benefit, a huge decline from the 148,755 who claimed it in September 1999. The picture is not so positive for other classes of claimants, however. There are 98,473 on the DPB, compared with 110,477 nine years ago. Growing numbers of us are apparently sicker than we were nine years ago - there are now 48,208 on the Sickness Benefit, up from 32,414 in 1999, and 83,618 on the Invalids Benefit, up from 51,239 nine years ago. The MSD data does not include the Working-For-Families data. In fact, the department does not publish the level of claimants for this program, unless the information is released in a speech by a Minister. The last time this data was revealed was for March 2008 when a Minister said there were 327,000 families on the program - which may be equivalent to about 589,000 adults at that time. Estimates by interest.co.nz show that more than 1.4 million adults are now on various means-tested benefits. As at September 30, 2008, this is made up of: - unemployment benefit  ..................   23,273 - domestic purposes benefit  ............   98,473 - sickness benefit  ............................   48,208 - invalids benefit  ..............................  83,618 - other adult benefits  .......................  16,036 - working-for-families benefits ........  635,000 E - national superannuation +65 .........  539,100 A small number of adults may be on multiple benefits. Overall, this now means there are less than 1.5 workers for each adult beneficiary. This has fallen from 2.1 workers per adult beneficiary nine years ago.
A wider view ...
It appears that the State Services Commission will not issue its annual
Human Resources Capabilities Survey
until after the election on November 8, 2008. However, based on the 2007 report, an estimate of current employee numbers in the wider public service can be made, and this shows staffing at about these levels: - the Core Public Service ............   44,000 - public health-services  ............    59,000 - public education sector ........... 119,000 - other non-trading  ..................    40,000 (police, defence, etc) - local government  ...................    45,000 ===========================   Total public sector staffing .....  307,000 funded by tax collected With these 'paid-by-taxes positions' included in the total adult employed population of 2.16 million, it is clear that 1.75 million adults rely on income taxes paid by 1.85 million adults. (This assumes adults benefiting from the Working-For-Families program are on both sides of this equation.) That is close to a 1:1 relationship - one person dependent on tax collected for their income, for every worker-paying-tax not in the 'public' system.