Current account deficit much bigger than expected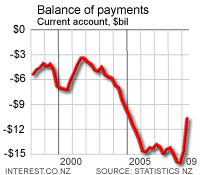 New Zealand's current account deficit blew out to a record NZ$4.6 billion in the June quarter from NZ$3.5 billion in the March quarter because of weaker exports, heavy imports of oil products and machinery, and a widening of our income deficit due to higher foreign debts. The drought affected exports, while higher oil prices and higher interest costs boosted imports and New Zealands investment income deficit. The result was well above the NZ$3.9 billion that the market had expected and the deficit for the year to the end of June of NZ$14.97 billion was above the market expectation for NZ$14.1 billion. The deficit on investment income, which measures how much we pay in dividends and interest payments, rose to NZ$13.9 billon from NZ$13.4 billion in the March quarter.
Here is the full Stats NZ release on the results.
The seasonally adjusted current account deficit widened $1,097 million in the June 2008 quarter to $4,623 million, Statistics New Zealand said today. The larger deficit this quarter was mainly due to a rise in goods imports and foreign investors earning more on their New Zealand investments. Seasonally adjusted goods imports were up $753 million, mainly caused by rises in petroleum and petroleum products and capital goods. Exports of goods fell slightly, with a drop in dairy export volumes partly offset by a rise in crude oil exports. As a result, the seasonally adjusted goods deficit increased $867 million to $1,066 million in the June 2008 quarter. Income earned by foreign investors from their investments in New Zealand increased $214 million. This was mostly due to a rise in profits and dividends from foreign investment in New Zealand companies. New Zealand earnings from its investments abroad fell $18 million, mostly due to a fall in profits of overseas subsidiaries of New Zealand companies. The current account deficit for the June 2008 year was $14,967 million, compared with $14,096 million for the June 2007 year. The larger deficit this year is due to an increase in the investment income deficit. A current account deficit is financed by either increasing foreign liabilities, reducing foreign assets, or a combination of both. In the June 2008 quarter, New Zealand's current account deficit was financed by a $4.5 billion net inflow of capital, primarily due to a reduction in New Zealand's foreign assets. The reduction of foreign assets has caused net liabilities with the rest of the rest of the world to increase. At 30 June 2008, New Zealand's overseas liabilities exceeded its assets abroad by $159.2 billion, an increase of $5.3 billion from 31 March 2008.