Consumer confidence rebounds in Roy Morgan poll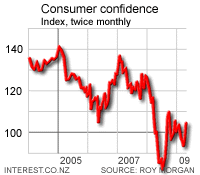 Consumer confidence has rebounded strongly in the last two weeks to levels last seen in March, according to a Roy Morgan poll. Signs are emerging that lower petrol prices, lower interest rates and the lower New Zealand dollar are improving the outlook for some households and exporters, despite a weak housing market and high food prices. This poses some intereting questions for the Reserve Bank as it considers cutting interest rates again next Thursday. Could the economy bounce back without an extra helping hand from the Reserve Bank? Most economists expect a 25 basis point cut in the Official Cash Rate to 7.75%. The early September reading on consumer confidence by Roy Morgan was 107.3, up 12.4 points from mid-August and the highest since early March. Here's the details on the survey results below from Roy Morgan.
The leap in the New Zealand Roy Morgan Consumer Confidence rating is driven predominantly by New Zealanders' expectations of the economy in the next 12 months. Fewer New Zealanders (43% - down 12%) expect bad times for their economy in the next 12 months and more expect good times (35% - up 10%). New Zealanders are also feeling more positive about the next five years with 49% (up 7%) expecting good times for their economy as a whole and just 23% (down 8%) expecting bad times. Most New Zealanders (53% - up 3%) expect to be better off financially this time next year, while only 19% (down 6%) expect to be worse off. Many New Zealanders (47% - down 4%), however, still feel that their family is worse off financially than last year, while 27% (down 1%) say they are financially better off. More New Zealanders (45% - up 6%) say now is a good time to buy major household items, while 40% (down 7%) believe now is a bad time to buy major household items.