Trade deficit worse than expected as exports soften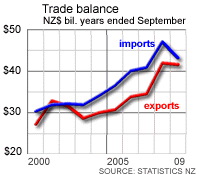 New Zealand export growth eased in July as the effects of the drought hit dairy exports, but import growth remained strong. This produced a monthly trade deficit of NZ$781 million, which was more than triple the deficit in June and only marginally below the deficit in the same month a year ago. The deficit was higher than the NZ$600 million economists had expected. Exports grew 29.6% from a year ago, but import growth still rollicked along at 21.9%, suggesting the much talked about slow down in retail spending hasn't slowed down import activity that much. Here is the full release below from Stats NZ.
Merchandise exports were valued at $3.4 billion in July 2008, up $781 million (29.6 percent) on July 2007, while merchandise imports were up $754 (21.9 percent) to $4.2 billion over the same period, Statistics New Zealand said today. The exports trend has eased in recent months, following a period of strong growth in the second half of 2007. A fall in seasonally adjusted dairy volumes in the first two quarters of this year, due to the recent drought, has partly offset the influence on the trend of the substantial increase in crude oil exports and high world dairy prices over the past year. The imports trend has increased strongly since the middle of 2007, coinciding with a significant rise in fuel prices. Crude oil (up $266 million) led the increase for exports in the July 2008 month compared with July 2007. The next largest increase came from milk powder, butter and cheese which were $192 million higher than July 2007, with milk powder the main contributor to this rise. Petroleum and products (up $292 million), led by automotive diesel and crude oil, was the biggest increase for imports compared with July 2007. The next largest increase came from mechanical machinery and equipment, up $82 million, spread over several commodities including production equipment for use in New Zealand's gas fields, irrigation and spray equipment, and computers. In July 2008, the monthly trade balance was a deficit of $781 million, or 22.8 percent of exports. Trade deficits for July months have been over 20 percent of exports for the last four years. The last trade surplus for a July month was in 1991.