House prices start falling on annual basis - QV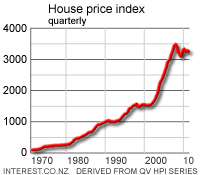 Quoteable Value (QV) has reported that property values nationally were 2.2% lower in the three months to July than in the same period a year earlier as property sellers started to readjust their expectations. Volumes increased, suggesting the long stalemate between buyers and sellers may be coming to an end, QV said. This was the first time in the QV series that prices have fallen from a year ago. Prices showed 0.1% annual growth in June, although QV said they were now substantially down from their peaks in late 2007 and early 2008. "Property values continue to fall across the country with almost all areas now showing values lower than they were 12 months ago," said QV Valuations commentator Blue Hancock. "Of the main urban areas only Invercargill is showing any significant growth at 5.4%, but the trend is also slowing there." Hancock said.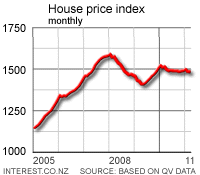 "The market is now well off it's peak of late 2007, early 2008 with many sellers accepting the state of the market and dropping their expectations accordingly," he said. QV's data shows prices have fallen 5.1% from their peak in January this year. "As a result we are seeing an increase in activity in the market, although sales levels are still well below last year and long term averages. The question has now changed from when will prices stop rising, to when can we expect to see them stabilise?"Auckland prices were 3.6% down from a year ago, while Hamilton was down 5.4% and Tauranga was down 2.6%. Wellington saw its first annual fall of 1.2%, while Christchurch prices dropped 2.1% and Dunedin dropped 6.8%. Only Invercargill was still seeing increases, but "at the current rate of decline it will join the rest of the main centres with falling property values within a month or two," QV said. Here's QV's commentary on the six biggest markets. Auckland (Glenda Whitehead) Property values in the Auckland region declined by 3.6% over the past year (calculated over the three months ending July 2008 in comparison to the same period last year), down further from the 1% decline recorded in June. The average sale price for the region increased to $513,331. "The residential market within the Auckland region continues in the same vein as reported last month. The statistics indicate that market movement in all cities and districts continued to ease downward in comparison to last month. Rodney and Franklin Districts remain in positive territory at 1.5% and 2.6% year on year growth, with the remaining areas now showing values to be less than the same time last year: North Shore (-2%), Waitakere (-1.8%), Auckland City (-5.1%), Manukau (-3.2%) and Papakura (-3.2%)" said Glenda Whitehead of QV Valuations. "Across all areas, the properties that are selling continue to be those that are well presented and priced to meet the market. Anecdotally, it would seem that within traditional investor areas vendors are more willing to meet the market, whereas many other areas with higher levels of owner/occupiers continue to show resistance to what they consider excessive discounting of the asking price. Values, however, are now declining across many areas, but at a gradual rate, rather than a sharp drop" said Whitehead. "We have had reports from agents that there is an increase in potential buyers in some areas. This is good news with actual sales volumes in recent months at very low levels. Caution prevails as living costs continue to impact on the purse. With the atrocious weather we have had in recent weeks it must only be hearty souls and those with a timely need that have attempted to view property through wind and rain" said Whitehead. Hamilton (Richard Allen) Property values in Hamilton declined by 5.4% over the past year (calculated over the three months ending July 2008 in comparison to the same period last year), down further from the 2.5% decline recorded in June. The average sale price for the city declined to $353,278. "The fall in property values is a result of poor sales volume, relatively high interest rates and a general lack of confidence in the residential property market. The trend of declining property values that we have seen over the last couple of months continued with all areas of the city sliding further into negative territory" said Richard Allen of QV Valuations. "The sharpest decline in property values is evident in the Central City/North West area which decreased from -3.0% in June to -6.8% in July, and the South West area which moved from -3.9% to -6.8%" said Mr Allen. "Anecdotal evidence that suggests some properties are selling at reduced prices and that the residential property market is in general poor health has been reinforced by the movement in the average sale price. For the second consecutive month the average sales price has fallen, declining sharply from $364,441 in June to a twelve month low of $353,278 in July. At this stage expectations and the general feeling is that sale prices are likely to fall a little more before leveling out as we enter the spring months" said Mr Allen. Tauranga (Shayne Donovan-Grammer) Property values in Tauranga declined by 2.6% over the past year (calculated over the three months ending July 2008 in comparison to the same period last year), down from the 1.2% decline reported last month. The average sale price decreased to $433,605. "Softening values have been perceived by people in the property industry for a while now, and the statistics now substantiate that. Home sellers have finally accepted that they no longer can achieve top dollar and if they want a sale they need to meet the market. They also realise that if they don't accept what is on offer now there is a real possibility values could drop further. Having said that, both buyers and sellers need to get more composure by making rational decisions based on research and facts, not on listening to all the pessimism out there in the marketplace" said Shayne Donovan-Grammer of QV Valuations. "There has been a drop off in interest from rental investors particularly those who buy for capital gain and not for rate of return" said Mr Donovan-Grammer. "When looking to buy, buyers should view property as a medium to long term investment rather than a quick win. They should also ask themselves whether they can afford to hold on to the property for a reasonable period and can sustain interest rate rises throughout the holding period" said Mr Donovan-Grammer. "It may be a good time for first home buyers to start looking at entering the market if they have the resources to service their investment" said Mr Donovan-Grammer. Wellington (Max Meyers) Property values in the Wellington region decreased by 1.6% over the past year (calculated over the three months ending July 2008 in comparison to the same period last year), down from 1.1% growth reported last month. The average sale price for the region decreased to $451,869 from $456,035 in June. "Most of the Wellington area is showing declining values now compared with the same period last year. The QV statistics show the Wellington region down -1.6% with the biggest decrease being in Upper Hutt at -3.3%. Kapiti remained the same, Porirua showed a 0.1% increase and the Eastern Suburbs showed a 0.5% increase. The important point to appreciate is these figures are clearly showing a strong and persistent declining trend for the whole of this year" said Max Meyers of QV Valuations. "Sales in the city areas which underwent a council revaluation last year (Porirua, Upper Hutt, Hutt and Wellington) are now selling predominantly below the rateable values (RVs), to a greater extent than was evident last month. This confirms the declining trend with 75% of Porirua sales below the RV, 67% of the Upper Hutt sales, 64% of the Lower Hutt sales, and 67% of Wellington sales below the 2007 rateable values. We are also hearing of greater variations in individual cases, particularly with properties that are hard to sell" said Mr Meyers. "Conditions indicate the market may fall further with a prolonged period of low sales, long selling times and limited finance. This is beginning to show up with an increasing number of mortgagee sales and much lower asking prices. We have heard of some Hutt Real Estate Agents reducing asking prices by 20% to achieve a sale" Mr Meyers said. "Some properties are being hit particularly hard by the declining values. Those that have significant issues to deal with have become very difficult to sell as buyers have; choice, limited budgets, less time and are less prepared to take on the challenge. Dated properties, leaky homes, and properties with overgrown sections are noticeably affected. There is also some evidence to suggest that the residential areas more distant from the city are being affected more because the cost of travel is being felt more acutely" said Mr Meyers. "As we close in on the year end the market normally has an increase in activity and we expect this occur to some extent this year, but we expect pricing to be even more competitive. This may provide good buying opportunities but significant price/value decline. After Christmas the seasonally higher level of demand and more sales can be expected and this is the time when the market could stabilise for a more settled period" said Mr Meyers. Christchurch (Mark Dow ) Property values in Christchurch decreased by 2.1% over the last year (calculated over the three months ending July 2008 in comparison to the same period last year) down from 0.2% decline reported last month. The average sale price for the city decreased slightly to $365,398 for July, a decrease of $2,618 from June. The downturn in the Christchurch residential property sector continues to deepen with prices still trending downwards. This pressure on property values is expected to continue for the rest of winter. The eastern suburbs and outlying semi-rural locations are suffering the greatest decline in property values, this month eastern suburbs were showing a reduction of 3.6% compared to the same period last year. "While sales volumes remain low there appears to be some stabilising in the activity levels. We have noted that the expectations of many vendors' are coming into line with the market. This change of position reflects a greater understanding and acceptance of the property market and the wider economy. There are a significant number of vendors who have mounting pressure on them to meet the market, as mortgage repayments on top of increased costs of living start to bite" said local QV manager Mark Dow. "There are many examples of significant losses being realised currently. A modern home within a recent subdivision on the eastern side of the city recently sold for $592,000, it was purchased a year earlier for $685,000, meaning a loss of $93,000 for the owners. Another example in Riccarton saw a modern townhouse selling for $60,000 less than it did a year earlier. In most cases houses are selling for close to their prices of a year ago, but pressured sales are having a notable effect on selling price" said Mr Dow. Dunedin (David Paterson) Dunedin's residential property values decreased by 6.8% over the past year (calculated over the three months ending July 2008 in comparison to the same period last year), down further from the 4.3% decline reported last month. The average sale price in Dunedin increased slightly to $273,801. The rate of the decline in property value is greatest in the Central/Northern part of the city where values have decreased 8.5% year on year. In contrast, the Peninsular/Coastal areas decreased by 4.4% over the same period. "Agents are reporting increased activity at open homes and sales are occurring where the vendor is motivated. It is clear that there are buyers around but they are looking for well priced properties and have the luxury of choice. There is a feeling that many of the properties currently listed are still overpriced for the current market conditions. Agents are also reporting more activity in the over $400,000 bracket which is seen as a positive trend in the market" said David Paterson of QV Valuations. "One measure that is often quoted in the public arena is the relationship between the rating values and the sale prices. QV's July figures show that 80% of the sales recorded in the current period are at or below the rating values set in July 2007" Mr Paterson said. "In terms of the future outlook it is likely that we will see a continuation of the current trend over the next two to three months with a levelling off as the spring demand and the predicted lowering of the interest rates impacts on the market" said Mr Paterson.