Dorchester in talks to sell Queenstown Hotel and reverse annuity mortgage book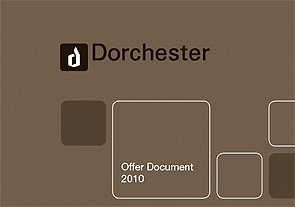 Dorchester Pacific, whose debenture holders will vote on a capital reconstruction plan on June 30, is in talks to sell a Queenstown Hotel and reverse annuity mortgage book in deals that could fetch about NZ$25 million.
Dorchester executive director Paul Byrnes told interest.co.nz the company, currently in a moratorium, was talking to a potential South Island buyer of Queenstown's Goldridge Resort. Currently valued in Dorchester's books at NZ$8 million, down from NZ$22.3 million just two years ago. Byrnes said Dorchester had turned down offers of NZ$10 million and there was now interest at NZ$11 million.
"Our view is that a current price or current value we would be interested in negotiating would be slightly higher," Byrnes said. "What we've also suggested to the interested party is maybe they would also like to think about putting a deposit down on it."
As long as Dorchester, whose businesses are Dorchester Finance and Dorchester Life, had good security, the potential buyer could buy the hotel in two years time.
"If we could get NZ$12.5 million or NZ$13 million in two years time, with a handsome deposit up front and good security and improvements being made, that would be a good outcome."
The Goldridge is one of four properties, combined valued at NZ$33 million by Dorchester, included in Dorchester's capital reconstruction plan. The others are Queenstown's Frankton Arm Apartments, Gisborne's Emerald Hotel and 23 apartments in Parkview on Hagley, Christchurch. Under Dorchester's plan, the four properties would be put in a property trust – managed by interests associated with Dorchester – and sold. Dorchester investors would be issued units in the property trust.
Byrnes said Dorchester was "getting rid of" first security holders, the properties had no debt and were cashflow positive. However, he added, they weren't providing the returns wanted. 
Goldridge occupancy rates were now running at between 70% and 80%, up from just 10% in December 2008. Byrnes acknowledged, however, that room rates would ideally be another $10 to $15 per night.
Dorchester investors approved a deferred repayment plan in December 2008 that anticipated them being repaid their NZ$164 million of principal over three years. So far they've got back NZ$81.85 million, or half, of that. However, last November after sustaining property loan losses, Dorchester's net assets and shareholder funds deteriorated threatening further repayments. Dorchester's management thus cooked up the capital reconstruction plan.
It envisages debenture holders swapping their debt for a combination of cash, debt, property and equity investments. It also sees major shareholders, High Green Investments and the Business Bakery – the investment company of 42 Below founders Grant Baker, Geoff Ross and Stephen Sinclair - each subscribing for up to NZ$4 million worth of shares in a proposed NZ$10 million capital raising.
Dorchester, which currently has no bank debt, is also trying to negotiate a NZ$28 million bank facility with the BNZ. Byrnes said the firm now had all its transactional business to the BNZ and hoped the Business Bakery's good relationship with BNZ would be of assistance.
Meanwhile, talks were also underway with a potential buyer of Dorchester Life's reverse annuity mortgage book. Byrnes said it had gross loans of about NZ$22 million of which NZ$8 million was funded by Kiwibank. Dorchester is running the book down so is not writing new loans. It was assumed the book would be retained but Dorchester was talking to a potential buyer, which Byrnes described as a non-bank institution recently in the news that is merging.
"It's in its sweet spot at the moment, it's very profitable, it's throwing off cash, at some stage if we got the right offer, and the right offer is book value and slightly above, then we would use those funds to fund the business and would need about NZ$13 million less of bank borrowings," said Byrnes.
Should investors approve the capital reconstruction plan Byrnes said a revitalized Dorchester would focus on vehicle and consumer finance through Dorchester Finance and insurance through Dorchester Life, which produced a NZ$1.8 million pretax profit for the March year. It would not return to the property lending nor retail deposit markets for at least three years.
Interest.co.nz's Deep Freeze list of finance company failures shows over NZ$6.6 billion has been frozen in almost 200,000 accounts since the crisis began in 2006.
 * This article was first published in our email for paid subscribers earlier today.See here for more details and to subscribe.