Food prices fell 2% in year to June, biggest deflation since 1957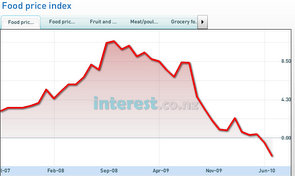 Food prices rose 1.7% in June from May because of higher vegetable prices in winter, but were down 2.0% in June from a year ago as global commodity prices came off their peaks.
Statistics NZ said this was the biggest annual fall in food prices since 1957, although prices are still 15% higher than they were 3 years ago.
"Food prices rose nearly 17% in the two years to July 2009, but recently have fallen after peaking in July last year," Statistics New Zealand's prices manager Chris Pike said.
Three subgroups contributed to the 2% annual fall in food prices. Fruit and vegetable prices fell 9.2% in June from a year ago, while meat, poultry, and fish fell 3.9% and grocery food fell 1.4%.
"This is the first annual fall in the grocery food subgroup since August 2004, and the largest annual fall since the series began in June 1999," Statistics NZ said.
Vegetable prices rose 15.9% in June from May as they often tend to do in winter.
However, prices this year are well below the record levels seen in June last year. Tomato prices rose 44.8% in June and lettuce prices rose 77.3%.
Both lettuce and tomato prices usually rise in June, following lower prices in April and May.
Prices rose 2.7% in June for meat, poultry, and fish subgroup, with porterhouse/sirloin beef steak prices up 14.3%, rebounding from discounted levels in May.
The restaurant meals and ready-to-eat food subgroup rose 0.3%. The non-alcoholic beverages subgroup fell  0.8% and grocery foods fell 0.8%.
The numbers will be closely watched by the Reserve Bank ahead of consumer price inflation data due on Friday. The Reserve Bank is due to make its next decision on the Official Cash Rate on July 29.