Infratil led group eyes Port of Brisbane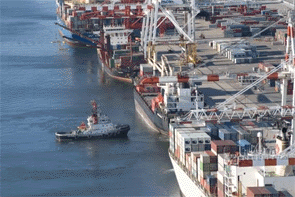 Infratil's manager HRL Morrison & Co, which has a global infrastructure investment mandate from the New Zealand Superannuation Fund, is leading one of five groups bidding for the Port of Brisbane.
(Update adds background on the New Zealand Social Infrastructure Fund and comment that it's not looking at Port of Brisbane).
The port is being sold by the Queensland state government and is expected to fetch more than A$2 billion.
Tim Brown, Morrison & Co investment relations manager, told interest.co.nz the Wellington-based firm that manages sharemarket listed infrastructure investor Infratil, is having a look at the Port of Brisbane. He said, however, he couldn't say whose money it might invest should its bid be successful.
Paul Gregory, a spokesman for the NZ Super Fund, said he couldn't comment specifically but noted it was public knowledge that HRL Morrison & Co ran an infrastructure mandate on the NZ Super Fund's behalf.
HRL Morrison & Co is also the investment manager of the New Zealand Social Infrastructure Fund (NZSIF), which secured NZ$141 million in investment commitments from about 750 investors earlier this year as it looks to invest in New Zealand and Australia. This includes NZ$100 million from the NZ Super Fund, which has the option to increase its initial investment before October 29, 2012 to a maximum of NZ$200 million.
However, Peter Coman, managing director of Public Infrastructure Partners Limited Partnership the HRL Morrison & Co vehicle that NZSIF will invest through, said it wasn't looking at the Port of Brisbane as it only planned to invest in public private partnerships.
According to the Australian Financial Review, five groups are in the running for the port that include sovereign fund backed offers from Singapore and Malaysia, Global Infrastructure Partners, Queensland Investment Corporation, Macquarie, and a consortium including Morgan Stanley Infrastructure Partners and UniSuper.
The AFR said a New Zealand group led by HRL Morrison & Co and Infratil also involved some former Port of Brisbane employees.
All five bids are said to be fully funded with the parties in the second week of due diligence. The port had earnings before interest, tax, depreciation and amortization of A$125 millon last year.
Due diligence is expected to last eight weeks, according to the AFR, with final offers due in late September. The Queensland government is offering 99 year leases at the port using a landlord model. It will retain ownership of the port land and infrastructure. Major operations at the port are run by Asciano and DP World with Li Ka-shing's Hutchison Whampoa set to begin stevedoring operations in 2012.
Meanwhile Greenstone Energy, parent company of the Shell New Zealand retail and distribution business bought by the NZ Super Fund and Infratil for NZ$696.5 million in April, is looking to register a prospectus for a NZ$100 million retail bond offer in early August.