Kiwibank not profitable enough to generate capital internally to grow, CBA's Norris says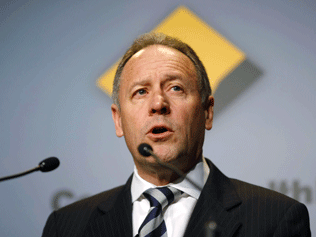 Commonwealth Bank of Australia Chief Executive Ralph Norris has argued Kiwibank's current capital constraints are its own fault because it had not generated enough capital internally from its own profits.
Kiwibank had essentially undercharged for too long and was now reaping the fruits of not being profitable enough, Norris told Andrew Patterson at Radio Live in New Zealand.
"The situation for any business is that if you're undepricing your products  then you're not generating enough capital to grow your busines. There's always the balance of getting your pricing right in order to make sufficient profit to generate capital within the business," Norris said in the interview pre-recorded last week in Sydney.
Kiwibank's CEO Sam Knowles is leaving Kiwibank. Earlier the government said it wanted Kiwibank to start paying a dividend, effectively stifling its growth, which has been powered by several equity injections from its parent NZ Post and by retained profits.
Norris is the former chief executive of CBA's subsidiary ASB and Air New Zealand. He has also previously been an active member of the Business Roundtable, which has favoured state asset sales.
"It's a classical situation in a lot of businesses where they over-trade," Norris said.
"They don't have enough equity and therefore they get themselves into potential difficulties because of that. I'm not saying that that's the case in terms of potential difficulties for Kiwibank," he said.
"You've got to make a reasonable level of profit to generate internal capital and that doesn't seem to have been the case with Kiwibank."
'We're New Zealanders too'
Norris acknowledged however that the entry of Kiwibank had forced the Australian-owned banks to send their customers the message that they were New Zealand banks too. ASB has promoted itself as a New Zealand bank in recent months through billboard and other advertising campaigns.
"Kiwibank introduced a more parochial effect into the market. New Zealanders looked at Kiwibank as a New Zealand institution and the other banks have had to clearly show that they are committed to the NZ market and New Zealanders," Norris said.
"Those banks mainly employ New Zealanders and make significant contributions to the New Zealand economy. It's probably refocused the banks on making sure that they get the message across that they are there for New Zealanders."