Fonterra holds payout forecast, but warns it may fall marginally if current prices and NZ$ rates continue for rest of season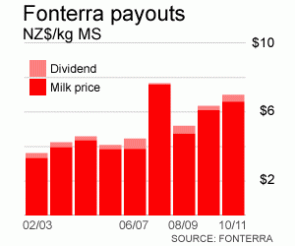 Fonterra has announced it has decided to hold its official forecast range for the milk payout for the current 2010/11 year at NZ$6.90-NZ$7.10/kg despite a fall in commodity prices and a firm New Zealand dollar in recent months.
Fonterra argued it saw the potential for less international supply because of weather disruptions in the northern hemisphere and a rise in wheat prices, which tended to reduce the production growth of grain-fed dairy herds and support prices.
Fonterra was also confident about its profit being at the higher end of forecasts. However, if this expected improvement in the outlook for prices did not occur, Fonterra said the eventual payout could be marginally lower than currently forecast.
This is surprisingly good news for the rural economy and provincial New Zealand, given New Zealand's largest exporter flagged on August 4 a potential payout cut because of a 28% fall in dairy commodity prices in NZ dollar terms since April.
Fonterra said the payout forecast range of NZ$6.90 to NZ$7.10 included an unchanged forecast milk price of NZ$6.60/kg and an unchanged forecast profit of 30-50 cents per share.
Fonterra Chairman Henry van der Heyden said the Board had met and confirmed the forecasts for the 2010/11 season, but he reiterated there was considerable volatility in both international dairy commodity prices and the New Zealand dollar.
Although international prices had declined in recent months, there were a number of factors signalling a potential improvement in prices later in the year, Fonterr said.
"While there is still some uncertainty in global markets, if current commodity pricing and foreign exchange rates were at current levels for the rest of the season, then we estimate the 2010/11 payout would be marginally lower than our current forecast," van der Heyden said in a statement.
"However, we are holding the forecast payout of $6.90-7.10 as we are seeing signs of potential strengthening of international prices further into the season," he said.
'Profit at higher end'
Chief Executive Andrew Ferrier said Fonterra had completed its budget process in late July and expected its profit after tax to be at the higher end of the 30-50 cent range.
Ferrier said the current season was still at an early stage and the outlook was finely balanced.
"On the one hand, the New Zealand dollar remained relatively strong, prices for dairy ingredients had fallen from their April peak and there is some evidence global economic growth is slowing," Ferrier said.
"On the other hand, weather in Europe, Russia, Pakistan and parts of China has affected agricultural production, although the extent of the impact on dairy is unknown. The Russian wheat export ban has contributed to a lift in prices for grain feed, which could lend support to dairy prices," he said.
"The fundamentals for global markets continue to point to balanced supply and demand."
Fonterra said there was no change to the 2010/11 advance rate schedule, and the opening advance would stay at NZ$4.30/kg.
Fonterra's annual results and final payout for the 2009/10 season would be released on September 23.