ASB becomes first big bank to offer reverse equity mortgages to asset rich but cash poor retirees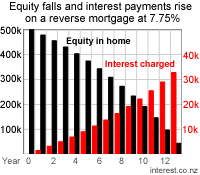 ASB has announced it will be the first major New Zealand bank to offer asset rich but cash poor customers reverse equity mortgages.
(Updated with background on other offerors and their rates; Auckland District Law Society warning)
Reverse equity mortgages have proved controversial in the past, particularly among borrowers concerned about putting debt back into houses they had hoped to hand on to their heirs unencumbered.
However, many have predicted reverse equity mortgages will become more popular as an ageing population sitting on big equity gains from the property boom seek to free up cash to pay for medical bills, holidays and living expenses in extended retirements.
Despite that, some borrowers have worried that lengthening retirements and survivability allied to the power of compounding interest could see equity eroded before any inheritance can be passed on. Falling house prices also increase the risks around reverse equity mortgages, given any equity in a house is being squeezed from both ends.
Other providers of reverse mortgages include SBS Bank and Sentinel. Westpac to used offer such mortgages, but pulled out of the market in August 2008.
ASB said the time was right for a major bank to offer reverse mortgages, which previously have only been offered by specialist lenders at relatively high interest rates.
"These loans are specifically suited to people older than 65 years of age, and enable asset rich but cash poor home owners to borrow money against part of the equity they have in their home," ASB said.
"While borrowers can repay all or part of the loan at anytime, normally the loan and outstanding interest is recovered by the bank when the home owner sells the property, or from their estate," it said.
"We are introducing HomePlus in response to demand from our senior customers," said ASB's CEO of Customers, Markets and Products, Catherine McGrath.
"In Australia home equity release loans are becoming more common, but until now have been offered in New Zealand by mainly specialist lenders," she said.
ASB said its reverse mortgages would comply with the voluntary code of practice developed by the Office of Senior Citizens.
"We will also set new ethical standards, particularly around ensuring borrowers fully understand the arrangement into which they are entering, providing guarantees around lifetime occupancy and promising people never have to repay more than the value of their property," McGrath said.
"The 90 day cooling off period also ensures borrowers who change their minds can repay their HomePlus loan," she said.
"This type of borrowing is not for all senior customers, and we recommend it only for those customers who have no other means of accessing cash. Releasing funds from other assets if available will invariably be a better option than taking out a home equity release loan. However, for those who do not have other options, it can allow them to maintain an independent lifestyle, stay in their own home longer, or undertake necessary repairs that are otherwise beyond their financial means."
Borrowers would have to go through a three meeting process to ensure the loan was right for them, ASB said, adding the borrower would have to seek independent legal advice and understand how the debt would increase over time.
"We also strongly recommend that family and other advisers are fully informed of their intentions," ASB said.
ASB said the interest rate for HomePlus would be variable but start at 7.75%, whicn included the cost of funding the loans, the risk factor, the guarantees provided and the length of time the money would be tied up.
ASB's regular variable rate is currently 6.25%. See all bank mortgage rates here.
Sentinel is offering 7.3% for its reverse equity loan, while SBS' Advance Equity release is currently 7.1%.
"ASB's entry into the home equity release market will see this product come of age in New Zealand," it said.
The Auckland District Law Society issued a warning paper about Reserve Equity Mortgages in December 2007.
"Unless the borrower is over 70 years of age and intending to borrow only a small proportion of their equity, they should be very circumspect about entering into such a mortgage," it warned in the paper, available here.
University of Melbourne researchers issued a paper in mid 2007 on reverse mortgages in Australia, where the market is more developed.