Kiwis injecting equity into homes, as households move from debt to savings, Finance Minister English says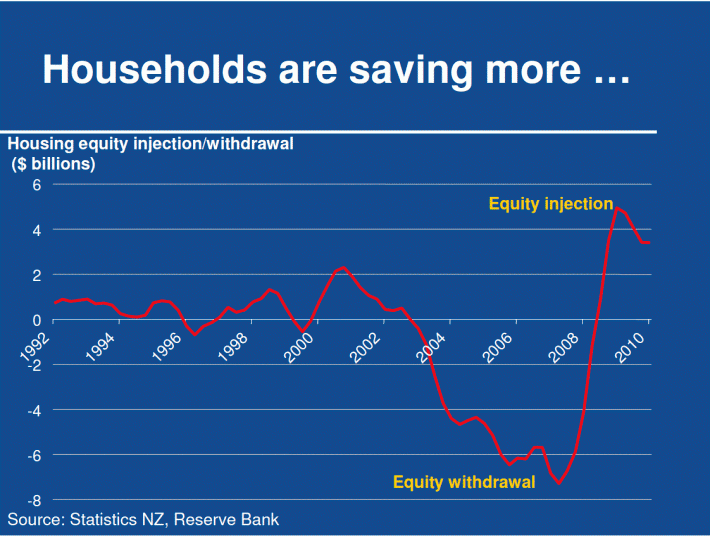 New Zealanders have been injecting equity into their homes in recent years, rather than withdrawing debt to effectively boost their disposable incomes, Finance Minister Bill English said today.
English cited figures from Statistics New Zealand and the Reserve Bank that indicated Kiwis injected about NZ$5 billion of equity into their homes in the year to March 2009. That is still continuing, although at a lower level through 2009 and into 2010, according to a chart English showed when presenting the governments accounts for 2010.
This followed equity withdrawals between 2003 and 2008, which peaked at NZ$7 billion in the year to June 2007, he said.
"Households are now reducing borrowing and injecting equity into their homes – effectively saving," English said.
This would in turn mean the economic recovery would not be led by consumption, which would make things challenging for retailers and domestic industries, English said.
"That's why this recovery will remain quite different to what we have seen in New Zealand in the past. It will not be fuelled by debt and consumption," he said.
Here are English's comments on the rebalancing
Households have made a multi-billion dollar move away from borrowing towards saving in the past two or three years, which is already reshaping the nature of the current economic recovery, Finance Minister Bill English says.

It means the recovery is not being led by traditional "sugar fixes" of borrowing, consumption and retail spending, he told a media briefing today to release the Government's financial statements for the year ending 30 June 2010.

"New Zealanders understand our need to rebalance the economy away from debt and spending towards savings and investment," Mr English says. "The Government's economic programme – including the tax package this month – aims to achieve that over the next few years so we can create faster growth and sustainable jobs."

Early signs of progress on this score are clear from estimates of movements in households' equity in their homes.

Treasury analysis of these figures shows households withdrew several billion dollars of equity from their homes between 2003 and 2008 – effectively borrowing to boost their disposable incomes. At its peak in 2007, that equity withdrawal exceeded $7 billion.

"But we've seen a marked turnaround in behaviour since then," Mr English says. "Households are now reducing borrowing and injecting equity into their homes – effectively saving. In the year to 31 March 2009, that equity injection amounted to about $5 billion.

"That's a significant change, equivalent to about a 10 per cent reduction in household incomes available for spending. It remains to be seen whether this trend continues, but these early signs are promising.

"At the same time, household consumption has fallen from a peak of more than 64 per cent of GDP in 2007 to 62 per cent this year. The Reserve Bank forecasts this will decline further to about 60 per cent of GDP by 2013.

"That's why this recovery will remain quite different to what we have seen in New Zealand in the past. It will not be fuelled by debt and consumption.

"While this will make it challenging for retailers and other domestic industries in the short term, it is what the economy needs over the long term as we build our future on savings, productive investment and exports."