Halcyon days coming to an end for unregulated property syndicates with Financial Markets Authority oversight looming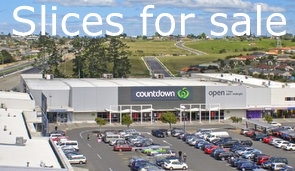 By Gareth Vaughan
As another property syndicate moves to raise NZ$9.6 million from the public, the sector's halcyon days of falling outside the regulatory net are drawing to a close with the Government's new financial super regulator set to have oversight of them.
Mark Francis' Augusta Funds Management is looking to raise NZ$9.6 million by selling 192 slices in a scheme at NZ$50,000 each to help purchase Auckland's Westgate Countdown supermarket. It's offering the carrot of projected pre-tax cash returns on investment of 8.5% per annum. But the offeror's statement notes the offer is exempt under the Securities Act from the requirement to issue a prospectus or to appoint an independent supervisor to monitor investors' interests.
Risks of the scheme listed in the offeror's statement include "single asset risk" in that the scheme is exposed to a single asset and if it fails to perform the returns to investors will be hit and can't be offset through exposure to other assets. Other risks include the commercial property sector weakening meaning the value of the supermarket falls and investors can't recoup their original investment, or the tenant defaults on lease obligations.
Augusta's latest offer follows its recent successful raising of NZ$9.15 million in a property syndication of Tauranga's Fraser Cover Countdown supermarket. Based on interest.co.nz research, if Augusta's Westgate supermarket offer succeeds, it'll be the eighth property syndicate the firm has launched since October 2005, raising a total of NZ$64 million in initial investor funds with another NZ$24.6 million of funding borrowed from banks.
Several other groups are also active in the property syndication market. The Timaru-based Commercial Investment Properties Ltd has been looking to raise NZ$8 million from up to 160 investors to help fund the purchase of a Bunnings Warehouse in Whangarei from the DNZ Property Fund. This deal includes a NZ$6.1 million five-year loan from the BNZ.
Elsewhere 25 investors are being sought by Bayleys Real Estate, on behalf of a company called MyFarm, to stump up a minimum of NZ$250,000 each into the syndication of a yet to be developed Canterbury dairy farm.
Farm prices 'can only rise'
On its website MyFarm has a list entitled '10 reasons why farm prices can only go up' which contrasts greatly with recent comments from the Reserve Bank, which said despite a fall of at least 15% from their mid-2008 peak, it's likely farm prices will need to fall further to see "substantial buying interest rekindled." 
Securities Commission general counsel Liam Mason told interest.co.nz Bayleys, which is marketing the dairy farm offer, had told the commission the offer was available to people described as "eligible investors" under section five of the Securities Act, ie those considered sophisticated investors, or those who aren't considered members of the public under section 3 of the Act. That's even though Bayleys' press release said it was marketing the offer to the public.
"On the basis that it is not a public offer, no prospectus would be required," Mason said.
The Securities Commission warned investors last year that property syndicates could be risky. The commission said such schemes, where ownership of a property is split into equal shares with individuals buying one or more shares each, aren't required to produce a registered prospectus or investment statement. Instead, they must provide a disclosure document, called an "offeror's statement", and an independent registered valuer's report – before signing up investors.
"These schemes work differently to other kinds of investments, and their risks need to be understood," the commission said.
The regulator also cautioned that investors need to think about how to get out of a scheme.
"Given the lack of a formal market, it might be difficult to on-sell your interest, particularly if the scheme isn't performing well. Find out how it will eventually be wound up. Some schemes continue indefinitely until investors vote to wind up. In this case, you need to understand how many votes are needed - if a majority vote is enough, the scheme might be wound up against your wishes."
And the commission also said those investing in a property syndicate could end up sharing its debts.
"Someone investing in this type of property syndicate may also be agreeing to share its debts and liabilities, jointly or severally. This means that if the syndicate can't pay its debts or fund repairs, investors may have to make up the shortfall. In fact, each investor may be liable for the whole amount. You may end up owing money to the syndicate."
FMA to have new powers
The Financial Markets Authority (FMA), the Government's new financial markets "super regulator" due to come into existence next April, will have oversight of property investment schemes such as syndicates, viewed as "unregulated anomalies" until now. A greater regulatory focus on  property investment schemes is understood to be, at least in part, related to the demise of Blue Chip, which collapsed in 2008 owing at least 3000 investors about NZ$84 million. A Securities Act review currently underway is also likely to drag property syndicates within the regulatory net.
The FMA is consolidating regulatory functions of the Securities Commission, the Government Actuary, the Companies Office, and some from sharemarket operator NZX as the Government strives to restore the confidence of mum and dad investors in the financial markets after the demise of 61 financial entities since 2006 putting NZ$8.5 billion held in nearly 239,000 deposits at risk. See our Deep Freeze list here.
Simon Botherway, chairman of the FMA Establishment Board, says the new regulator will also have so-called "call in powers" enabling it to pull in financial products structured to stay outside regulation.
Putting the NZ$9.6 million Augusta is looking to raise for the Westgate Countdown deal into context, it's more than the NZ$7.2 million raised from the public in the high profile sharemarket initial public offering earlier this year of scented candle maker Ecoya. The only other sharemarket float so far this year was that of DNZ Property Fund, which raised NZ$45 million.
Augusta aims to fund about 45% of the supermarket purchase through a NZ$7.4 million five-year loan from the ANZ, for which it currently has an "indicative" offer. The syndicate will pay interest only during the five-year term of this loan with the full loan amount repayable on maturity. Interest is still, however, expected to be paid to ANZ at 6.28% per year, or NZ$465,138 per annum.
And Augusta as manager and offerer will receive significant fees. These include;
-An initial offeror's fee of NZ$326,800 plus GST for negotiating the contract to buy the property from Westgate Properties Ltd for NZ$16.34 million plus GST.
-A NZ$3,500 fee plus GST for preparing prospective financial statements.
-An annual fee for managing the scheme from year two. This will start at NZ$35,000 plus GST and be increased on an annual basis by the greater of the Consumer Price Index or 3%.
- A fee for management of the property equal to 51% of the fees for managing the scheme.
Augusta says the scheme has no fixed term but can be terminated at any time if investors representing 75% of the total interests in the scheme decide to do so at a properly constituted meeting.