Nationwide economic activity down 0.2% in September quarter, National Bank says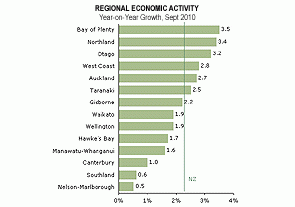 Nationwide economic activity fell 0.2% in the three months to September after five consecutive months of expansion, the National Bank said in its latest Regional Trends survey.
The downturn was led by the South Island, where economic activity fell 0.6% over the quarter, National Bank said. This was partly offset by a 0.2% rise in activity in the North Island.
Despite the quarterly contraction, annual growth rose to a two and a half year high in September of 2.3%.
Here are the National Bank's comments:
Quarterly percentage change

Eight regions recorded a rise in economic activity in the three months to September, while five regions recorded a decline.

The two smallest regional economies (West Coast and Gisborne) recorded the largest increases in economic activity, lifting 1.2 and 1.0 percent, respectively. Taranaki recorded the largest decline in economic activity, joined by the heavyweight regional economies of Canterbury, Otago and Wellington.

Our nationwide measure of economic activity eased 0.2 percent, following five quarters of increases. The decline in activity was more pronounced in the South Island, with a 0.6 percent retracement from three months earlier. In comparison, the North Island recorded a modest 0.2 percent rise in economic activity in the September quarter.

Year-on-year growth

Year-on-year economic growth lifted to a 2½-year high of 2.3 percent in September. The North Island recorded the strongest rise, expanding 2.6 percent in the twelve months to September, while the South Island economy recorded only a 1.6 percent rise in economic growth.

Three regions (Auckland, Gisborne and Otago) shared the strongest annual rate of economic growth, at 2.1 percent. At the other end of the spectrum, Southland has the lowest (and only negative) year-on-year rate of change (-0.3 percent).

The Bay of Plenty recorded the strongest rate of annual economic growth in September, lifting 3.5 percent from a year earlier. Northland was a close second, expanding 3.4 percent, with Otago third fastest on 3.2 percent growth. Nelson-Marlborough and Southland were laggards across the regional mix, only expanding by 0.5 and 0.6 percent, respectively.