Annual consumer price inflation rises 4%, December quarter CPI up 2.3% - in line with Reserve Bank expectations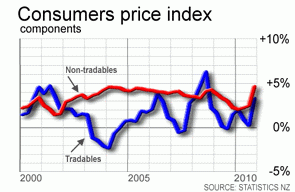 The December quarter Consumer Price Index (CPI) rose 2.3%, the biggest increase since a 3.5% rise in the September quarter of 1989, but bang in line with Reserve Bank expectations.
Statistics New Zealand also said the CPI increased 4% for the year to the December quarter, in line with economists' expectations. A major factor in both the quarterly and annual rises was the increase in Goods and Services Tax (GST) to 15% from 12.5% from October 1.
Higher petrol prices also contributed to the December quarter rise with a 6.8% rise over the three months contributing more than 0.3% to the 2.3% rise.
ASB economist Christina Leung said given the Reserve Bank's Policy Targets Agreement allows it to look through the direct effects of major Government policy changes such as GST increases, its key concern is how households and businesses will react to the spike in headline CPI.
"The Reserve Bank has assumed that the effects on price and wage setting behaviour will be muted going forward," Leung said.
"Recent inflation indicators, including cost expectations and pricing intentions, suggesting inflation pressures are contained for now. Combined with recent soft activity data and low appetites for credit, there is little urgency for the Reserve Bank to resume the reduction of monetary policy stimulus. We expect the Reserve Bank will wait until the September meeting to lift the Official Cash Rate (OCR)," Leung added.
The OCR is currently at 3%. The Reserve Bank's next OCR announcement is due next Thursday, January 27.
Read Statistics New Zealand's release below:
The consumers price index (CPI) rose 2.3 percent for the December 2010 quarter, Statistics New Zealand said today.

Prices were affected by a rise in goods and services tax (GST) on 1 October 2010. "This is the largest quarterly increase in the CPI since a 3.5 percent rise in the September 1989 quarter, when GST also rose," Statistics NZ's prices manager Chris Pike said.

In the December 2010 quarter, the transport group rose 4.3 percent, with petrol prices up 6.8 percent and a seasonal increase of 5.5 percent for international air fares. Food prices rose 2.1 percent, and housing and household utility prices rose 1.6 percent (prices for the purchase of new housing were up 2.0 percent, property maintenance services up 4.4 percent, and electricity up 1.7 percent).

The CPI increased 4.0 percent for the year to the December 2010 quarter, influenced by the rise in GST. This is the largest annual increase since a 5.1 percent increase in the year to the September 2008 quarter (when petrol prices peaked). In the year to the December 2010 quarter, significant upward contributions came from higher prices for food (up 4.6 percent), petrol (up 14.2 percent), and cigarettes and tobacco (up 17.0 percent). The rate of GST rose from 12.5 percent to 15 percent on 1 October 2010.

This increase could raise retail prices that are subject to GST by 2.22 percent. For example, a product priced at $100 (excluding GST) would have sold for $112.50 before 1 October. When GST increased to 15 percent, that product would retail for $115 (all other things being equal), which gives a 2.2 percent increase in its price.

Of prices collected by visiting shops in the middle of the December 2010 quarter (which excludes those collected monthly or by postal survey), about one in 10 prices rose 2.0 to 2.5 percent (in line with GST), one in four rose more than 2.5 percent, and one in two did not change.

Not all goods and services in the CPI basket are subject to GST – about 91 percent of the cost of the CPI basket is directly affected by the rise in GST. This would result in an increase of about 2.0 percent in the CPI if all other things remained equal.

The CPI measures the rate of price change of goods and services purchased by households. Statistics NZ visits 3,000 shops around New Zealand to collect prices for the CPI and check product sizes and features.
No chart with that title exists.
(Update adds comments from ASB economist Christina Leung).