PM Key says govt essentially promised rating agencies net debt would not rise above 30% of GDP as NZ faces credit rating threat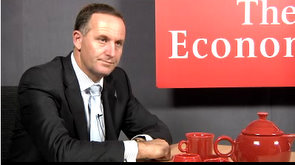 By Alex Tarrant
The government has essentially promised international credit rating agency Standard & Poor's that it will not allow net debt to rise above 30% of Gross Domestic Product, Prime Minister John Key says.
Finance Minister Bill English is set to release a 'zero' budget next Thursday that shows no increase in overall government spending from last year as government tries to control spending in the face of a possible credit rating downgrade. The government has acknowledged credit rating agencies are looking at the rise in public debt alongside New Zealand's already high private sector debt.
Key's comment came in an interview he gave in London last week to The Economist newspaper, which can be viewed online here.
In March, Finance Minister Bill English warned government's net debt could rise above 30% of GDP over the next three years as government dealt with the costs of paying for the Christchurch earthquakes and a slower than expected economic rebound in the second half of 2010. The government had set the 30% mark as a self-imposed comfort zone it would not like to go over. In December last year, the Prime Minister said Standard & Poor's would not take notice of a nation's net debt until it hit 30% of GDP.
Standard and Poor's placed New Zealand's AA+ credit rating on negative outlook in November, signaling a one in three chance of a ratings downgrade in the next two years. However, the move was mainly due to how S&P had revised the way it assessed private sector debt after the Euro debt crisis.
'Govt still strong'
In The Economist interview last week, Key said the good news was the government's balance sheet was still "very strong" with net debt around 19% of GDP.
"We have essentially promised the rating agencies that debt won't rise above 30% of GDP, and it's our intention to keep to that commitment," Key told The Economist
"We're going into this budget on May 19 with the expectation that it will be a 'zero budget' – so no new increase in expenditure - and that is all part of insuring that not only we don't breach our self-enforced debt targets, but also that over time we return to surplus quicker than we otherwise would, and that we start preparing the ground for...strong economic growth," Key said.
"So we've been reforming most parts of the economy that will drive economic growth and lift productivity, whether it's labour market reform, taxation, investment in infrastructure or skills, and we're continuing to work very aggressively on that," he said.
The issue for Standard and Poor's in putting New Zealand on negative outlook was all based on the rating agency's view about the total indebtedness of the New Zealand economy.
"What is true is that we have total indebtedness of about 85% of GDP, primarily made up because of private sector debt. The government can't control that, although it can do things to encourage a lift in national savings, and in the budget you'll see a number of initiatives to try and achieve that," Key said.
"Overall, we made some changes in 2010 which we also believe would lift national savings, including increasing our consumption tax and reducing personal taxation to give people more incentives to work and to save. We've also [been] reducing taxation on savings, and we've been discouraging savings in the housing area by eliminating depreciation claims and the likes," he said.
"But longer-term, that lift in national savings has to occur on the private sector side, and that is all part of the rebalancing of the economy to be much more export focussed and much more outward focussed."
'Mature conversation with NZers'
Key accepted it was highly unusual for a government to run a 'zero budget' in election year.
"Most governments go into election year offering promises of more spending and lollies, and giveaways in different areas, and our view is that we want to have a mature conversation with the New Zealand public," Key said.
"We believe that they do understand that New Zealand needs to cut its cloth to the environment it finds itself in, that lumping further debt on future generations is not acceptable. That the earthquake does actually have to be paid for," he said.
One of the reasons the government believed New Zealanders were ready to accept the measures that are going to be implemented was the government's tightening actions could be reflected in peoples' own patterns of behaviour.
"From the period of about 2000 to 2008, what we saw was that New Zealanders were spending far more than they were earning – about NZ$1.15 for every NZ$1 they earned. In the last two-and-a-half years they've been spending 90 cents for every dollar they've earned," Key said.
"So instead of dis-saving about NZ$10 billion a year, they're now saving about NZ$7 or NZ$8 billion. Now if collectively and on-mass the New Zealand public can understand the need to get their balance sheet in order, we believe they can understand that the government needs to do the same," he said.
Paying for the quake
Meanwhile Key hinted that increases in budget spending may not be as big in current years as the National government's previous two budgets, or those seen under the former Labour government. This would be due to the costs of paying for the Christchurch earthquakes, as the government looked to get its budget back to surplus over the next few years in order to start repaying debt.
"We think there's around about NZ$15 billion worth of either insurance or savings that we've put aside for an earthquake. That's the good news part of the story," Key said when asked about the costs of the quakes that hit Christchurch on September 4 last year, and February 22 this this year.
"The bad news is we think the liability for rebuilding infrastructure and housing is in the order of NZ$20 to NZ$25 billion, so there's a shortfall of NZ$5 to NZ$10 billion," Key said.
"We also have a reduction in tax revenue because Christchurch is our second largest city, so such a substantial contraction in our second largest city has an impact on our accounts," he said.
"By going into the budget with a zero budget, we're essentially not spending the billion-odd dollars extra that we would spend. Now, because that reoccurs on every single year, over a period of about probably seven to ten years, you've effectively paid for the earthquake," Key said.
A spokesperson later confirmed to interest.co.nz that Key was not suggesting 'zero budgets' for the next ten years, but that, if that were to happen, it would have effectively covered the government's costs for the earthquakes.