Budget 2011 - Housing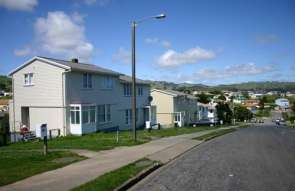 This table outlines the New Zealand Government's planned housing spending for the 2011/12 budget year.
Actual spending for the previous four years is on the left and includes, for the sake of comparison, the previous Labour Government's final spending in 2008.
The numbers are taken from the Vote Housing. A link to the primary source used, from Treasury's website, can be found at the bottom of the page.
Please note that some of the allocation titles have been shortened for the sake of space.
Figures for each allocation are in millions of NZ$.
| | | | | | | |
| --- | --- | --- | --- | --- | --- | --- |
| Actual 2007/08 | Actual 2008/09 | Actual 2009/10 | Forecast 2010/11 | Housing: | Budget 2011/12 | % |
| NZ$m | NZ$m | NZ$m | NZ$m |   | NZ$m |   |
| 465.165 | 503.656 | 527.851 | 0.000 | Income related rental subsidy | 0.000 | 0.0% |
| 0.000 | 22.000 | 20.000 | 0.000 | HNZC state house upgrades | 0.000 | 0.0% |
| 0.000 | 7.170 | 0.700 | 0.000 | Loans to support homeownership | 0.000 | 0.0% |
| 131.187 | 0.000 | 0.000 | 0.000 | Loans to refinance third party debt | 0.000 | 0.0% |
| 50.000 | 0.000 | 0.000 | 0.000 | Housing NZ Ltd - Refinance Crown Debt | 0.000 | 0.0% |
| 40.000 | 0.000 | 0.000 | 0.000 | HNZC - Refinance Crown Debt | 0.000 | 0.0% |
| 3.964 | 0.000 | 0.000 | 0.000 | Debt servicing - housing agency a/c | 0.000 | 0.0% |
| 3.172 | 0.000 | 0.000 | 0.000 | Building Act 2004 implementation | 0.000 | 0.0% |
| 1.767 | 0.000 | 0.000 | 0.000 | Increase in debt provision | 0.000 | 0.0% |
| 0.000 | 0.000 | 5.535 | 0.000 | Housing Innovation Fund impairments | 0.000 | 0.0% |
| 4.095 | 4.812 | 4.737 | 6.888 | Sector and regulatory policy | 0.000 | 0.0% |
| 0.000 | 0.000 | 8.700 | 8.000 | Housing Innovation Fund grants | 0.000 | 0.0% |
| 89.048 | 0.000 | 0.620 | 0.027 | Capital Injections to HNZC | 0.027 | 0.0% |
| 0.514 | 0.623 | 1.391 | 1.417 | Monitoring and advice - HNZC | 0.794 | 0.1% |
| 0.000 | 11.979 | 11.300 | 8.110 | Loans for social & affordable housing | 1.100 | 0.1% |
| 0.069 | 1.468 | 1.296 | 0.000 | Mgmt of Crown Properties | 1.395 | 0.1% |
| 8.943 | 8.736 | 0.815 | 1.659 | Housing Assistance | 1.729 | 0.2% |
| 11.029 | 2.375 | 10.166 | 6.911 | Contracted housing support services | 2.400 | 0.2% |
| 1.114 | 5.871 | 5.526 | 1.262 | Dept of Building & Housing - capex | 4.084 | 0.4% |
| 4.000 | 3.829 | 3.800 | 3.968 | Community housing rent relief program | 4.150 | 0.4% |
| 0.000 | 1.366 | 4.225 | 5.000 | Increase in debt provision | 5.000 | 0.5% |
| 0.000 | 0.000 | 0.000 | 2.100 | KiwiSaver deposit subsidy | 5.200 | 0.5% |
| 2.416 | 2.554 | 2.640 | 2.554 | Housing policy advice | 7.815 | 0.8% |
| 10.561 | 3.308 | 20.301 | 7.796 | Buying and developing properties | 9.300 | 0.9% |
| 9.657 | 8.070 | 8.158 | 8.984 | Occupational licensing | 9.966 | 1.0% |
| 0.000 | 0.000 | 0.000 | 11.550 | Canterbury earthquake response | 11.671 | 1.2% |
| 10.472 | 7.371 | 14.993 | 10.119 | HNZC housing support services | 15.343 | 1.5% |
| 12.706 | 16.992 | 16.310 | 18.046 | Building regulation and control | 16.214 | 1.6% |
| 0.000 | 82.431 | 120.610 | 18.137 | Buying & improving state houses | 19.142 | 1.9% |
| 19.731 | 19.764 | 22.222 | 21.524 | Residential tenancy / unit title services | 22.328 | 2.2% |
| 0.000 | 7.500 | 13.500 | 37.500 | Wtgn City social housing assistance | 43.500 | 4.4% |
| 16.879 | 15.844 | 15.275 | 716.659 | Weathertight homes resolution services | 52.892 | 5.3% |
| 0.000 | 170.970 | 234.642 | 160.757 | Refinancing of debt | 175.496 | 17.6% |
| 0.000 | 0.000 | 0.000 | 558.566 | Housing/services for tenants on income related rent | 587.115 | 58.8% |
|   |   |   |   |   |   |   |
| 896.5 | 908.7 | 1,075.30 | 1,618.20 | Totals: | $997.70 | 100.0% |
You can get back to the main page that summarises all government spending here >>
Sources:
Housing : http://treasury.govt.nz/budget/2011/estimates/est11hous.pdf