Productivity Commission asks for submissions on housing affordability, looks at land supply, construction costs, taxes, credit availability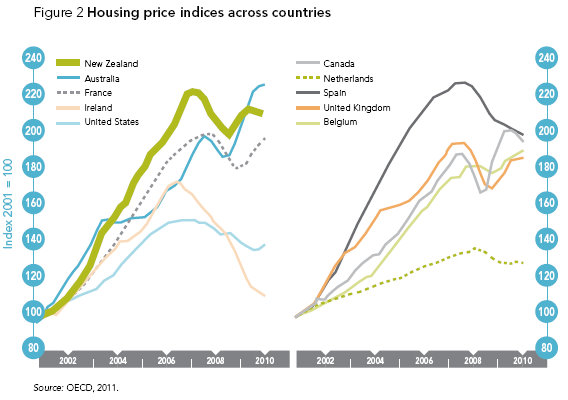 The newly set up Productivity Commission is asking for submissions on its investigation into housing affordability in New Zealand, saying there is concern that the fact that house prices remain significantly higher than a decade ago has led to a decline in affordability.
In an Issues Paper calling for submissions, the Commission says the inquiry will examine demand and supply factors driving housing affordability, such as land supply, infrastructure, building costs, government regulations, taxes and levies, availability of finance and the preferences of New Zealanders.
"There is nothing more central to wellbeing for most people than affordable high quality housing," Commission chairman Murray Sherwin said.
"Our first task is to better understand the key drivers of housing affordability and to what extent there are distortions in the housing market. The Commission wants to maximise quality housing options for all New Zealanders, regardless of their income or whether they rent or own," Sherwin said.
The Productivity Commission was set up under a coalition agreement between the ACT and National Parties. It is due to release its draft recommendations for improving housing affordability in October this year. It will deliver its final report and recommendations to the Governmentby 1 February 2012.
House price jump
Between 1990 and 2001, national average house prices had appreciated at an annual rate of only 2% in real terms and even fell in a number of districts, it says in the paper.
"However, from around 2002 house prices increased in concert across all regions and local districts, and since then, cumulative growth in the national house price index has exceeded that of most other OECD countries (OECD, 2011)," it says.
"New Zealand house prices hit their peak in 2007. They had risen over 180 per cent in real terms relative to 1990 levels, and all local districts experienced at least an 85 per cent increase. Notably, the largest price increases exceeded 200 per cent in real terms and were concentrated in major urban centres and holiday locations. Since the global financial crisis nominal house prices have fallen around 5 per cent."
What to blame?
A combination of both supply and demand factors had been identified in studies and literature for explaining the surge in real house prices, it says in the paper.
"These include a sharp inflow of migrants during the cycle, favourable credit conditions, a rise in average incomes, declining nominal interest rates, very low unemployment, strong gains in the terms of trade during the period (with dairy prices driving up rural land values), response lags of residential construction, increases in the costs of building homes and shortages in materials and skills," it says.
"These factors likely inflated expectations of future house price increases, though it is difficult to determine whether a housing bubble had formed," it says, quoting OECD comments made this year on New Zealand's housing market.
"An issue for this inquiry is whether the recent experience with housing prices is merely a recurring and transient phenomenon, with a corresponding short-term effect on real prices and affordability, or whether it is the consequence of more fundamental changes in housing markets."
Housing markets may not deliver efficient or appropriate outcomes for the following reasons:

• Demand may become excessive if people develop unrealistic expectations about the returns from housing relative to other investments. Although people eventually adjust their expectations to market realities, such adjustment can be very disruptive and can take a long time with long lasting effects.

• The demand for housing may be inflated or distorted by government policy settings — for example, the taxation treatment afforded to housing compared to other assets or services.

• The supply of new housing may be unduly slow to adjust to increases in demand due to, for example, any inefficiencies in the building and construction industry or any deficiencies in government regulation (or its administration) such as insufficient and delayed land release or planning and consenting constraints.

• Poor productivity in the housing supply chain resulting in more expensive housing than otherwise would be the case.
Home ownership rate falling
An important trend was that home ownership rates in New Zealand had declined as a proportion of total households from around 75 per cent in 1991 to 67 per cent in 2006, with 27.5 per cent renting and 5.5 per cent living in social housing (2006 Census), it says in the paper.
The level of home ownership in New Zealand was slightly below the OECD average.
"The declining home ownership trend may be associated with the rise in real house prices and general decline in housing affordability," it says in the paper.
"Other partial explanations include a trend towards postponing household formation until later in life. This has accompanied the increasing uptake of tertiary education (often with student loans), and later marriage and childbearing which are often identified as the dominant drivers of the propensity to own (Morrison, 2008). The most significant falls in home ownership are in the 25-40 year old age groups (House Price Unit, 2008). The extent that this fall is explained by deferral of home ownership by this particular group remains an open question," it says.
"The decline in New Zealand of home ownership rates contrasts with the trend of increasing owner occupancy rates observed in most other OECD countries (OECD, 2011)."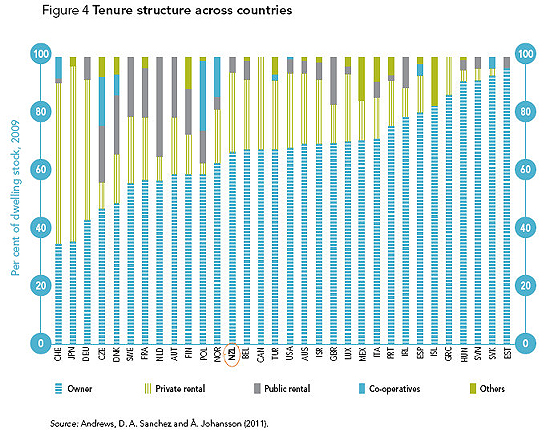 Too much investment in property
Compared to other OECD countries, it appeared household investment portfolios in New Zealand were too concentrated in housing and land assets, the Commission says in the paper.
"The strong preference for New Zealanders to invest in residential property may also be partly explained by perceptions of risk associated with property compared with other types of investments," it says.
"There is some evidence that New Zealanders invest overwhelmingly in property because they feel more confident and 'trust' property investment more than other forms of investment (Braithwaite and Kemp, 2007). Given the high transaction costs associated with buying and selling a house, including search costs, fees and commissions, the cost of buying and selling housing could also be influenced by any changes in practices of real estate agents."
Due to the tax system?
"If the tax system favours housing relative to other types of assets, then demand for housing will be artificially inflated, pushing up house prices. If different types of tenure are favoured over other types, then taxation may influence tenure decisions towards or away from home ownership (Davis and Hunn, 2007)," it says in the paper.
"For owner occupiers, the tax system in New Zealand exempts imputed rents (where the implicit rental benefits derived from owning one's home are taxed) and capital gains from taxation. Mortgage interest is also not tax deductible."
"However, investors in rental housing in New Zealand enjoy generous tax treatment because of the absence of a capital gains tax and the extent that rental losses can be offset against other income (OECD, 2011). It is commonly suggested that excessive investment in housing has been caused by the concessional treatment of capital gains and by the tax advantage of negative gearing, thereby distorting the allocation of resources. (Although the tax arrangements for rental property investors also equally apply to investment in other asset classes.)," it says in the paper.
"Estimates prepared by the House Prices Unit (2008) suggest that the ability to deduct losses from rental properties increases the value of a medium-price house to the investor by NZ$25,000.
However, council rates were considered a form of tax on property.
"Local authorities have the discretion to set rates in order to cover costs. The imposition and level of property tax does not appear to be impacting on the New Zealand housing market. Revenue from local authority rates averages 2 per cent of GDP as of 2008 (about the OECD average) but has declined as a percentage of housing values — from 2.2 per cent in 1980 to 0.65 per cent in 2008 (OECD, 2011)," it says in the paper.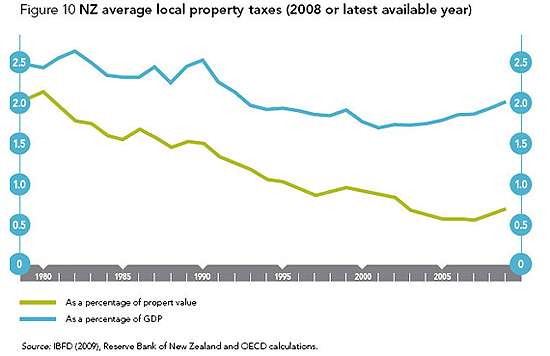 Share crash changed behavior?
Investor and overall activity in housing markets might also depend on the returns available from other types of investments and asset, such as equities.
"A cross country analysis by the OECD of housing prices relative to equities across three decades shows no tendency for property to systematically outperform stocks over the long term. However, in New Zealand's case, homeowners would, on average, appear to have received superior returns compared to equities over the late 1980s and most of the 2000s (OECD, 2011)," it says in the paper.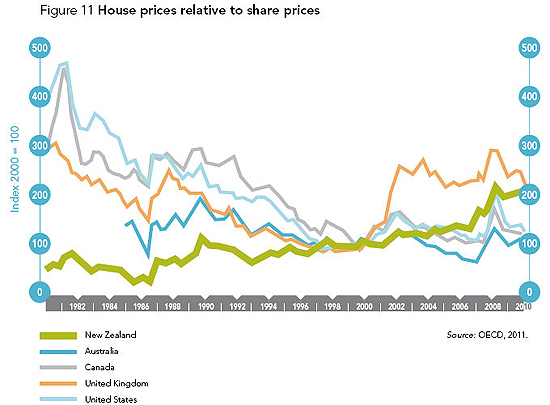 Opening the fringes vs density
Planning and land-use policies were important because land use generated externalities that may not be included in the market price, for example congestion and environmental degradation.
"Land-use planning systems aim to correct for such market imperfections. But land-use and planning policies can also restrict supply responsiveness which has wider implications for house prices and affordability," the Commission says.
"At the same time, positive externalities or spillovers can arise from planning and public investment decisions where schools, community facilities, parks, and transport development are capitalised in the value of private property (the so-called 'unearned increment')," it says in the paper.
"The supply of land can be increased by re-zoning 'green-field' land to allow development for housing construction on the fringe of towns and cities (expansion). Land can also become available through 'brown-field' re-zoning of existing inner city and non-residential land to allow higher density housing (intensification). There are strong arguments made in favour of both approaches," it says.
"New Zealand cities have historically grown by expanding the land area that they cover through new suburbs. This has resulted in population densities that are below many other cities in the world but closer to densities in most Australian cities (Housing Prices Unit, 2008).
"In better understanding the demand drivers in the housing market, the Commission is interested in the preferences of home buyers in New Zealand for particular housing development models and why this is the case. For example, one survey of new home buyers showed that detached suburban living with a commute was preferred over medium or high density housing nearer work (Page, 2007). As much floor space as possible given their budget constraints and a double garage were identified as the top priorities," the Commission says.
Construction productivity low
Productivity in New Zealand's building and construction sector was low, relative to other countries and other sectors of the New Zealand economy, and labour productivity had been flat over time (Building and Construction Sector Productivity Taskforce, 2009)," the Commission says in the paper.
"Low productivity in the construction sector translates into higher than necessary construction costs. Indeed, work by the House Prices Unit (2008) shows that construction costs, and building costs more generally, have increased significantly since 2001 therefore putting upward pressure on house prices," it says.
Specifically, since 2001:

• the cost of building a new house has generally increased in line with house prices;

• the cost of labour and builders' margins increased by over 88 per cent;

• the cost materials increased by around 50 per cent; and

• the cost of sections has more than doubled (115 per cent).
"Furthermore, recent work by the OECD (Caldera Sanchez and Johansson, 2011) suggests that increasing construction costs in New Zealand are an important factor in explaining housing supply rigidities," it says.