Standard and Poor's warns NZ could face export driven slowdown through weaker demand and/or lower export prices due to US and European debt woes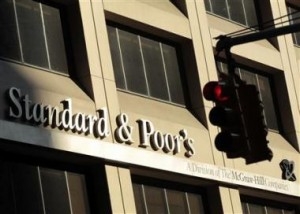 Fresh from downgrading the United States' sovereign credit rating, Standard & Poor's (S&P) is warning that New Zealand and other export-dependent Asian-Pacific economies with large exposures to the US and Europe may face an export-driven slowdown either through weaker demand or lower export prices, or both.
S&P said although there was no immediate impact on Asia-Pacific sovereign ratings stemming from the lowering of its US rating to AA+ from AAA, the US rating change, on top of the weakening sovereign credit worthiness in Europe, points to an increasingly uncertain and challenging environment ahead.
"Uncertainties in the global financial market and weakened prospects in the developed economies have further undermined confidence. The potential longer-term consequences of a weaker financing environment, slower growth, and higher risk aversion are negative factors for Asia-Pacific sovereign ratings," S&P said.
Its sovereign rating on New Zealand is AA+.
Earlier today Prime Minister John Key acknowledged New Zealand's economy could be affected by the latest round of uncertainty in international financial markets, although he said the domestic economy was in much better shape than its US and European peers, with the government having met the demands of international ratings agencies on spending and debt.
Meanwhile, S&P said: "For the moment, the generally stable outlooks for Asia Pacific sovereigns (with the exception of New Zealand, Japan, Vietnam, and the Cook Islands) is supported by sound domestic demand, relatively healthy corporate/household sectors, plentiful external liquidity, and high domestic savings rates. Our baseline assumption of no likely abrupt dislocations in developed economies' financial and real economies underpins this opinion."
"However, given the inter-connectivity of the global markets, an unexpectedly sharp disruption in developed world financial markets could change the picture. It could lead the US and European economies into deep contractions again, or further delay their recoveries. In this scenario, the experience of the global financial crisis of 2008-2009 shows that export-dependent economies with large exposures to the U.S. and/or Europe would feel the most pronounced economic impacts," S&P said.
"It's not likely things would be very different this time."
The credit rating agency added that the US and Western Europe remain significant markets for Asia-Pacific exports, even if their importance has dipped over the past couple of years compared with intra-regional and Central & Eastern European/Middle East/Latin American trade as the likes of China and India have become more significant export markets.
"Specifically, Thailand, Taiwan, Korea, Malaysia, the Philippines, Japan, Australia, and New Zealand are likely to experience export-driven slowdowns either through weaker demand or lower export prices, or both. At the same time, the Asia-Pacific sovereigns that have weaker external positions could come under pressure as international liquidity tightens. Some may require additional external assistance to prevent sharp economic adjustments," said S&P.
"Those with financial systems reliant on off-shore markets may face reduced liquidity and a heightening of refinancing risk in the near term. To varying degrees, Pakistan, Sri Lanka, Fiji, Australia, New Zealand, Korea, and Indonesia may be affected. The adverse impact on Asia Pacific in that scenario would likely require governments to use their balance sheets to support their economies and financial sectors once again."
S&P said, in its opinion, most governments would promptly oblige.
"But some of them continue to bear the scars of the recent downturn—the fiscal capacities of Japan, India, Malaysia, Taiwan, and New Zealand have shrunk relative to pre-2008 levels. If a renewed slowdown comes, it would likely create a deeper and more prolonged impact than the last one. The implications for sovereign credit worthiness in Asia-Pacific would likely be more negative than previously experienced, and a larger number of negative rating actions would follow."
"We wait to see."