Labour will struggle to implement capital gains tax policy within a term due to IRD systems, Dunne says; Claim rubbished by Labour's Cunliffe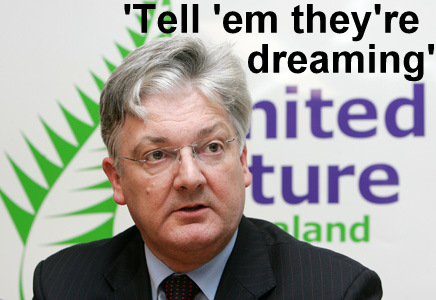 By Alex Tarrant
Pressure on Inland Revenue's IT systems would make it very difficult for Labour to implement its capital gains tax policy within a first term of office, according to Revenue Minister Peter Dunne, a claim rubbished by Labour finance spokesman David Cunliffe, who says that despite technology issues at the IRD, the policy would be all go within 18 months of the November 26 election.
Interest.co.nz has previously reported the dire state of the IRD's 20 year-old IT systems would be a roadblock for major changes to the tax mix, with the sytems nearing breaking point due to pressures imposed by Working for Families and interest-free student loans policies. Last week it was reported those IT systems would be a problem for the timely introduction of a policy to index tax on term deposits for inflation, which is being considered by the government.
The IRD's original 1990s system, designed for taxation, has had additions attached on to deal with welfare policies, such as WFF, which were beyond the original task of the system. That means any major changes to the tax environment would have to overcome the hurdles of more work to make the systems compatable to government policy, or would have to factor in a more comprehensive revamp.  A complete revamp of the IRD's systems could cost over half a billion dollars, interest.co.nz understands.
Last month Labour announced a tax policy which included a 15% capital gains tax on assets other than the family home, a 39% top personal income tax rate, and a NZ$5,000 tax-free threshold for all income earners. Labour would also alter tax law to exempt fresh fruit and vegetables from GST. See more on Labour's policy here.
However, one source says there could be significant policy constraints for up to four years without a large investment to upgrade the IRD's systems, which would make it difficult for Labour to implement its tax package within a term.
'Very difficult'
Revenue Minister Peter Dunne, who is opposed to Labour's tax policy, told interest.co.nz it would be difficult for Labour to implement its policy.
"The pressure that the IRD system is under makes it very difficult to see major tax changes being contemplated, let alone implemented over the next two to three years," Dunne said.
'Bollocks'
But Labour's Cunliffe rubbished the claims that it would be difficult to introduce the policy within its first term following the November 26 election, saying Labour would immediately signal to the IRD that work would need to be done to bring systems in line with the policy. That could involve costs in the "tens of millions" of dollars, but certainly not the hundreds of millions being talked about.
"In terms of implementation that's bollocks. We will be able to get a tax design through a white paper and a generic tax policy process in time for...[the target date of] 1 April 2013," Cunliffe told interest.co.nz
Labour would signal to IRD immediately on taking office that they should be programming their IT system to support the capital gains tax policy. The micro-detail of provision of some of the fine points of the tax would need to await the outcome of an expert panel, but that would be able to be worked in.
"It won't cost hundreds of millions of dollars. It might cost a couple of tens of millions, which would be a big project, and I know that there are some technology issues there that they're working with, but let's not exaggerate," Cunliffe said.
"Peter Dunne has said he doesn't like this tax on policy grounds – he's welcome to that opinion. But let's not confuse the preferable with the possible," he said.
"There are very strong economic reasons for doing this tax, it's been very widely accepted and applauded around the country. Yes, there will be some implementation issues naturally. But if a clear signal is given to the IRD immediately on us taking office, and if resources are provided, then that work can be done in parallel with the white paper and the generic tax policy process."
Cunliffe was confident Labour would be able to get the policy in place during its first term. The target date of April 2013 allowed a year-and-a-half for the IRD to get its systems in line with the policy.
"If people put the pedal to the metal, they can meet that target," he said.
"Peter Dunne has just got used to National government timeframes. There's a big contrast waiting to happen. We won't spend a term in opposition and then come back to government wondering what to do, unlike Bill English."
'It's why I probably won't go into govt with Labour'
Dunne acknowledged he was not in favour of Labour's recently-announced tax policy, which was the primary reason behind why it was very unlikely his party United Future would not go into coalition with Labour if the Phil Goff-led underdog won the November 26 election.
"We haven't explicitly ruled them out, but I think it's fair to say, given their tax policy – capital gains tax, higher taxes for higher income earners – all things that I've spent the last however-many years rallying against, and the last three years essentially dismantling, it's pretty difficult to see how you'd then turn around and say, 'well we'll go with you guys to put back in place the system we basically just got rid of,'" Dunne said.
"We just don't see Labour as a viable option at this stage," he said.
The first decade of Dunne's political career was as a Labour MP between 1984 and 1994, before he left to become an independant, joining United Future a year later. Dunne has been Revenue Minister since 2005, firstly under Labour Prime Minister Helen Clark, and now under the John Key-led National government.
Despite those connections early in his career, it was a "different Labour" back then, Dunne said.
"The biggest problem we have [now] is the policy mix. We've always taken it from the point of view of, have we got policy compatibility with Labour or National, and if we have, well and good, if we haven't, well you can't do a deal," he said.
(Updates to cross out 'not' in final section to make clear Dunne is not likely to go into coalition with Labour)