Alex's live election blog: The worm gives debate to Goff; Who do you think won?
Here's a fresh live election blog for Tuesday.
See all election policies from all parties in Parliament in our party policy section here.
Live blog
5:10 pm: Costings fight. Earlier on Tuesday, National Party campaign manager Stephen Joyce issued a press release trying to add the cost of Green Party policies onto what National thinks the Labour Party would be spending over the next four years. The Green Party has just responded.
See the Green Party's policies here.
Here's what Joyce had to say:
"Even if Labour agrees to just 25 per cent of these policies promoted by the Greens as part of a coalition deal, we would be looking at extra debt of more than $6 billion over four years, on top of the $15.6 billion that Labour is already promising to borrow.  New Zealand simply can't afford a big-spending Government like that at this time.  That would take the total to around $22 billion of extra borrowing.

"Taken together, the Greens and Labour policies would cost tens of thousands of jobs and massively ramp up debt."

Mr Joyce says the pricey Greens proposals include (costs over four years):

·         Extending paid parental leave to 13 months = $4 billion

·         Extending the 'In-Work' tax credit to beneficiaries = $1.7 billion

·         Extending unemployment benefit to all students over summer = $1.6 billion

·         Universal Student Allowance at the level of unemployment benefit = $4.2 billion

·         Free 'wellness checks and dental check' = $3.6 billion

·         Wiping one year's student debt for each year worked in New Zealand = $3 billion

·         Green jobs initiatives = $3.2 billion.

And these are just a few of the Greens policies.
To which Green Party co-leader Russel Norman responded, by telling Joyce that the Greens had revenue raising options too:
"The Green Party has been totally upfront about what our priority issues are and how much they cost," Green Party Co-leader Dr Russel Norman said today.

"The Green Party has fully costed its election priorities and published them as part of its Green Jobs Initiative on September 21, 2011.

"Our priorities to create thousands of green jobs, to clean up our rivers and lakes, and to bring 200,000 children out of poverty will cost $4.124 billion over the next three years. To pay for this, we have identified new revenue streams and cost savings amounting to $7.910 billion.

"We recognise the significant fiscal constraints we're currently facing and have tailored our election priorities accordingly. We will pay down Government debt as quickly, if not more quickly than either National or Labour are proposing.

"National is deflecting attention away from its own poor record of fiscal management which has seen debt balloon to record levels, a double credit downgrade, and no meaningful economic plan to deal with a chronic current account deficit.
@RusselNorman also tweeted: "Nats borrowing $2b per year to pay for tax cuts to top 10% + $2b per year for new motorways. Fiscally reckless. #votenz"
For more on this, see my earlier piece: why we need to keep an eye on the Green Party's spending promises as well as Labour's (clue: it's due to MMP).
5:00 pm: NewstalkZB reports on the teapot tapes: Justice Helen Winkelmann will deliver her judgement at 2:15pm in court tomorrow.
4:50 pm: Labour's Phil Goff expanded today on a comment made during the last week that Labour may use the four energy SOEs earmarked for mixed-ownership for more 'social purposes'.
Speaking to media at the Brooklyn wind turbine in Wellington, Goff said Labour's initial priority would be paying down government debt, which would be aided by income generated by the SOEs. However, after reaching surplus, a Labour government might look to accept a lower dividend stream from those SOEs as a way of not taking as much from consumers signed up to those companies.
See Goff's comments in the video above.
See parties' SOE policies here.
1:35 pm: The Green Party this afternoon released a small-medium enterprise (SME) policy:
See and compare parties' 'small business' policies in our party policy section here.
"Small businesses with small annual turnovers spend a lot of time and money on tax compliance. We plan to give these small businesses the option of paying their taxes on a simplified cash basis on their GST returns.

"For even smaller businesses, company tax can be based on turnover."
And:
"To strengthen the domestic market for green innovation, the Green Party will rewrite government procurement and certification processes to favour New Zealand made environmentally sustainable goods and services.

"By greening government procurement policies, local SMEs will face incentives to rapidly innovate to secure lucrative government contracts. Once secured, those SMEs will have a base from which to export their same clean technology solutions overseas.

"We'll supplement our green government procurement policies with a $100 million start-up capital fund for clean technology SMEs and community enterprises, and boost central government funding of R&D by $1 billion over the next three years.
1:30 pm: iPredict has sent out its daily election update (not yet online). Key points are:
*       Four days out from the general election, John Key's National Party continues to be forecast to be able to govern with the support of just one of the Green, Act, Maori or UnitedFuture parties.
*       Labour continues to lose the market's confidence in key electorates.  National's Chris Auchinvole is now predicted to win West Coast-Tasman, with 52% probability.  Palmerston North is now highly marginal with Labour's Iain Lees-Galloway having a 50% probability of winning the seat against National's Leonie Hapeta, who now has a 48% probability of winning.
*       There is only an 11% chance that Labour leader Phil Goff will apologise for sending out the provocative "baby girl" brochure. There is also an 11% probability that he will apologise for sending out the controversial "save your family home" brochure.
*       David Parker has gained ground in the race for the Labour leadership post-election, up to 27% probability.  The frontrunner remains David Cunliffe at 40%.
*       Labour's forecast party vote has fallen by 0.5% to 28.0%.
*       The heavily traded stock forecasting Winston Peters' chance of returning to Parliament is down to 40% probability, from 43% yesterday.  New Zealand First's forecast party vote is 4.5%.
12:20 pm: Sorry, got a little distracted by migration figures. Back on board here now.
We now have the last figures before the November 26 election of permanent/long-term departures from New Zealand to Australia and PLT arrivals from Australia to New Zealand. See them in this spreadsheet here, sheets 1 & 2. Data is sourced from Stats NZ's infoshare.
Between December 2008 and October 2011, 43,712 migrants moved from Australia to New Zealand permanently or long-term. That compared to 116,500 moving from NZ to Australia, giving a net departure figure to Australia of 72,788 during those 35 months.
Comparing that to the same period under the last Labour government's final term: (note: have left out November 2008, which was the election month; The 2005 election was held in September 2005, but for comparison the 35 month block used is December 2005 to October 2008).
Between December 2005 and October 2008, 39,198 people moved from Australia to New Zealand permanently/long-term. During that time, 119,613 people left, giving net departures from NZ to Aus of 80,415 during those 35 months.
Of course, there are a number of other ways to compare this (average monthly figures for example), so will see if there's time for that. You're welcome to do it yourselves :)
9:10 am: @NZStuffPolitics tweets: Tea tape saga goes before judge t.co/NtBKfnJR.
Today's the day we find out whether the 'teapot tapes' were in fact a private conversation. The cameraman who recorded the conversation between Prime Minister John Key and ACT's Epsom candidate John Banks in a Newmarket cafe has asked the High Court to determine whether the chat was a private conversation. If it is ruled as private, Radio NZ, TVNZ, TV3 and the Herald on Sunday are set to be searched by police after Key made a complaint to them last week.
Media had been invited to the meeting between Key and Banks, but were ushered away by Key's chief of staff after a photo opportunity inside the cafe. The media were allowed to film the pair a foot away through the window Key and Banks were sitting at.
8:20 am: The worm gives it to Goff. Last night's leaders debate between John Key and Phil Goff has been given to the Labour Party leader on the performance of 'the worm'.
The debate was designed to indicate how undecided voters might lean in the election - about 12% of voters are said to be undecided.
Vernon Small at Fairfax writes:
Labour will take some heart from the so-called worm, controlled by an audience of 65 uncommitted voters, who liked Mr Goff's message on ways to lift people out of the underclass but took a dislike to Mr Key.

If the 10 to 15 per cent of voters who are undecided break that way on election night – a big if – Labour will do much better than polls suggest.
But right-wing blogger David Farrar blogged there were at least three Labour or Green Party-affiliated people in the audience. The NZ Herald's Derek Cheng reports:
Late last night, National Party member and Kiwiblog founder David Farrar claimed at least three Labour voters and a Green voter were among the "wormers".

But debate producer Keith Slater said the panel was carefully selected under strict criteria by a reputable company.

If politically aligned people were on it, they "would have lied to the people selecting the panel".
The worm is getting a good working over on the #votenz tag on Twitter.
Fun pic of the day: Labour Party ad on Kiwiblog.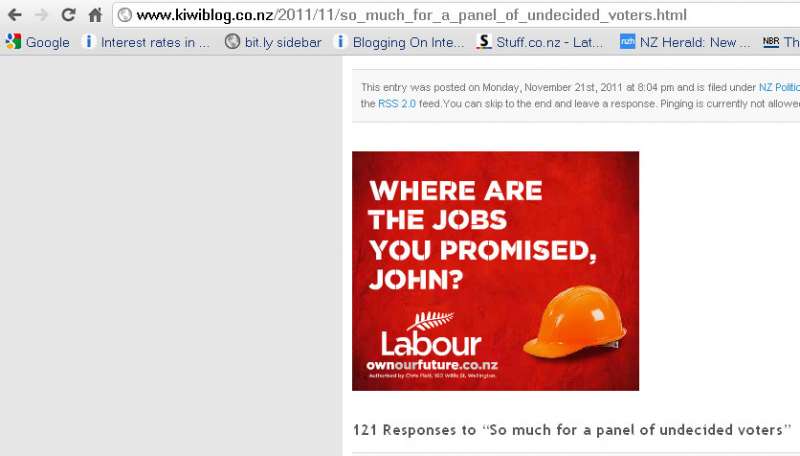 More soon.